Yangquan Travel Guide
Yangquan Facts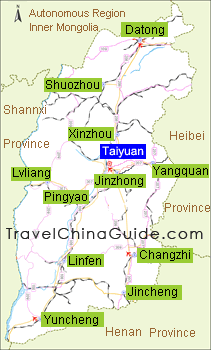 Chinese Name: 阳泉 (yáng quán)

Location: Yangquan lies at the western foot of the middle Taihang Mountains, it is the political, economic and cultural center of the eastern Shanxi Province, and is adjacent to Hebei Province in the east, located midway between Shijiazhuang and Taiyuan and about 400 kilometers (249 miles) from Beijing and Tianjin.

Population: 1,289,500
Area: 4,451 square kilometers (1,719 square miles)
Nationalities: Han
Administrative Division: 3 districts (Downtown District, Mining District, Suburban DIstrict); 2 counties (Pingding, Yuxian)
Useful Telephone Numbers:
Tourist Complaints: 0353-2042817
Weather Forecast: 121
Zip Code Inquiry: 184
Bank of China: 0353-2024446

Yangquan Attractions - Things to Do

Niangzi Pass: Apart from the sites of old berm, the gate and the wall, this pass of the Great Wall also has a waterfall nearby which counteracts the occasional pervading gloom.

Nanshan Park: It is a comprehensive hilly park that assembles imitations of ancient buildings, fountains, pavilions, and children's playground. It is a perfect place for people to relax.

Other Scenic Spots: In northeastern Yuxian County, there are a group of karst caves extending for 20 kilometers (12 miles) with the largest one half kilometer (0.3 mile) long. It is one of the largest caves in North China.
| | |
| --- | --- |
| Guguan Pass, Yangquan, Shanxi | Guguan Pass, Great Wall |
How to Get to Yangquan
1. Travelling to and from Yangquan is easy. Visitors can get to Taiyuan Wusu Airport and Shijiazhuang Zhengding International Airport in one hour and only about 4 hours are needed to travel between Beijing and Tianjin.
2. In June, during the temple fair at Wutai Mountain, tourist buses are available from Yangquan directly to the mountain to admire the spectacle.
| | |
| --- | --- |
| Pingyang Lake, Yangquan, Shanxi | Pingyang Lake |
Weather
-
It belongs to the warm temperate zone with a semi-humid continental monsoon climate, Yangquan weather has four clear seasons: windy and rarely rainy spring; hot and wet summer; cool autumn and cold dry winter. Additionally, winter and summer are longer whilst spring and autumn are shorter. As the weather can be rapidly changeable in autumn, temperature difference between the day and night is great. From April to October of a year is a nice time for sightseeing.
Yangquan Travel Tips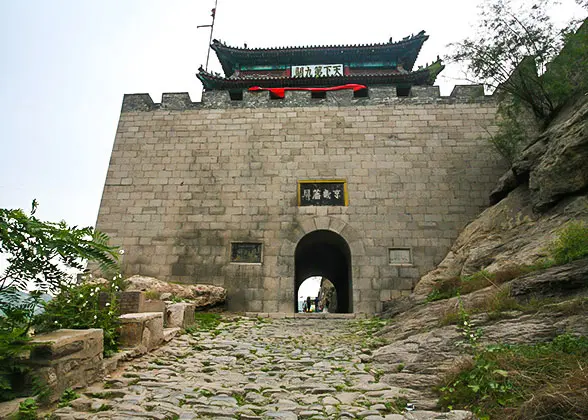 Niangzi Pass, Great Wall

Physical Features: The city is situated on the eastern edge of the Loess Plateau in the mountainous area of eastern Shanxi. The terrain of the city slopes downward from the west to the east with the mountains as its main part of the land.

History: Yangquan is a time-honored city and gains its name for the five bubbling springs of former days in the downtown city. Historically, it was always a strategic point that commenced construction as a military fortress as early as in the late Warring States Period (476BC-221BC). In the Tang Dynasty (618-907), Yangquan was exalted to a prefecture. By 1905, it had a train station to facilitate the exploitation of the mines, making the city one of the birthplaces of Shanxi's modern industry.



Local Products: vinegar, walnuts