Yangquan Travel Guide
Yangquan Facts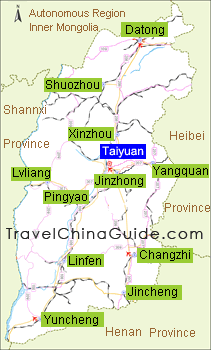 Chinese Name: 阳泉 (yáng quán)
Population: 1,417,500
Area: 4,559 square kilometers (1,760 square miles)
Location: in the west of Shanxi Province, north China
Administrative Division: 3 districts (Downtown District, Mining District, Suburban District); 2 counties (Pingding, Yuxian)
Area Code: 0353
Zip Code: 045000
GDP (2019): CNY 71.89 billion (USD 10.42 billion)
New Industrial City Dubbed as "Little Shanghai"
Yangquan lies at the western foot of the middle Taihang Mountains. It is the political, economic and cultural center of the eastern Shanxi Province, and is adjacent to Hebei Province to the east. Located midway between Shijiazhuang and Taiyuan, about 400 kilometers (249 miles) from Beijing and Tianjin, it takes only 30 minutes to Shijiazhuang, Taiyuan and 2 hours to Beijing by bullet train. Yangquan possesses abundant coal resources as it is located in the northeast of Qinshui Coalfield. Relying on abundant bauxite resources, the aluminum industry in Yangquan City has developed vigorously, and its products have been sold all over the world.

The fascinating scenery of the Great Wall is the highlight of Yangquan tourism. Niangzi Pass and Guguan Great Wall all show towering Great Wall and stunning natural views. Visitors can also visit many historical sites like the Guanshan Academy, Gunwang Temple and take a far-sighted view in the Zangshan Mountain.
Yangquan Attractions - Things to Do

Niangzi Pass: Apart from the sites of old berm, the gate and the wall, this pass of the Great Wall also has a waterfall nearby which counteracts the occasional pervading gloom.

Nanshan Park: It is a comprehensive hilly park that assembles imitations of ancient buildings, fountains, pavilions, and children's playground. It is a perfect place for people to relax.

Other Scenic Spots: In northeastern Yuxian County, there are a group of karst caves extending for 20 kilometers (12 miles) with the largest one half kilometer (0.3 mile) long. It is one of the largest caves in North China.
| | |
| --- | --- |
| Guguan Pass, Yangquan, Shanxi | Guguan Pass, Great Wall |
How to Get to Yangquan
1. Travelling to and from Yangquan is easy. Visitors can get to Taiyuan Wusu Airport and Shijiazhuang Zhengding International Airport in one hour and only about 4 hours are needed to travel between Beijing and Tianjin.
2. In June, during the temple fair at Wutai Mountain, tourist buses are available from Yangquan directly to the mountain to admire the spectacle.
| | |
| --- | --- |
| Pingyang Lake, Yangquan, Shanxi | Pingyang Lake |
Weather
-
It belongs to the warm temperate zone with a semi-humid continental monsoon climate, Yangquan weather has four clear seasons: windy and rarely rainy spring; hot and wet summer; cool autumn and cold dry winter. Additionally, winter and summer are longer whilst spring and autumn are shorter. As the weather can be rapidly changeable in autumn, temperature difference between the day and night is great. From April to October of a year is a nice time for sightseeing.
Yangquan Travel Tips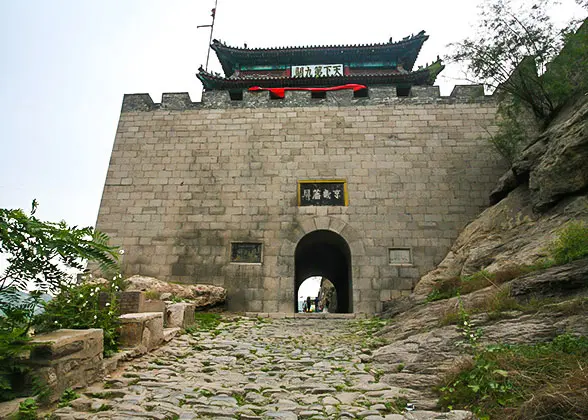 Niangzi Pass, Great Wall

Physical Features: The city is situated on the eastern edge of the Loess Plateau in the mountainous area of eastern Shanxi. The terrain of the city slopes downward from the west to the east with the mountains as its main part of the land.

History: Yangquan is a time-honored city and gains its name for the five bubbling springs of former days in the downtown city. Historically, it was always a strategic point that commenced construction as a military fortress as early as in the late Warring States Period (476BC-221BC). In the Tang Dynasty (618-907), Yangquan was exalted to a prefecture. By 1905, it had a train station to facilitate the exploitation of the mines, making the city one of the birthplaces of Shanxi's modern industry.



Local Products: vinegar, walnuts
- Last modified on Aug. 13, 2020 -
Questions & Answers on Yangquan Travel
Asked by Ted | Sep. 24, 2015 10:17

Reply
Is it possible to work as an English teacher for a short period in Yangquan?
Answers (1)
Answered by Hailiang | Sep. 24, 2015 10:50

0

0

Reply
It is developing fast but still not an international city. Students are working hard for the College Entrence Examinations. There is almost no need for native Engish teachers, only two or three shools are allowed to have foreign teachers work in their shcool but they dont have the right to employ. There is an orgnization in charge of foreign teachers in the capital city of Shanxi province: Shanxi Provincial Educational Departmant

Welcome and I'd like to show you around.
Asked by M from USAD | Feb. 10, 2014 00:10

Reply
Pollution in Yangquan in Shanxi?
What about pollution: Is it bad there? Thanks. I might accept work there.
Answers (1)
Answered by Shun from POLAND | Feb. 11, 2014 21:53

0

0

Reply
It was badly polluted in the past, but its situation has been better now. Don't worry! It will generally safe to stay there.
Asked by Mr.Behr Guenter from GEMANY | Jan. 13, 2011 07:37

Reply
Xi'an Monument "Start of Silkroad"
I think there was a woman, perhaps a man, who had the idea for this extraordinary large monument. There was a person who find the idea well. I'm sure there was a group of people discussing the idea and a plan to realize it. And I think they discussed how it ought to become – how many animals, how many persons, which kind of them. And there was an authority who gave the money and an artist or more who realized it. And the only information I could find out by nearly a dozen inquiries: 3 Han and 3 Persien. I can not believe that these persons – in such a dominant monument - have no special meaning. And this is what I try to find out. Thank you! In which year was the monument built? And in which suburb, place or street is it placed? In Chang'an?
I read it was also built in honour of Zhang Qian??

Answers (1)
Answered by Mr.Connie | Jan. 15, 2011 02:48

0

0

Reply
It was built in the wArt College of Xi'an in 1988 to commemorate 2100 anniversary of the opening of the Silk Road(https://www.travelchinaguide.com/silk-road/).
Asked by Mr.Behr Guenter from GERMANY | Jan. 12, 2011 13:02

Reply
The long monument in Xi'an "Start of Silkroad" shows 6 people: the caravan leader, two people on two camals and - at the end: two people on two horses and one on a camel. What kind of people they are?
Answers (1)
Answered by Ms.SUMMERSNOW from AUSTRALIA | Jan. 12, 2011 21:02

0

0

Reply
Among these 6 people, there are 3 Tang People and 3 Persian.
Asked by Mr.Behr Guenter from GERMANY | Jan. 12, 2011 12:55

Reply
Hallo, Ms. Lisa, thank you. I don't mean Guanshan geological Park at Henan Province. I mean Guanshan in Province Shanxi. What I know: The material, long monument in Xi'an "Start of Silkroad" is made of, is "granit" from Guanshan in province Shanxi. But I can't find this city or this mountain on my map. Is Guanshan part of Yangquan City? I think near Guanshan must be a quarry, a granit-mine or granit working or similar.
Answers (1)
Answered by Ms.SUMMERSNOW from AUSTRALIA | Jan. 12, 2011 21:04

0

0

Reply
Oh. Guanshan is a town in Pingding county, Yangquan City.