Niangzi Pass (Niangziguan)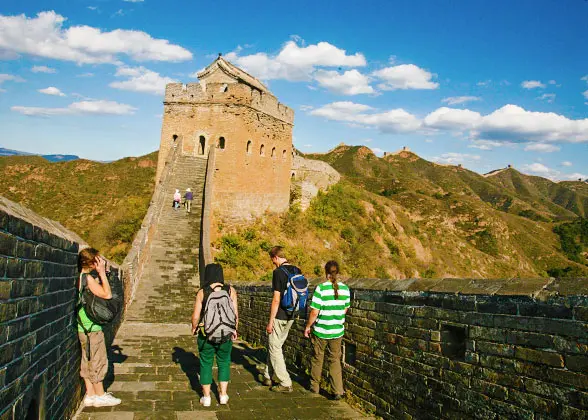 Niangzi Pass, Shanxi

Photos
The Niangzi Pass of the Great Wall lies in northeast Pingding County in Yangquan, where Shanxi Province meets Hebei Province. The present pass was constructed in 1542 during the
Ming Dynasty
(1368-1644), built against the Mianshan Mountain in the east, with the Taohe River flowing to its west. Owing to its strategic location, the pass was always the point of battle in ancient times. Moreover, it is known as the "Ninth Pass under Heaven".
Name Origin: A Pass Guarded by Women Soldiers
Historically, it was called Weize Pass, meaning a pass with reeds and marshes. Later, Princess Ping Yang, the sister of
Emperor Taizong
of the
Tang Dynasty
(618-907), commanded a group of women soldiers to bravely guard the pass. Hence, it was renamed "Niangzi Pass", which literally means a pass guarded by women.
Niangzi Pass
Today, you can see the magnificent South Gate (Inner Gate), East Gate (Outer Gate), and one section of the Great Wall.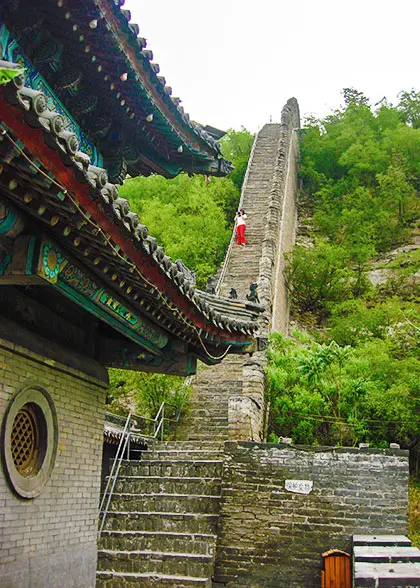 Steep Steps of the Pass
In front of the South Gate is a horse track paved with smooth pebbles. Looking up, you can find four impressive Chinese characters "Jing Ji Fan Ping", meaning a protective defense of the capital. There is a grand double-eave gate tower. During wartime, the gate tower served as the command post. Nowadays, there is a sitting statue of Princess Ping Yang in uniform. She holds a sword, and looks very gallant. Over the eave hangs a tablet which reads "Ninth Pass under Heaven". Standing on the gate tower, you have a panoramic view of the pass and the nearby Taohe River.
The east gate is carved with "Zhi Li Niang Zi Guan", which means that the pass is under the direct control of the capital city. At one time, there was a platform above the gate for inspecting a military parade. Today, a gate tower has been built.
To the east of the South Gate is the Great Wall snaking up the Mianshan Mountain. It is 710 yards (650 meters) long, with crenels along the outer side. The Great Wall is quite narrow and precipitous. Handrails have been provided for your convenience.
Niangziguan Village: A Sparkling Water Village
After visiting the pass, you can walk about 15 minutes to see the village. It is said that residents here are the offspring of soldiers who used to guard the pass. The water village is characterized by stone houses, crisscrossing streams, and bubbling springs. You can see many water mills grinding flour. More importantly, you can experience the peaceful lifestyle of the locals. Women are washing vegetables and clothes in the streams; children are running around happily; the elderly are sitting under grape trellises, leisurely playing chess.
In addition, you can see many traditional Chinese houses with three or four courtyards. Also, there are some ancient buildings, including an old stage, Bell Tower, and Temple of Guan Yu (a loyal and righteous general).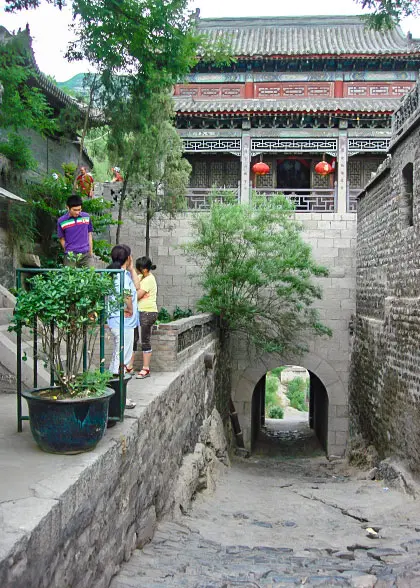 Interior of the Pass
Shuiliandong Waterfall
After a visit to the village, you can go to see the Shuiliandong Waterfall, which is about 550 yards (500 meters) to the southeast of the East Gate of the pass. The waterfall is 7 yards (6.5 meters) wide, with a fall of 130 feet (40 meters). The waterfall pours down from the cliffs and splashes the stones. "Shuiliandong" literally means Water Curtain Cave. From the name, you can imagine what a big waterfall it is!

Endowed with both cultural relics and beautiful scenery, the Niangzi Pass is really worth visiting.
How to Get to Niangzi Pass

By Train:
You can take a train to Niangziguan Railway Station from Yangquan, Taiyuan, or Shijiazhuang. The duration is about 1 hour, 4 hours, and 2 hours respectively. Upon arrival, you can walk to the scenic site in about 30 minutes.
Click to check detailed
China Train Schedule

By Bus:
You can take a bus to Yangquan from
Taiyuan Jiannan Bus Station
. The buses are available from 6:00 to 19:30 at an interval of about 10 minutes. The trip takes about 2 hours.
Or, you can take a bus from Datong Long-distance Bus Station at No. 3, Weidu Avenue. The bus departs at 8:30, and the trip takes about 5 hours.
Upon arrival at Yangquan, take a bus to Niangzi Pass. The buses are available from 6:30 to 18:30, and the trip takes about 1 hour.
| | |
| --- | --- |
| Opening Hours | 9:00- 17:00 |
| Admission Fee | CNY30 |

Further Reading:
Visit Great Wall at Niangziguan & Jingxingguan
- Last updated on Jun. 20, 2023 by Brenda Lian -
Questions & Answers on Niangzi Pass
Asked by Mr.MARKVANDELAER from BELGIUM | Dec. 18, 2010 02:31

Reply
In July 2011 I want to continue my cycling through China: that means cycling from Xi'An to Beijing. On this way, I would like to visit at least one part of the Great Wall. I thought Guguan Pass or Niangziguan Pass would be perfect.
Anyone can tell me how to go there (which road is the best between Taiyuan and Shijiazhuang for cycling) and is there some accomodation near one of these passes.
Mrs Buchanan, I agree with you, this site is fabulous. Besides I have a good experience with them for make a train reservation from Xi'An to Chengdu last year.
With kind regards,
Mark Vandelaer
Answers (1)
Answered by Ms.ROSEKNIGHT from CHINA | Dec. 18, 2010 21:27

2

0

Reply
Hi, so you are in Xi'an now, I guess? Back to the point, Niangziguan and Guguan area are about 15km from each other. Yes, they are in Yangquan City. Guguan has new and old site. The old one is closer to Niangziguan. Shijiangzhuang-Taiyuan Expressway just pass the old site of Guguan. The part in Shanxi Province called Taijiu Express Way. Jiu means the old site of Guguan. So, you can travel along this route to Jiuguan from Taiyuan first. Then go to Niangziguan through country road. Pass Niangziguan, you will enter Jinzhou, Hebei, which is very close to Shijiazhuang. Go via 307 National Road from Niangziguan to Taiyuan. I think you can stay in the nearby village.