Code: GW28
Great Wall Tour of Niangziguan & Jingxingguan
The best starting point of this Great Wall tour is Shijiazhuang City in Hebei Province, in consideration of both the location of the attraction sites and transportation going there.

Route: Beijing or Shijiazhuang - Niangziguan Railway Station -
Niangziguan
- Niangziguan Railway Station - Jingxing Railway Station - Jingxingguan Great Wall - Shijiazhuang or Beijing
How to Get to Niangziguan Great Wall from Shijiazhuang or Beijing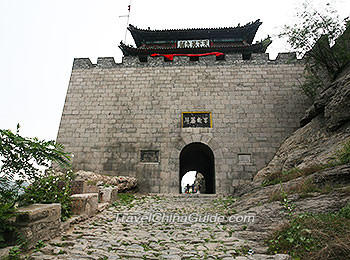 Every day, there is a train K5275 departing from Shijiazhuang North Railway Station to Niangziguan Railway Station. It leaves at 08:10 and arrives at 09:40 with the duration of 1 hour and 30 minutes. Ticket fare is CNY 12.5 for a hard seat.

Upon getting out of Niangziguan Railway Station, please walk northeast for around 10 minutes to find the ticket office of Niangziguan Great Wall.

Note: If you depart from Beijing, take the high speed train G6737 from Beijing West Railway Station at 05:34 and arrives at Shijiazhuang Railway Station at 06:53. Ticket fare for a second class seat is CNY128.5. On arrival, take subway line 3 to Shijiazhuang North Railway Station with the duration of about 40 minutes and ticket fare of CNY3; you may also hail a taxi directly, taking about 25 minutes and no more than CNY30. Please hurry up to catch the train K5275 departing at 08:10.
Stop 1: Niangziguan
Niangziguan means "Lady's Pass" in Chinese and it got this name because the Princess Pingyang once led the detachment of women to stand guard there during the Tang Dynasty (618 - 907). With wide Taohe River flowing by, the pass city was built against the towering Mianshan Mountain and at the edge of sharp precipice, which made it an impregnable barrier to the invaders. Besides the remaining southern and eastern gates as well as the 650-meter-long walls, the residences and lanes inside the pass city are still in their original appearance for visitors to delve into the historical atmosphere. Around the pass, there is also a lake and a waterfall worth admiring.

Admission fee: CNY30
Recommended time for a visit: 1-1.5 hours
Stop 2: Jingxingguan Great Wall
After touring Niangziguan, walk back to Niangziguan Railway Station and take train K5276 to Jingxing Railway Station. The train leaves at 12:07 and arrives at 12:43. Duration is 36 minutes and ticket fare for a hard seat is CNY9. After alighting, take a taxi in front of the train station to Xitumen Village to visit the Jingxingguan Great Wall, also known as Tumenguan Great Wall. The taxi ride needs about 30 minutes and CNYCNY50-60.

Jingxingguan used to be a check point connecting Shanxi and Hebei provinces in the old times and was always of great military importance. Nowadays, there remain three gate towers lined up from the east to the west. After hundreds of years, the gate towers of Jingxingguan might not look as imposing as Niangziguan because of lacking of renovations. It perfectly reveals a sense of vicissitudes together with the nearby simple rural buildings.

Admission fee: none
Recommended time for a visit: about an hour

Get Back to Shijiazhuang or Beijing
After having a good time at the Jingxingguan Great Wall, you may still hail a taxi to the downtown Shijiazhuang to conclude this one-day independent Great Wall tour. The taxi ride takes about 30 minutes and CNY40 or more depending on the traveled distance.

If you plan to go back to Beijing, ask the taxi driver to drop you off at Shijiazhuang Railway Station, then catch a high speed train to return. Duration of the high speed train is around 80 minutes and ticket fare is CNY128.5. The last train departs at around 22:30.

More Great Wall Hiking Routes:
Badaling Hiking: Explore Badaling in one day
Mutianyu Hiking: Mutianyu Hiking routes with practical tips
Simatai Exploration: One day hike tour to Simatai and Gubei Water Town
Gubeikou Hiking: with accommodation and transportation tips
Shanhaiguan with Laolongtou: itinerary to Laolongtou, Shanhaiguan and Jiaoshan
Juyongguan Hiking: itinerary and tips for Juyongguan section



More Beijing Independent Packages:
Forbidden City: 4 routes to discovery the world's largest imperial palace