Code: GW25
Independent Tour to Qingshanguan Great Wall
Qingshanguan Great Wall was built along the lush mountain ranges in Qianxi County of Tangshan City in Hebei Province, about 250 km (155 mi) away from Beijing and 120 km (75 mi) away from Tangshan by driving. It is reputed as the "most delicate Great Wall castle".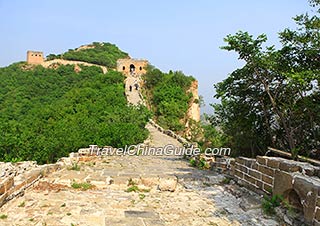 Qingshanguan Great Wall
Hike on the Great Wall
How to Get to Qingshanguan Great Wall from Beijing Downtown
1.
Bus: You can take a long-distance bus from Sihui Bus Station to arrive in Qianxi in around 2.5 hours, and then charter a car to reach Qingshanguan Great Wall by an hour's ride. There are 3 buses at Beijing Sihui Bus Station a day, and you'd better take the one leave for Qianxi at 08:35.
2.
Train: Take a high speed train from Beijing to Tangshan Railway Station, taking 1-1.5 hours. Then, take a direct bus from Tangshan General Bus Station next to Tangshan Railway Station to Qianxi.
On arrival, take a taxi or hire a local private car to the Qingshanguan scenic area, taking about 1.5 hours.
Stop 1: Ancient Qingshanguan Castle
Upon arrival, start this independent Qingshanguang tour with the Ancient Qingshan Castle at the foot of the Qingshanguan Great Wall. Overlooked from Qingshanguan Great Wall, the ancient town is in the shape of a gold ingot, and hence nicknamed -'Gold Ingot Town'. It was built together with the Qingshanguan Great Wall with a history of over 400 years. Troops guarding Qingshanguan Pass used to be positioned in the castle. Nowadays, you can still find military facilities remained there, including headquarters, barracks, courier stations, stables, and armouries. There are also well-preserved teahouses, private banks, pawnshops, and ancient courtyards, injecting a bit of flavor of life into the castle.
Stop 2: Qingshanguan Great Wall
Then follow the signposts to climb up to the Great Wall and visit watchtowers along the ramparts. This Great Wall section was built during the reign of Wanli Emperor (1563 - 1620) and had witness numerous fierce battles. Here, you can see the only lifting floodgate among the existing Great Wall sections of China, near the northern gate of the Qingshan Castle. On the southern branch of the ramparts stands a strange tower with no gate or arrow window on the walls but only a vent on the top. This is the Prison Tower which was built for locking up captives and the inner walls are very slippery to prevent prisoners from escaping. Continue walking southwards for some time and you will arrive at a unique tower with 72 arches of different sizes. When looking north, you will see a watchtower named Moon at the highest mountaintop. It was so named because the dangerous terrain there makes it an inaccessible place for ordinary people, just like the moon in the sky.
Get Back to Beijing
After getting down from the Qingshanguan Great Wall, you can get back to Qianxi Bus Station before 15:40 to take a bus back to Tangshan, then take a high speed train to Beijing.

Alternatively, you may spend the night at an old inn in the Qingshan Castle, which was converted from an old courtyard. The next morning, you are suggested to get up early to see the stunning sunrise over the Great Wall and the rolling mountains. After that, please reverse the trip back to Beijing.

More Great Wall Hiking Routes:
Badaling Hiking
: itinerary and tips to Beijing Badaling
Mutianyu Hiking
: Mutianyu Hiking routes with practical tips
Simatai Exploration
: One day hike tour to Simatai and Gubei Water Town
Gubeikou Hiking
: One day exploration to the wild Gubeikou
Juyongguan Appreciation
: A visit to Juyongguan to appreciate the famous stronghold of the great wall

More Beijing Independent Packages:
Forbidden City
: 4 routes to discovery the world's largest imperial palace