Code: GW26
Visit to Dushikou Great Wall
Dushikou Great Wall is located in Chicheng County of Zhangjiakou City in Hebei Province, about 220km (135mi) north to Beijing downtown. Not far from it, there are several other sites worth visiting, so we will also include them into this independent tour, to make the itinerary more colorful and interesting.

Visiting Route: Beijing - Chicheng County - Yunzhou Reservoir - Dushikou Great Wall - Vestige of Bingshanliang Ancient Glacier - Chicheng County – Beijing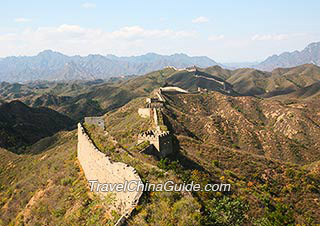 Get to Chicheng from Beijing by Bus: CNY70, about 3.5 Hours
1.
Take subway line 19 to Xinfadi, get out from Exit A to find Xinfadi Long-distance Bus Station to the northwest across the road. Every day, there is a bus departing for Chicheng County at 10:00.
2.
Take subway line 9 or line 10 to Liuliqiao, get out from Exit C or Exit D to reach Liuliqiao Long-distance Bus Station. There are 2 coaches each day there leaving for Chicheng County, respectively at 07:30 and 13:00.
Travel from Chicheng to Visiting Sites
Because local transportation in Chicheng County is not well developed, we recommend you to charter a car for following visit of Yunzhou Reservoir, Dushikou Great Wall, and Vestige of Bingshanliang Ancient Glacier. It costs around CNY400 each day.
Stop 1: Yunzhou Reservoir
Yunzhou Reservoir is a comprehensive water project for flood control, irrigation, electric power generation, and fishing, etc. It also provides drinking water to Beijing. Blue sky, flying birds, clear water, and green mountains form picturesque scenery. Around the reservoir, there are also inscriptions on cliffs from Song Dynasty (960 - 1279).

Admission fee: none
Kind Reminder: If you coming from Beijing, it should be around noon when here. You may find a restaurant nearby to taste the delicious fish freshly fished from the reservoir.
Stop 2: Dushikou Great Wall
Dushikou Great Wall was completed during the reign of Ming Jiajing Emperor (1507 - 1567). Unlike other Great Wall sections like Badaling and Mutianyu with stairways, ramparts and crenels, one can only find a single wall piled up only by flagstones at Dushikou, stretching along the rolling hill ridges to the distance. Although not using adhesive, it was still a solid defensive line which had warded off several invasions of northern nomads and has been well kept till today.

Admission fee: none
Stop 3: Vestige of Bingshanliang Ancient Glacier
This whole scenic area is located at an elevation of 2,300 meters (7,500 feet) and occupies an area of 10 square kilometers (4 square miles). Due to thousands of years of wind and glacier erosions, stones here are weathered into various shapes, such as toad, turtle, lion, and hen. You can also find stone mortars on these rocks with the largest of a diameter of one meter while the smaller one can be only of a dozen centimeters in diameter.

Admission fee: CNY60
Get Back to Beijing
After visiting, ask the driver of your chartered car to send you back to Chicheng County Long-Distance Bus Station, then catch a bus there to return to Beijing. Currently, there are two buses daily leaving for Beijing Liuliqiao Long-distance Bus Stations at 06:20 and 12:30.
Tips
1.
If you leave from Beijing, it might be a little tight for you to finish the whole backpacking tour in one day. You may stop at Dushikou Town at night to find a hostel for one night's stay, and do the unfinished trip the next day. Additionally, hills around Dushikou are of a gentle slope and covered by meadows, so setting up a tent around Dushikou Great Wall can be a cool idea for campers. Make sure you well nailed down the tent to the ground, as the wind might blow hard.
2.
If you will stay overnight in Dushikou, do not miss the sunset and sunrise there. The Great Wall looks more solemn at the time periods.
3.
Located at a high altitude of 1,700 meters (5,600 feet) and 2,300 meters (7,500 feet) respectively, Dushikou Great Wall and the Vestige of Bingshanliang Ancient Glacier are exposed to the strong ultraviolet radiation. It is suggested you wear long-sleeve clothes and sunscreen to avoid getting sunburned.

More Great Wall Hiking Routes:
Badaling Hiking: Explore Badaling in one day
Simatai Exploration: One day hike tour to Simatai and Gubei Water Town
Gubeikou Hiking: with accommodation and transportation tips
Shanhaiguan with Laolongtou: itinerary to Laolongtou, Shanhaiguan and Jiaoshan
Juyongguan Hiking: itinerary and tips for Juyongguan section



More Beijing Independent Packages:
Forbidden City: 4 routes to discovery the world's largest imperial palace