Code: GW15
Jiankou Great Wall Hiking: Nine-Eyed Tower to Beijing Knot
Nine-Eyed Tower to Beijing Knot with the length of about 4 kilometers (2.5 miles) is the most northwest part of the
Jiankou Great Wall
. It is less dangerous compared with the scaring middle part and east part, but beautiful and thrilling as well. Among adventurers, it is known as Jiankou Great Wall north section hiking.
How to Get to Jiankou Great Wall
→ You may take Beijing subway line 2 or line 13 to Dongzhimen Station and use Exit H to reach Dongzhimen Transportation Hub.
→ Take bus No. 916 Express there to Yangjiayuan in 1-1.5 hours. The bus departs about every 15 minutes from 05:50 to 20:00.
→ After getting off, walk northward and turn right at the first crossing to find the Yujiayuan Yiqu Bus Stop to take local bus no. H25 to reach the stop Xizhazi West, which is at the foot of Jiankou.
→ Please note bus no. H25 only departs from Yujiayuan Yiqu at 11:30 and 16:30 and returns at 06:30 and 13:10 each day. If you miss it, hire a cab to reach the 5th Team of Xizhazi Village at the foot of Jiankou directly. The cab fee is about CNY100-150. You may share it with other climbers to save money.
Hiking Route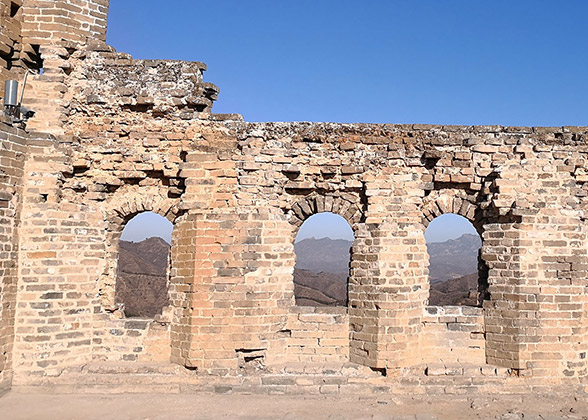 Xizhazi Village 5th Team – Nine-Eyed Tower – Xidaqiang Wall – Beijing Knot – Xizhazi Village
Xizha Village to Nine-Eyed Tower
Standing in the Xizhazi Village and looking northward to find the lowest pass among mountains, the road leading to the Nine-eyed Tower is there.
Travel through the village, it is not difficult to find the road to enter the mountains, which was stepped out by previous hikers. After reaching the pass, keep hiking down along the narrow path to a fork. Take the right path and you will reach the wild Great Wall soon. Hike upward on the Great Wall carefully, you will finally meet the Nine-eyed Tower.
It is named so because there are nine windows to shoot arrows on each side of the four walls. It is the highest point of the whole section of Jiankou Great Wall. On sunny days, Beijing downtown can be seen in distance standing on it, so it is also called Wangjing Tower, literally "Seeing Beijing Tower".
Nine-Eyed Tower – Xidaqiang Wall – Beijing Knot
This section of Great Wall severely damaged was shaped like a saddle and the lowest point is Xidaqiang Wall. It is very dangerous to hike along the broken wall. Be careful and make sure you have stepped on the rocks or bricks stably before making the next step. If you cannot make it, get off and hike along the path at the left foot of the wall. Passing the Xidaqiang and hike through the following steep wall, you will get to the Great Wall laid out in east-west direction. The west wall extends all the way to Xiangshuihu Great Wall. The east wall leads to a broken tower, passing which you will reach the Beijing Knot at last. Beijing Knot is not a tower, but another high point of Jiankou relatively flat. Its symbols were four pine trees, but nothing left because of continuous climbing by hikers.
Beijing Knot – Xizhazi Village
Hike eastward from Beijing Knot to reach a low pass, you will easily see a path to the north. Follow it and you will go back to Xizhazi Village.

If you plan to return to Beijing downtown the same day, you may charter a car at Xizhazi village to Huairou Yangjiayuan Bus Stop at a cost of CNY100-150 per car, and then transfer to bus no. 916 Express.
Tips
1. This Jiankou Great Wall hiking is challenging as some parts of steep stairs have already collapsed. You are highly suggested to pick a sunny day and find some experienced companions or hire a local villager as the guide to do the hiking. Wearing a pair of hiking boots and taking some mountaineering equipment are also recommended.
2. There is an old castle 300 meters (330 yards) to the west of Nine-Eyed Tower, which served as the barrack of the troops stationed there in the Ming Dynasty (1368 - 1644). Covering an area of 4,800 square meters (5,740 square yards), it is the best-preserved Ming barrack originally built together with the Nine-Eyed Tower.
3. You can find a hostel at the 5th Team of Xizhazi Village when you get down from Beijing Knot. The next day, you may extend this independent Jiankou Great Wall hiking tour to the east as there are more spots, such as Eagle Flies Facing Upward, Sky Stair, Jiankou Spot, Ox Horn Edge, and Zhengbei Tower, which are worth a visit as well. If you are a camping lover, you can even pitch a tent at Beijing Knot.

See
Hiking Tour from Beijing Knot to Jiankou Spot

Photos of Jiankou

More Great Wall Hiking Routes:
Badaling Hiking: Explore Badaling in one day
Simatai Exploration: One day hike tour to Simatai and Gubei Water Town
Gubeikou Hiking: with accommodation and transportation tips
Shanhaiguan with Laolongtou: itinerary to Laolongtou, Shanhaiguan and Jiaoshan
Juyongguan Hiking: itinerary and tips for Juyongguan section



More Beijing Independent Packages:
Forbidden City: 4 routes to discovery the world's largest imperial palace
Hutong Alleys: Explore the old hutongs and courtyards on a traditional rickshaw
Longqing Gorge and Kangxi Grassland: Three day side trip to Longqing Gorge, Mt. Song Forest Park, and Kangxi Grassland