Code: GW27
Hiking from Banchangyu to Dongjiakou Great Wall
Day 1
Qinhuangdao - Banchangyu Great Wall - Pingdingyu Great Wall - Great Wall Village - Chengziyu Great Wall - Chengziyu Village
Get to Banchangyu Great Wall from Beijing
→ Take a high speed train from Beijing South Railway Station to Qinhuangdao Railway Station, which takes 2-2.5 hours and CNY83 or CNY174.5 for a second class seat.
→ Upon arrival, change to local bus no. 6, 19 or 27 to Wudaoqiao Shichang, needing CNY2 and about 30 minutes.
→ Walk across the road to find Haiyang Road Long-distance Bus Station.
→ Get on a direct bus to Banchangyu Great Wall. It takes about 1.5 hours on the way and CNY20 for the ticket.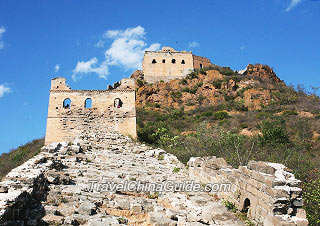 Upon arrival, you may first pay a visit to the Brick Kiln Group Site, which is seldom seen in other Great Wall sections. Many Great Wall bricks were fired here. Then, follow a path by the main road uphill to the Great Wall ramparts. During the hiking on Banchangyu Great Wall, you will see over 20 watchtowers and after passing by a tower that was totally laid of stones, the path becomes quite challenging as the Great Wall ramparts stretch through crevices of towering giant stones. Some part is so narrow that only allow one person to go through at a time.
After hiking for a few minutes, you will climb up along a stretch of steep ramparts named Sky Stair. Get down from the Sky Stair and you will arrive at a mild section. It is also the lowest point of Banchangyu and you are advised to have some rest there. Continue the hiking tour for a few minutes and you will arrive at the steepest part of Banchangyu with the slope of nearly 80 degrees. The next spot is the Bosom Peaks and there is a watchtower on the eastern peak, named Dajian, with an altitude of 880 meters (2,900 feet). Getting down from Bosom Peaks and heading for a few meters forward, you will arrive at the renovated Yanglai Tower, which is the junction of Banchangyu and Pingdingyu Great Wall.
It take a little more than 2 hours to hike from Banchangyu to Pingdingyu.
Stop 2: Pingdingyu Great Wall & Pingdingyu Village
Continue heading along Pingdingyu Great Wall from Yanglai Tower for a few minutes and get down to reach the Pingdingyu Village. One highlight of Pingdingyu Great Wall is Shilin Tower, literally Stone Forest Tower, because it was built like on stone forest.
Stop 3: Great Wall Village
Go across the village to climb up along the ramparts on a mountain to the south. Trek over two hills along the ramparts to the Great Wall Village.

It also takes about 2 hours from Pingdingyu Great Wall to Great Wall Village.
Stop 4: Chengziyu Great Wall
Walk through the Great Wall Village and climb up the hill along Chengziyu Great Wall on the opposite side. Hike for around 40 minutes and get down to the Chengziyu Village.
Stay Overnight in Chengziyu Village
Find a hostel or farmyard in the village to have a big dinner and take a good rest.
Day 2
Chengziyu Village - Dongjiakou Great Wall - Dongjiakou Village - Qinhuangdao
Stop 1: Dongjiakou Great Wall
After breakfast, continue your hiking along the Great Wall ramparts to the east to reach the Dongjiakou Great Wall. This Great Wall section was originally founded during the Northern Qi Dynasty (550 - 577) and was rebuilt in 1571 under the direction of the General Qi Jiguang. Unlike watchtowers of other Great Wall sections, you can find exquisite carvings of plants, flowers, and beasts on the arches of Lijia Tower, Chenjia Tower, and Gengjia Tower, which is rarely seen among all the Great Wall sections in China.
Stop 2: Dongjiakou Village
After getting down to the Dongjiakou Village, you are highly advised to find a farm house to have a taste of the Whole Roast Lamb before going back to Beijing.
Get Back to Beijing
→ Take a bus to return to Qinhuangdao Haiyang Road Long-distance Bus Station. The last bus leaves at 16:00.
→ After arrival, take local bus no. 6, 19 or 27 to Qinhuangdao Railway Station.
→ Catch a high speed train back to Beijing. The last train departs at 20:41.
Tips
1.
The admission fee of Banchangyu Great Wall is CNY40 per person. The other Great Wall sections included in this hiking tour are all wild sections requiring no admission fee.
2.
It's better hire a local villager familiar with the route as the guide.
3.
When it is dangerous to climb over a certain section, make a detour. Always remember that safety comes the first.

More Great Wall Hiking Routes:
Badaling Hiking: Explore Badaling in one day
Simatai Exploration: One day hike tour to Simatai and Gubei Water Town
Gubeikou Hiking: with accommodation and transportation tips
Shanhaiguan with Laolongtou: itinerary to Laolongtou, Shanhaiguan and Jiaoshan
Juyongguan Hiking: itinerary and tips for Juyongguan section



More Beijing Independent Packages:
Forbidden City: 4 routes to discovery the world's largest imperial palace