Yuncheng Travel Guide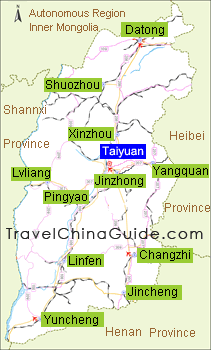 Yuncheng Facts:
Chinese Name: 运城市 (yùn chéng shì)
Population: 4,950,000
Area
: 14,100 square kilometers (5,444 square miles)
Nationalities
: Han
Administrative Division: 1district (Yanhu); 10 counties (Ruicheng, Linyi, Wanrong, Xinjiang, Jishan, Wenxi, Xiaxian, Jiangxian, Pinglu, Yuanqu); 2 county-level cities (Yongji, Hejin)
Seat of the City Government: 248, Hedong Street (East), Yanhu District
Useful Telephone Numbers:
Tourist Complaints: 0359-2085615
Weather Forecast: 121
Zip Code Inquiry: 184
Bank of China Yuncheng Branch: 39, Zhongyin Dadao (North), Yanhu District
China Post Yuncheng Branch: 11, Shifu Street, Yanhu District

Location:
Yuncheng City is located in southwestern Shanxi Province, neighboring Linfen and Jincheng within the province. It is separated from Shaanxi Province and Henan Province by the Yellow River.

History:
This is a time-honored city, one of the oldest birthplaces of the Chinese nation. Tracks of human life in this area can be traced back to 1.8 million years ago. It was the seat of the capital of the first slave dynasty in Chinese history, Xia Dynasty (21st - 16th century BC). In the Qin Dynasty (221BC-206BC), it was administered under the Hedong Shire. Although administrative divisions in this region altered frequently in the following two thousand-odd years, it was habitually referred to as Hedong, meaning east of the Yellow River.
| | |
| --- | --- |
| Pujiu Temple | Pujin Ferry Ruins |

Physical Features:
The southeastern and northwestern areas here are lined with the Zhongtiao Mountain and Emeiling Mountain. Between the two mountains lies the Yuncheng Basin with an average altitude of 350-500 meters (1148-1640 feet). The Yellow River flows along the western and southern edges of the city.

Climate:
The city enjoys a temperate continental monsoon climate. Average temperature in the coldest January falls between -1 and 6 degrees centigrade (30.2 and 42.8 degree Fahrenheit), and in the hottest July remains between 24 and 28 degrees centigrade (75.2 and 82.4 degree Fahrenheit). The frost period may last from mid-October to late March. It is torrid in summer and a bit warmer in winter than other cities in Shanxi.

When to Go:
May to October

Special Local Products:
Jishan jujube, Wenxi Boiled pancake, Ruicheng sesame flakes, Jishan fried dough twist

Attractions:
Yongle Palace is a grand Taoist temple covering an area of eighty thousand square meters (20 acres). It stands in the Longquan Village 3 kilometers (1.9 miles) north of Ruicheng County. The temple is especially famous for the precious murals of the Yuan Dynasty (1271-1368).
| | |
| --- | --- |
| Mural in Yongle Palace | Guanque Tower |
Guanque Tower stands on the east bank of the Yellow River in the ancient town of Puzhou of Yongji Temple. It was first established in the period between 557 and 580. Due to its delicate structure and superior location, the tower is reputed as one of the four famous ancient towers in China. (The other three are Yellow Crane Tower,Yueyang Pavilion and Tengwang Pavilion)

Catholic Church is a Gothic church built in a high land northwest of the Xinjiang county seat. The church was very famous when it was completed around 1935. It is one of the four extant Gothic churches in China.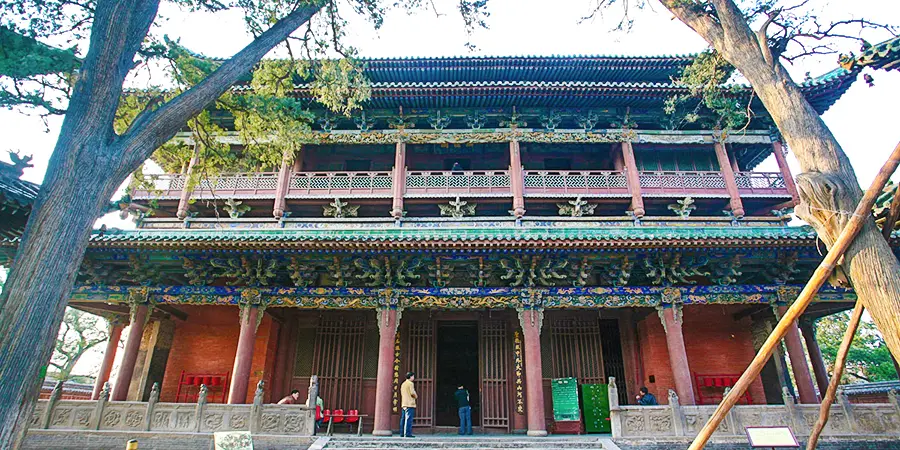 Temple of Guan Yu
Other Scenic Spots: Lishan Scenic Area, Pujiu Temple

Yuncheng Travel Tips:
Yuncheng Guangong Airport is 11 kilometers (6.8 miles) northeast of the city proper. So far, it operates flights to Beijing, Shanghai, Guangzhou, Shenzhen, Chengdu and Taiyuan. Planes to Beijing and Guangzhou are offered every day, and there are two flights to Shanghai, three to Shenzheng and Chengdu, four to Taiyuan every week. Visitors can take Bus 18 from the Nanfeng Square to the airport.
Yuncheng's central bus station has moved to the north outskirt of the city in Shilichangjie which is about 3 kilometers (1.9 miles) from the downtown area.
-