Jincheng Travel Guide
Jincheng Facts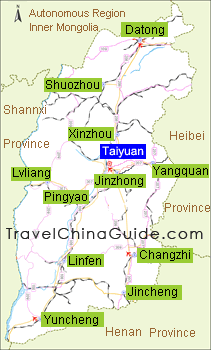 Chinese Name: 晋城 (jìn chéng)
Population: 2,320,800
Area: 9,490 square kilometers (3,664 square miles)
Location: in the southeast of Shanxi Province, north China
Administrative Division: 1 district (Urban District); 4 counties (Zezhou, Qinshui, Yangcheng, Lingchuan); 1 county-level city (Gaoping)
Area Code: 0356
Zip Code: 048000
GDP (2019): CNY 136.24 billion (USD 19.75 billion)
Birthplace of Ancient Chinese Civilization & Famous Mineral City
Located in southeastern Shanxi Province, Jincheng is bordered by Henan Province to the east and south, and neighboring Changzhi to the north. More than 20 mineral deposits have been discovered in Jincheng, among which coal and iron reserves are the largest. The British royal family once chose the coal as its fireplace coal.

Jincheng is one of the birthplaces of ancient Chinese civilization. Such widely spreading Chinese myths as a goddess named Nuwa mending the sky and Houyi shooting the suns originated from here. In addition, Jincheng has many historic sites and beautiful natural scenery represented by ancient buildings and Mountain Taihang.
Jincheng Attractions - Things to Do

Manghe Macque National Nature Reserve: Located in Sanglin Town, Yangcheng County, this nature reserve was established for the protection of macaques (a species of monkey) and subtropical vegetation. Its ten kilometers long calcified landscape is the only calcified valley in Eastern China.

House of the Huangcheng Chancellor: A royal residence of the Prime Minister Chen Tingjing once visited by Emperor Kangxi of the Qing Dynasty (1644-1911). A castle complex of buildings with more than 500 years' history and a great number of Chen Tingjing's posthumous works and the emperor's handwritings.



Jade Emperor Temple: A Taoist site famous for the twenty-eight tutelary gods of the twenty-eight constellations in Taoism.



Dai Temple: The earliest theatrical stage in Jin Dynasty (1115-1234).
How to Get to Jincheng
1. Three main bus stations serve within downtown, the passenger transport central station in Zezhou Dong Lu, Provincial Bus Station in Jinhui Lu and Jincheng City Bus Station in west section of the Hongxing Lu. All these stations operate intercity and interprovincial bus routes and the station in Hongxing Lu also provides buses to counties and towns surrounding the city.

2. Jincheng is five hours from the capital city of Shanxi Province, Taiyuan. It is only 120 kilometers (75 miles) from Zhengzhou by expressway, and visitors can reach the Zhengzhou Xinzheng International Airport in about one hour and the Changzhi Airport in about two hours. Due to the great distance to Taiyuan and fewer flights in Changzhi, people usually choose Zhengzhou as the transfer station to Jincheng.
Weather
-
Situated in the warm temperate zone, the city enjoys a semi-humid continental monsoon climate. It has four distinct seasons. It seldom rains in spring. Jincheng weather is usually windy and droughts may happen in this period. Summer is torrid and rainy. Autumn is overcast and rainy with cool temperatures. Winter is cold with light precipitation. Jincheng enjoys abundant sunshine and an annual average temperature of 10℃ (50℉). April to October are suitable time to tour around.
Jincheng Travel Tips

History: It is where the Shen Nong Divine Farmer helped Chinese ancestors make the transition from a pastoral-nomad way of life to farming. Jincheng was known as Zezhou in ancient times. The Tang (618-907) Court established Jincheng County.



Physical Features: Mountains and hills constitute the major part of the city. Mountainous areas are mainly distributed in the western, eastern and southern territories of the city, while the northern and central land is occupied by undulating hills interweaving with basins.



Special Local Products: Hua Gu (a kind of Chinese mushroom) and monkey-head mushroom of Qinshui County, pears, persimmons, and hawthorn fruit.
- Last modified on Aug. 10, 2020 -
Questions & Answers on Jincheng Travel
Asked by Steve from CHINA | Jul. 11, 2018 06:09

Reply
What's the easiest and quickest way to get from Jincheng to Yuncheng?
Answers (1)
Answered by Monica | Jul. 11, 2018 20:32

0

0

Reply
You can take a coach from Jincheng East passenger Transport Station to YC. The departure time is 08:00, 9:30 and 11:00 and the fare is about CNY 135. It take about 5 hours to get there.
Asked by romuald maurel from FRANCE | Apr. 19, 2018 16:08

Reply
Is it possible to go from Pingyao to Jincheng and how many time?
Thank you
Answers (1)
Answered by Bonnie from GERMANY | Apr. 19, 2018 22:16

0

0

Reply
Yes, you can go to JC from Pingyao, but you need to transfer at Yuci.
First, take a train from Pingyao Railway to Yuci and it takes about 70mins.
Then, transfer to another train to JC and it takes about 7h.
Asked by M from SERBIA | Aug. 16, 2015 07:19

Reply
I'd be more grateful if you could tell me how to get to Jincheng from Europe (Belgrade, Serbia)?
What's the easiest way? By plane, of course, but since it hasn't got an airport there, I'm confused. Thnx
Answers (1)
Answered by Gueen from SOUTH AFRICA | Aug. 17, 2015 03:50

3

1

Reply
Fly from Belgrade to Istanbul first. Transfer to another flight to Beijing. After that, fly to Zhengzhou. At Zhengzhou Airport, direct buses to Jincheng are scheduled at 10:50 and 12:40.