Taiyuan Transportation
Air
Taiyuan Wusu International Airport
is one of the most important airports in Shanxi Province. Nowadays, 20 airlines operate 81 domestic air routes to some major cities including Beijing, Tianjin, Shanghai, Chengdu and Xi'an. The airport also has 13 international flights, connecting the city with Frankfurt, Paris, London, New York and San Francisco with a stopover in Beijing, and Singapore, Kuala Lumpur and Pulau Pinang with a stopover at Guangzhou.
Train
The city is a major stop along
Datong - Xi'an
, Taiyuan-Jiaozhou, and Shijiazhuang-Taiyuan Railways.
Taiyuan Railway Station
and
South Railway Station
are the two main passenger transport stations in this city.
Trains in Main Railway Station can take passengers to almost all major cities in China, such as Beijing, Datong, Shanghai, Nanjing, Wuhan and Guangzhou. It is located at No. 2, South Jianshe Road, Xiaodian District. One can take public bus no. 901, 901 Branch and 902 to get to the station.
As a large rail transport hub in northern China, South Railway Station is located at Xiaodian District. Trains at this station are mainly high speed types that bound for Beijing, Xi'an, Pingyao, Shijiazhuang, Zhengzhou and Wuhan. Public buses no. 51, 501, 502, 807, 824, 849, 861 and 868 can take you to the station.
Schedule to Major Stations
Trains operated from here are all ordinary ones, including those to/from Beijing, Shanghai, Pingyao, Xi'an, Chengdu, Chongqing, Guangzhou, Shenzhen, Lhasa, and Zhengzhou.

Major Rail Lines from Taiyuan to:

Further Reading:
Taiyuan Train Schedule
| | |
| --- | --- |
| Taiyuan Railway Station | Bullet Train |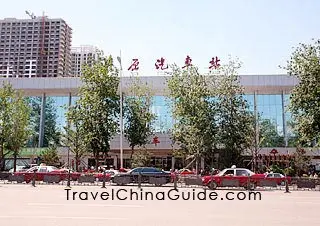 Long-distance Bus Station
There are lots of highways that link this city with neighboring and far-away cities and provinces. So this city has a very good long-distance bus transportation system and five main bus stations, taking passengers to big cities and popular tourist destinations in China.

Only phase one of Taiyuan subway line 2 is under construction, connecting Xijianhe and Xiaodiannan and containing 24 stations. This line is expected to operate in the end of 2020. Extending in the south-north direction, the operating part will cover around 14 miles (23 kilometers). The long-term plan shows that this city will totally have 8 metro lines, which will cover the length of 165 miles (265 kilometers).

City Bus
Taking public buses is a popular and convenient means of transport, with 230 bus lines covering most part of this city. Wuyi Square, Railway Station, and Coach Station are main bus transfer stations.

Bus Categories
Public buses in this city are identified by numbers and generally classified into the following nine categories:
1. Downtown Regular Lines: 1 – 99
2. Trolleybus Lines: 101 – 199
3. Suburban Lines: 201 – 399
4. Mini Bus Lines: 401 – 450
5. Village Lines: 451 – 499
6. Night Lines: 501 – 599
7. Tongye Company Bus Lines: 601 – 699
8. Tonghang Company Bus Lines: 801 – 899
9. Inter-city Bus & Inter-county Bus Line: 701 – 799

Ticket Price
The ticket price varies depending on the category of different bus lines. Downtown regular lines charge CNY 1 per person. Suburban Lines, inter-city bus & inter-county bus line charge CNY 2, CNY 2.5, CNY 3, and CNY 4 according to the distance. Using a transportation card means you can enjoy half price travel.

Buses to Popular Destinations
1. Public buses No. 308 or 804 in front of the Railway Station are heading for the
Jinci Temple
. The ticket fare is CNY 2.5.
2. Public buses No.55, 820, 843 or 873 can take tourists to
Twin Pagoda Temple
.
3. Tourists can take bus no. 10 or 25 to get to Liu Xiang Shopping Street.
| | |
| --- | --- |
| Bus Stop and Bus | Taxi |
Taxi
There are almost 8,300 taxis in the city. Most of them are in red and easy to be understood. Since early 2016, they have been gradually replaced by the electric taxis. The charging rule is as follows:
Fare
Daytime
Night: 21:00 – 05:00 the next day
Flag-down Rate for First 3km (2mi)
CNY8
CNY8.6
Surcharge between 3-10km (2-6mi)
CNY1.6/km
CNY1.8/km
Surcharge beyond 10km (6mi)
CNY2.4/km
CNY2.7/km
Waiting Fee
For every 5 minutes' waiting, the fare equals to the unit price per kilometer (0.6mi).
Distance & Reference Taxi Fare from Wuyi Square (City Center):
| Destination | Distance | Reference Fare |
| --- | --- | --- |
| Airport | 9mi (15km) | CNY30-40 |
| Jinci Temple | 16mi (25km) | CNY50-60 |
| Chongshan Monastery | 2mi (3km) | CNY8 |
- Last modified on Sep. 10, 2018 -
Questions & Answers on Taiyuan Transportation
Asked by Tom from CHINA | May. 19, 2017 11:15

Reply
Are there taxis from Taiyuan South railway station to airport?
We have a 2 hour connection between arriving at South railway and a flight from airport. Is it easy to catch a taxi and would there be enough time?
Answers (1)
Answered by Tony from CANADA | May. 23, 2017 04:03

0

0

Reply
As I know, it may be a little harder to catch a taxi there. It's enough for you to get to the airport in 2 hours. It's only about 6 kilometers between two places. Generally speaking, the taxi will take around 15 minutes to arrive there.
Asked by Tom from USA | May. 19, 2017 00:49

Reply
We are a group of 4 going from Pingyao to Datong.
There's a fast train Pingyao to Taiyuan but only slow trains to Datong. About how much would it cost to hire a taxi to drive us from TY to Datong (or Pingyao to Datong) rather than taking the slow trains or buses? We would be traveling on Sat May 27.
Answers (1)
Answered by Tom from RUSSIA | May. 22, 2017 02:35

0

0

Reply
As I know, there is about 280 kilometers between TY and Datong. Therefore, it will be quite expensive to take a taxi. It will charge CNY400-1000 for the rent rate.
Asked by Ganesh from INDIA | Apr. 22, 2017 02:46

Reply
What's the transport form Taiyuan South Railway Station to the international airport?
Answers (1)
Answered by Dick from GERMANY | Apr. 27, 2017 20:22

0

0

Reply
First, you need to walk 200 meters to Jinyang Street, and then turn left for around 380 meters to Taiyu Road. Continue to turn left for 300 meters to South Railway Station Bus Stop. Then you can take the bus no.201 to the Airport Terminal Bus Stop directly.
Asked by Lisa from CHINA | Jul. 09, 2016 23:27

Reply
Confirmation about Taiyuan Airport shuttle bus
Can I just confirm that there is a shuttle bus line 3 to get to the South Railway Station directly from the airport that takes 20 minutes? Where do I buy a ticket?
Answers (1)
Answered by Jenny from ITALY | Jul. 10, 2016 02:28

1

0

Reply
Yes, the line 3 directly leads to the South Station. It takes 20min. You can get the ticket at the Arrival Hall of T1 and T2, and the buses leave the bus stop outside of 1F, Arrival Hall. Upon landing, the guiding signs are quite clearly marked both in Chinese and English. You can find the bus early.
Asked by Lisa from CHINA | Jul. 05, 2016 08:19

Reply
What is the best way to get to Taiyuan South Train Station from either airport or the city itself?
How long does it take?
Is there a shuttle bus from the airport going there?
Answers (1)
Answered by Alina from USA | Jul. 05, 2016 21:12

1

0

Reply
You can take bus no.201, get off at Taiyu Road Rongjun North Street. Then walk northwest around 0.6 miles (1km) to find the South Railway Station. It takes around half an hour.
From downtown area, public bus no.502, 824, 868 or 909 can take you to the South Train Station Bus Stop. Then just walk to the ticket hall directly.
In addition, you can take shuttle bus line 3 to get to South Railway Station directly. The operating hours are from 09:30 to 21:30 with the interval of 20 minutes. The duration is about 20 mins. And the ticket fare is CNY 13 per person.