Taiyuan Shopping & Nightlife
Shopping
It is much easier for visitors to shop in Taiyuan than in any other city of Shanxi Province. Department stores in downtown area are mainly on Yingze Dong Dajie, Wuyi Lu, Jiefang Lu, Jianshe Nan Lu and Jian Cao Ping.

If you are interested in the local folk customs then please go to the Liu Xiang Commercial Street, Zhonglou Jie (Bell Tower Street) and the Liunan Night Market Street. These streets are the most popular in the city, especially Liu Xiang and the Qiaotou Jie are the most bustling streets.

A tip: Department stores close about 19:00 - earlier than those in other big cities.

Zhonglou Jie (Bell Tower Street) is a bustling street with a long history. Shops and stores stand next to each other. Big malls, like the Fenjiu Dasha, Dongfang Department Store and the Jinge Clothes Store, etc. are located here.

To the east of Zhonglou Jie is the Qiaotou Jie. Here you will find lots of products related to drama, such as the drama costumes, etc.

Liu Xiang, a very famous and bubbling pedestrian street in the city. With the participation of large department stores, it has become ever more popular in recent years. Huayu Supermarket, Guidu Department Store and Wanjia Dasha are the largest of them. Gongmao Department Store is famous for its wide range of clothing materials. A lot of clothes stores at the junction of Yingze Street and Liu Xiang deal with fashionable clothes, which can be purchased at a negotiated price. Brand name clothing franchises and some fast food chains come together on this street.

Local Specialties
Fen Jiu and Zhu Ye Qing are two wines that originated in Taiyuan and are the city's most famous products.

Vinegar
Jinci Vinegar, another product that is unique to Taiyuan is famed throughout China. The vinegar was originally brewed in the Spring and Autumn Period (770 BC - 476 BC). The Mature Vinegar produced here was considered to be the best vinegar during the Qing Dynasty (1644-1911). The Yi Yuan Qing Vinegar Workshop is famous for making the vinegar.

Duanmu Inkstone
Originating from the Duanmu Mountain 40 kilometers (25 miles) away from Wutai County, Duanmu Inkstone is another of the local specialties. The ink stone comes in three different colors, purple, black and green. The Purple ink stone is the most sought after of these and if you are interested in Chinese arts and crafts, it is a good idea to buy one to take home!

Paper-Cutting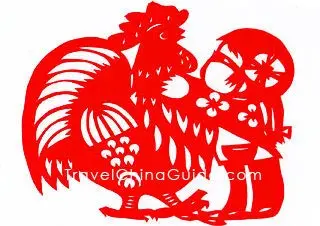 Paper-Cut
Paper-cutting is highly skilled and delicate practice that is popular in many places and Taiyuan is one of them. In the rural area of Shanxi Province, people like to make various cut-out designs from colored paper and paste them on their windows as decoration. A really exquisite work of art!
Taiyuan Polished Lacquer Ware
is a renowned range of hand made artifacts. Made from wood and coated with natural lacquer these items are not only beautiful to behold but are hard wearing and waterproof. They can be exquisitely decorated with a combination of inlays and painted flowers, birds and the like over which several layers of highly burnished lacquer are applied to create a brilliant and delicate finish.
Taiyuan Polished Lacquer Wares have been renowned since the Tang Dynasty (618-907). The Taiyuan Golden Lacquer Factory produces typical products such as screens, sofa tables, jewelry cases, desks and smoking sets.
Large Shopping Centers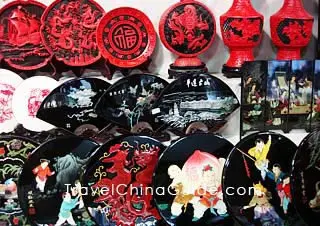 Polished Lacquer Wares
Guidu Department Store
Location: F1, No. 19, Liucang Nan Lu
It is located in the Liu Xiang Commercial District, the busiest street in the city. The department store sells brand-name clothes, decorative household goods and gymnastic equipment.
Huayu Shopping Center
Location: No. 181, Kaihua Si Jie
Situated at the junction of Jiefang Lu and Kaihua Si Jie, it is both up-market and comprehensive, focusing on shopping, dining and entertainment.

Wuyi Shangsha (Wuyi Shopping Building)
Location: at the Wuyi Square, 100 meters south of the Railway Station. You can get there by public bus No. 811.
Surrounds: Tiantian Snack Street
This is a venue for high and middle-range goods.

Wuyi Dalou (Wuyi Building)
A famous department store with a long history, Wuyi Dalou was once the pride of the local people. Although the environment is now a little jaded, it enjoys a great reputation.
Here you will find a variety of goods ranging from stationery, clothes and food to household appliances and cosmetics.

Tianlong Dasha (Tianlong Building)
Situated at the junction of Yingze Dajie and Xinjian Lu, Tianlong Dasha is one of China's 100 top large retail stores.

Large Supermarkets
Meet All United Supermarket
Location: No. 40, Jinci Lu Yi Duan

Huayu Storage Supermarket
Location: in Liu Xiang, the most bustling commercial area in the city. It has a number of branches in the city.

Hualian Supermarket
Neighboring Jian Cao Ping, Jiefang Bei Lu, is this very large supermarket. It attracts many customers by its discounted prices; however, it is necessary to have a membership card to enjoy the benefits.

Tangjiu Shopping Center
Located on the Jianshe Nan Lu, it was established by the Sugar & Wine Company and it is possible to buy drinks and wine at more competitive prices than elsewhere. In some of the residential areas the company has branches that open on a 24 hour basis for your convenience.

Tianlong Supermarket
The Tianlong Supermarket is situated on Taoyuan Bei Lu. There is a snack area on the second floor and the food here is very reasonably priced. It is also a place for a rest.

Nightlife
In the past, Taiyuan's nightlife was not very exciting but now it has become more and more colorful and brilliant. For most local people, the city's squares and parks are first choice nightlife destinations. Nangong Square, as one of the main squares in the city, has become an ideal place for entertainment and various activities take place here. In the evening, people living near the Fenhe Scenic Area, often relax with their families and friends in its calm surroundings after a hard-working day. Coffee bars and pubs are also popular places to congregate and relax and some of these establishments are listed below for your consideration:



Coffee Shops


UBC Coffee
Location: 100 meters (328 feet) west of the Huayu Shopping Mall, Yifen Jie


Xianggen Coffee
Location: No. 251, Qinxian Bei Jie
East of Parkson Department Store


Manabe Coffee
Location: Middle of Changfeng Jie

Pubs


Tribes People Bar
Location: No. 63, Mianhua Xiang, just opposite the Government Building of Yingze Qu (Yingze District)
This is a pub with a friendly atmosphere and fashionable decorations.


Xinqing Bar (Mood Bar)
Location: No. 14, Yi, Wenyuan Xiang


Ba'er Bar
Location: No. 100, Qinxian Bei Jie
The oldest bar in the city.

Cinemas


Shanxi Theatre: No. 22, Liu Xiang


Taiyuan Cinema: west of Wuyi Square, Wuyi Lu, Yingze District
- Last updated on Jul. 11, 2022 -
Questions & Answers on Taiyuan Shopping & Nightlife
Asked by Abdo from SYRIA | Jul. 24, 2015 09:03

Reply
Exchange question
Hi... It is my first time to go to China: Is it easy to change money in Taiyuan from USD to CNY or from CNY to USD?... Are there exchange stores in the city to change money or it is restricted to banks?... Thanks
Answers (1)
Answered by Mink from AUSTRALIA | Jul. 24, 2015 21:34

1

0

Reply
Well, a few money exchange centers are located in this city.
But in order to keep it safe, you are suggested to exchange money in banks.
As I know, there are several branches of Bank of China. You can go there.
One is located at No.57, South Jiefang Road, Yingze District.
Asked by chris from UK | May. 28, 2015 20:22

Reply
Where in Taiyuan could I buy photographic material such as lenses, tripod, etc please?
Answers (1)
Answered by Richard from AUSTRALIA | May. 29, 2015 02:43

2

0

Reply
Oh, you can go to SEG Digital City. As I know, many shops there sell all kinds of photographic products in good quality. And most of them have reasonable price. This place is located at Southeast Corner, the intersection of South Inner Ring Road and Pingyang Road. Hope you like.
Asked by Ted Mason from CHINA | Dec. 07, 2012 04:35

Reply
Where can I buy 3 red rabbit paper-cuts in Taiyuan?
I have tried everywhere, yet tour-guides on the net say that paper-cuts are a speciality of this city!!!!!!
Answers (1)
Answered by Cici | Dec. 07, 2012 21:41

0

0

Reply
I remember there is a paper cuts shop in Wuyi Square at Yingze District.