Taiyuan Dining
Taiyuan has lots of delicious food to be tasted. The following is representative of all that is available.



Shanxi Cuisine (Jin Cai)
Jin is short for Shanxi Province. Jin Cai means the Shanxi Cuisine. When traveling in Taiyuan, Jin Cai should not be missed. The Shanxi Cuisine has a salty flavor accompanied by a little sweet and sour. The methods of cooking include deep-frying, stir-frying, quick-frying, grilling and braising. And the traditional dishes of Jin Cai include Ba Si Shan Yao (Chinese Yam in Hot Toffee), Guo Shao Yang Rou (Braised Mutton), Fu Ru Rou (Braised Pork with Pickled Bean Curd Sauce) and Tang Cu Yu (Sweet and Sour Fish).

Shanxi Noodles are definitely a local specialty and these can be prepared in several ways. Each kind cooked by a special method has a unique name and taste, such as the Fried Oats Noodle, Pulled Noodle, Mao Erduo (Cat's Ear, for it takes the shape of a cat's ear.), Sliced Noodle, and many more. You must taste the noodles yourself to discover how delicious they are.

The Taiyuan Noodle Restaurant at the junction of Da Nan Men (South Gate) and Yingze Dajie (Yingze Avenue) comes highly recommended. As you walk into the restaurant, you will see a pair of couplets saying, 'Delicious noodles of the world are in China, China's delicious noodles are in Shanxi'. The words are attributed to a Japanese gourmet who tasted the delicious noodles here.



Snacks
Besides the Jin Cai and Shanxi Noodle, local snacks are plenty. The recommended breakfast includes Tou Nao and Taiyuan Yang Za Sui Tang (A tasty soup prepared from sheep offal).

Taiyuan Tou Nao, the most delicious local snack, literarily means Brain or Head. In fact, it is the mutton soup with yam and lotus root. The dish is full of flavor and is a nutritious food ideal for warding off winter colds.

The Tou Nao served in the Qing He Yuan Restaurant is the most tasty.
Qing He Yuan Restaurant: No. 97, Qiaotou Jie

Hao Gang Gang Mutton Soup Restaurant: at the north entrance of Liu Xiang, also near the entrance of Fuxi Jie.
This restaurant serves the reputed Taiyuan Yang Za Sui Tang. The long queue of customers in front of the restaurant proves just how popular their Hao Gang Gang Mutton has become.



Taiyuan Food Street
This street is situated in the center of the city. If you would like to taste the snacks from all over the country, come to this street. Antique pavilions, memorial archways on this street replicate the architectural style of the Ming and Qing dynasties and so add greatly to the atmosphere of the area.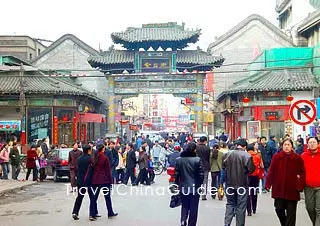 Food Street, Taiyuan
On either side of the street entrance, there are two snack bars, the Jian Nan Chun Restaurant and Famous Chengdu Snacks; both serve Sichuan snacks. Otherwise, delicacies from the whole country can be found here,
Hunan cuisine
, Sichuan hotpots, Lanzhou beef noodles and Shanxi local dishes and western food from foreign countries are served in plenty on this street.
Finally we must mention the specialty on this street, namely the
Yangji Sausage
. Yangji is a famous food brand that serves the most delicious sausage in the city. You can have this sausage for only CNY 1. So give it a try!

Vegetarian Restaurant

Lu Jia Yuan (Green Homeland)
Location: No. 352, Jiefang Lu - opposite the Agriculture Bank of China.
- Last updated on Jul. 11, 2022 -
Questions & Answers on Dining in Taiyuan
Asked by Salman from PAKISTAN | Aug. 24, 2016 17:43

Reply
Can you tell me how many halal food resturants are there in taiyuan city?
Answers (1)
Answered by Veronica from DENMARK | Aug. 24, 2016 22:22

0

0

Reply
There are several halal food restaurants in this city. But I cannot find the exact number. Among them, Renyili Restaurant and Yiqingyuan Restaurant are highly recommended. Both of them provide authentic halal foods. And the prices are acceptable. Hope you like.
Renyili Restaurant: No.200, Tiyu Crossing, Middle South Ring Street
Yiqingyuan Restaurant: No.7, Shaojiu Lane, Jiefang Road, Yingze District
Asked by igor from BASQUE | Jul. 26, 2013 06:26

Reply
hi! where is that "food street in taiyuan? i cant find it!
I'll be near tbe train station. Any recommended place for dinner around?
xiexie

Answers (1)
Answered by Elina from USA | Jul. 27, 2013 04:02

1

0

Reply
I went to the food street at Zhonglou Street, but not sure whether it is what you are looking for.

Near the train station, I know there is KFC fast food restaurant. Or at Yingze South Street, which is around 1,000m away, you will find some good restaurants.
Asked by Brajesh Shukla from INDIA | Oct. 30, 2012 06:08

Reply
Is there any indian restaurant near Shanxi Grand hotel Taiyuan?
It is very difficult to survive here at Tiayuan china without indian food specially for vegitarian. So please help.
Tnks
Answers (1)
Answered by Diana | Oct. 30, 2012 22:27

2

3

Reply
I'm afraid there is no such restaurant near the hotel. So if you wanna go for dinner, you may need go further. Chanfeng Street is suggested. You may find one or more there.
Asked by Mr.Howard from USA | Jan. 08, 2011 18:16

Reply
Is it easy to avoid pork or shellfish in Taiyuan?
Answers (3)
Answered by Ms.CRYSTALRING | Jan. 09, 2011 00:35

2

1

Reply
Oh,I think it is very easy.
Answered by Miffy >.< from JAPAN | May. 12, 2012 17:09

2

0

Reply
Well... China is sorta famous for those things so I think it might be quite hard...
Just my opinion though...

Answered by Colin from US | Jan. 25, 2013 10:04

4

1

Reply
Very easy to avoid shellfish. To avoid pork stay with chicken and mutton and simple dishes whose ingredients you know.