Pingyao Railway Station
Pingyao Railway Station is just located outside the
Ancient City of Pingyao
, about 10 minutes walking from its West Gate.
Address: No.14 Zhongdu Road, Pingyao County

Pingyao Train Schedule and Ticket Booking
This station only operates normal trains to/from cities including Beijing, Datong, Taiyuan, Xi'an, Luoyang, Chengdu, Chongqing, Tianjin, and Changsha. Currently, the high speed trains to or leaving the town are all operated in Pingyao Ancient City Railway Station.

Major Rail Lines from Pingyao to:

(Last Update on Apr 25, 2023)
To
Trains
Duration
Ticket Fare (CNY)
Soft/ Hard Sleeper

Beijing

K962, K604, K610 from 15:39 to 20:02
9h8m - 12h53m
CNY 253/ 169
USD 37/ 25

Datong

K7808, K962 at 13:33 and 15:39
6h3m - 7h13m
CNY 174.5/ 117.5
USD 26/ 17

Taiyuan

K238, K7808, K962, K604...
6 departures from 05:02 to 20:02
1h22m - 1h58m
CNY 102.5/ 70.5
USD 15/ 10

Luoyang

K237 at 00:39
10h38m
CNY 263/ 174
USD 39/ 26

Shijiazhuang North

K866, K610 at 18:18 and 20:02
4h28m - 4h29m
CNY 152.5/ 104.5
USD 22/ 15

The above schedule is for reference only. For real-time schedule and ticket booking, please click the arrival stations.
See more
Pingyao Train Schedule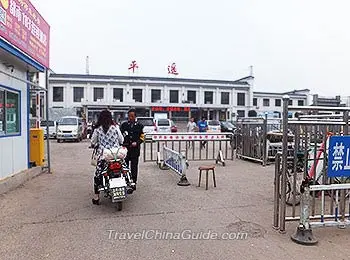 Pingyao Railway Station
The station just has a one-storey terminal building. Standing in front of the station, passengers can easily see the waiting room and ticket office. Passengers can purchase, change or refund tickets at ticket windows. Inside the waiting room, passengers can find hot drinking water, free WIFI, toilet, and cell phone charging station. Outside the station, passengers can find the luggage storage place.
How to get to Ancient City of Pingyao from Pingyao Train Station
1. After getting out from the railway station, passengers should walk along the North Shuncheng Road, and turn left at the first crossing, then walk along Xiaxiguan Street to arrive at the west gate of the Ancient City. It takes about 10 minutes.
2. Or passengers can take a pedicab to the North Gate, the most popular starting point for the Ancient City tour, taking about 5 minutes and costing CNY10.

Kind reminder: If you have booked a hotel inside the Ancient city, the hotel usually will offer free pick-up service.

From the Ancient City back to the railway station, one can walk there via the West Gate or walk to other gates of the ancient city, then take a pedicab to the station.

How to get to other nearby places from Pingyao Railway Station

To
Pingyao Ancient City Railway Station
Take bus no.108 or Pingyao 108 to get there. The ticket fare is CNY1 per person. Duration is about 40 minutes. If by taxi, it takes about 20 minutes and CNY 30.

To
Shuanglin Temple
Tourists can take bus no. 108 to Shuanglin Temple. It may take 40 minutes and cost CNY1 per person. A taxi ride takes about 10 minutes and CNY 15.

To
Qiao Family Compound
:
1. Take a coach from Pingyao Coach Station to Qixian County and get off at Qiao Family Compound. The coach station is about 1.5 kilometers (1 mile) northeast of Pingyao Train Station. Ten pairs of coaches are available daily between 08:00 and 18:10 at an interval of 50 minutes. Duration is about 40 minutes and ticket fare is around CNY 10 per person.
2. Take a coach departing from Pingyao Coach Station to Taiyuan, and get off at Qiao Family Compound. The coaches are available between 06:40 and 18:30 every 20 minutes. The journey time is about 40 minutes and it costs CNY15 per person.

To
Wang's Compound
:
1. About 35 kilometers (22 miles) from Ancient City of Pingyao, Wang's Compound can be easily reached by coaches from Pingyao Coach Station. Two departures are available each day at 07:10 and 13:20 respectively and they return at 11:00 and 16:30 from Wang's Compound. Ticket fare is about CNY 20 per person for a single trip and duration is 1.5 – 2 hours.
2. Tourists can charter a car to arrive at Wang's Compound as well. Usually, it costs about CNY200 per small car and CNY300 per medium-sized car for a round trip.
3. Visitors can take a train from Pingyao Train Station to Jiexiu or Lingshi Railway Station first, and then take Jiexiu bus no. 11 or Lingshi bus no.7 to Wang's Compound. The bus ticket fare is CNY5 and CNY2 per person respectively.
Print

- Last updated on Apr. 25, 2023 -
Questions & Answers on Pingyao Railway Station
Asked by Sekiya from JAPAN | Jun. 03, 2020 18:49

Reply
I want to take a high speed train from Pingyao station to Xi'an, is that possible?
Answers (1)
Answered by Joanna from IRELAND | Jun. 04, 2020 18:36

0

0

Reply
There are two stations in Pingyao, and all high speed trains depart from Pingyao ancient town station, please get to the correct one to catch your train.
Asked by Lucille Koo from USA | May. 05, 2017 21:16

Reply
What is the quickest way to travel from Taiyuan to Pingyao, I plan to visit Wang's compound.
Answers (1)
Answered by Hochbaum | May. 06, 2017 00:50

1

0

Reply
You could take high speed train, there are many rides every day, the journey takes about 40min.
Asked by Buntoon W from THAILAND | May. 31, 2016 23:27

Reply
I plan to visit China ancient capital cities include Pingyao, Xi'an, Luoyang, etc. Please advise how
Answers (3)
Answered by Harrison | Jun. 01, 2016 03:18

0

0

Reply
Which city will you arrive first? You may think about a high speed one from Xi'an to Pingyao first and then an overnight trip to Luoyang.
Answered by Buntoon W from THAILAND | Jun. 01, 2016 03:49

0

0

Reply
I plan to first fly to Beijing from Bangkok, and travel by speed train to visit each city. How should I do it? Do you have any suggestion as to which city to go first, for how many days for each city in order to appreciate the city well? How about hotel, are there 5 star hotels in each city?

Do you have a tour frequently organized that I may join?
Answered by Harrison | Jun. 01, 2016 20:27

0

0

Reply
If you depart from Beijing and back there as well, the trip can be supported by all high speed ride. You may try to go for Pingyao first and then to Xi'an and finally to Luoyang. There are good hotels in all these cities. You can check details on hotel booking website or a booking agent.