7 Best August Destinations in China
China weather in August is hot and it generally rains more. The popular travel destinations in this month are some places with cool weather and beautiful scenery, like Xinjiang, Inner Mongolia, Gannan, and Tibet. The seaside city Qingdao is also one of the best August travel destinations, where tourists can enjoy sea bath and take part in the Beer Festival.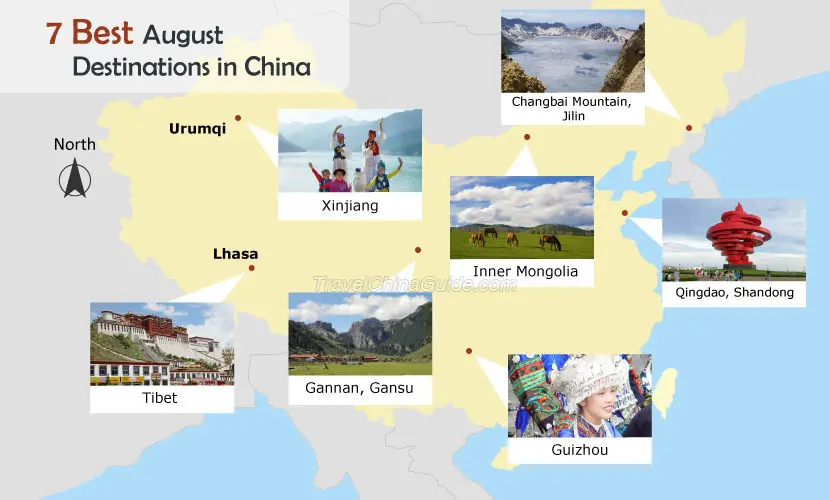 1
Xinjiang: Cool Weather, Unique Scenery & Exotic Culture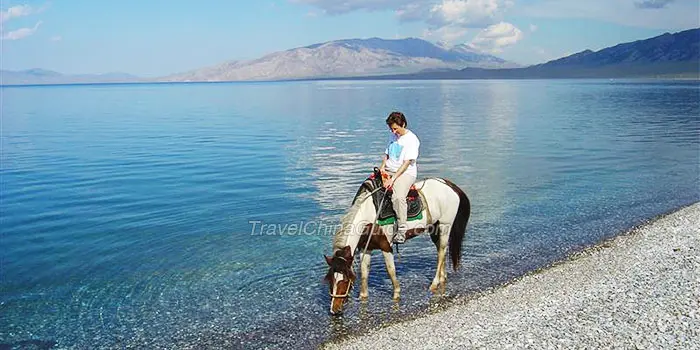 Location: West China
Xinjiang Temperature in August: 20°C ~ 30°C (68°F ~86°F)
Weather: Cool, strong ultraviolet radiation, large temperature difference between day and night
Highlights:
Heavenly Lake
,
Kanas Nature Reserve
,
Sayram Lake
,
Bayanbulak Grassland
Things to Do:
Xinjiang is a great place to travel in August. Tourists can visit the ancient Silk Road and learn about tradition and customs of the Western Regions. Other great destinations to escape summer heat include Heavenly Lake, Kanas Nature Reserve, Sayram Lake, Bayanbulak Grassland and Nalati Grassland, where you can comfortably enjoy the charming natural scenery.

Recommended Tour:

7 Days Xinjiang Tour to Turpan, Urumqi and Kashgar
2
Tibet: World's Roof & Pilgrims' Holy Land
Location: West China
Tibet Temperature in August: 12°C ~ 21°C (54°F ~ 70°F)
Weather: Generally pleasant, large temperature difference between day and night
Must-sees:
Potala Palace
,
Namtso Lake
,
Jokhang Temple
,
Sera Monastery
,
Barkhor Street
,
Yamdrok Yumtso Lake
,
Mount Everest
Things to Do:
Tibet boasts a blue sky, spotless holy lake, snow-capped mountains, devout pilgrims, colorful folk customs and more. The magnificent Potala Palace is so solemn under the blue sky and white clouds. The Namtso Lake reflects the blue sky and the snowy mountains in the distance; looking at the calm lake, you will feel peace in your inner heart. Tibet is also a great place to take photos and visitors can see many historic temples with distinctive styles. When going there, tourists should take medication to prevent altitude sickness.

Recommended Tour:

5 Days Tibet Lhasa Tour
Location: North China
Inner Mongolia Temperature in August: 14°C ~ 26°C (52°F ~ 78°F)
Weather: Cool and pleasant with large temperature difference between day and night
Highlights:
Hulunbuir Prairie
,
Xilamuren Grassland
,
Gegentala Grassland
,
Xilingol Grassland
, Huitengxile Grassland,
Wudangzhao Monastery
,
Dazhao Temple
Things to Do:
Inner Mogolia is one of the best places to visit in China in August. There are endless prairies, large lakes, and simple Mongolian folk customs. Visitors can take nice pictures on the prairie, go horse-riding and experience real grassland life. Moreover, they can taste the special delicacies from the grasslands, such as roasted whole lamb and dairy products. If lucky, you may have a chance to attend the Nadam Fair, the grandest festival of nomads, usually held in July or August.

Recommended Tour:

4 Days Hohhot Grassland Tour from

$529
Location: Jilin Province, Northeast China

Changbai Mountain Temperature in August: 15°C ~ 30°C (59°F ~ 86°F) at the mountain base; 5°C ~ 20°C (41°F ~ 68°F) at the mountain peak

Weather: large temperature difference between mountain base and mountain peak as well as day and night, high wind on the mountain, frequent rains

Highlights: Heavenly Lake, Waterfall, Hot springs

Things to Do:
Changbai Mountain is a good place to escape the heat in August. On the top of the mountain, you will even need to wear a thick overcoat. The major highlight of Changbai Mountain is Heavenly Lake. The sky and white clouds are reflected on the lake. Together with the 16 peaks standing around the lake, it is like a fairyland.
5
Guizhou: Summer Resort and Minorities' Villages
Location: South China
Guizhou Temperature in August: 20°C ~ 27°C (68°F ~ 80°F)
Weather: cool, humid
Must-see Places:
Huangguoshu Waterfall
,
Xijiang Qianhu Miao Village
,
Langde Miao Village
,
Zhenyuan Ancient Town
,
Tianlong Tunbu Village
,
Jiaxiu Tower
Things to Do:
Guizhou is a top place to travel in China in August. At the Huangguoshu Waterfall scenic area, tourists can see the water flowing from cliffs over 70 meters high, and hitting the rocks below as loudly as thunder. Visit Xijiang Qianhu Miao Village and other villages as well, to enjoy local customs and culture. The night view of the Xijiang Qianhu Miao Village is very spectular, and the lights are incredible.

Recommended Tour:

4 Days Guizhou Tour to Guiyang and Kaili from

$569
6
Gannan: A Sacred Place with Cool Weather
Location: Southern Gansu Province, West China
Gannan Temperature in August: 10°C ~ 21°C (50°F ~ 70°F)
Weather: Cool, occasional rain
Highlights:
Labrang Monastery
, Langmu Monastery, Gahai-Zecha National Nature Reserve,
Sangke Grassland
Things to Do:
August is very cool in Gannan. Tourists can go to that holy land to learn about the deep Tibetan Buddhism culture, appreciate the local grassland scenery and the Yellow River Nine Bends, or make a wish at the world's longest prayer corridor. Coming here, you will leave the pressure of life and work totally behind.

Recommended Tour:

8 Days Gannan and Jiuzhaigou Tour
7
Qingdao: Enjoy Sea Bath & Beer Festival
Location: Shandong Province, East China
Qingdao Temperature in August: 23°C ~ 28°C (73°F ~ 82°F)
Weather: Pleasant, not very hot
Features:
Zhan Bridge
,
Qingdao Number One Bathing Beach
,
Golden Sand Beach
,
Badaguan Scenic Area
Qingdao International Beer Festival
:
The International Beer Festival opens on the second weekend of August each year and lasts for 16 days. There are lots of interesting activities during the festival. Visitors can appreciate the world's largest fireworks show, attend the grand art parade featuring many countries, enjoy the world's leading aerial acrobatic performances, watch the stunning light show in the Beer Museum and more importantly, taste various beers.

Recommended Tour:

3 Days Qingdao Tour from

$499
- Last updated on Mar. 10, 2021 -