Badaguan & Small Qingdao Island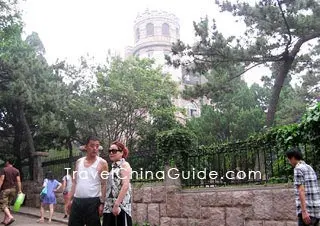 Badaguan
Badaguan Scenic Area is a famous picturesque sanitarium area in China, located in the east of Qingdao city, Shandong Province. This place used to have eight avenues that were named after eight famous passes in China. Thus, it was named Badaguan, which means eight passes. After the People's Liberation, two more avenues were built in the area and there are now actually ten avenues. However, its name still remains the same.
Luxuriant trees growing along each avenue provide a pleasant shade in Badaguan Scenic Area. Moreover, there is a vast array of different flowers, which form a quiet, clean and beautiful environment all year-round. Each of the ten avenues has different flowers and trees. The flowers also bloom in different seasons and give this area its other beautiful name, Hua Jie, which means a flowery area.
What makes Badaguan so popular is not just its natural scenery, but also its garden-like villas and foreign-styled buildings. The scenic area used to be a place where people from more than twenty countries, such as Russia, Britain, France, Germany, the United States of America, Denmark, Greece, Spain, Switzerland, Japan and etc., constructed buildings in each of their unique national styles. After the People's Liberation, the government repaired the entire area and its buildings, symbolizing Badaguan's significance as one of the most important sanitaria in China. Many leaders of the Chinese Communist Party and foreign friends of China have stayed here for rehabilitation or simply, for pleasure.
How to get to Badaguan
1. Take
Metro Line 3
to Zhongshan Gongyuan and leave from Exit C, you will get there.
2. Take Sightseeing Bus Line 11 to Badaguan Fengjingqu (Badaguan Scenic Area).
3. Take Bus 26, 31, 202, 206, 223, 228, 228 Express, 231, 304, 312, 316, 317 or 321 to Wushengguan Lu and you will see it.
| | |
| --- | --- |
| Entrance Fee | Free, but the some buildings inside the area charge entrance fee. |
| Opening Hours | All day |
Small Qingdao Island lies to the southeast of Zhan Bridge, in Qingdao Bay, and is an important resort of the city's coastal scenic area. It is a great place to enjoy ocean views and to soak up an island atmosphere. At one time it was an isolated island about 720 meters (787 yards) off shore but in the 1940s a seawall was built, connecting it to the mainland. It is shaped like a qin (an ancient Chinese musical instrument), and when the waves 'slap' the shoreline, the sound is similar to that of the instrument being played, leading to its local name of 'Qin Island'.

The Small Qingdao Island is famous for its unspoiled natural scenery, which includes steep rocky outcrops, and a variety of trees, such as cherries, pomegranates and hibiscus. Visitors can either walk along the coastline to enjoy the gentle ocean breeze, and to admire the incredible scenery, or sit on the beach to watch and listen to the gentle waves roll in. There are also statues and pavilions that can be viewed at various locations. This all makes for a delightful island to visit.

Another famous island attraction that adds to the glamour of Small Qingdao Island is the 'beacon'. It was built by the Germans in 1900 and stands 15.5 meters (51 feet) tall. It is built in the shape of an octagon and constructed from white marble. In the sunlight, the tower shines as white as snow while at night the light at the top sparkles like a ruby, guiding ships safely into the bay. When viewed from the sea, the beacon's light flickers and appears to be floating on the waves. The local people consider it to be one of the ten top scenes of the city and call this view 'Floating Light on the Qin Island'.

How to get to Small Qingdao Island
To visit Small Qingdao Island, visitors can take the bus to Luxun Park bus stop where they will find the entrance to the island not far from Luxun Park.
Take Bus 6, 26, 26 Express, 202, 214, 223, 228, 228 Express, 231, 304, 312, 316, 321, 411, 501, or 504 to Luxun Gongyuan (Luxun Park).
Qingdao Bus Search
Entrance Fee
Apr. - Oct.: CNY 15;
Nov. - Mar.: CNY 10.
Note: Free entry is available after the normal opening hours.
Opening Hours
Apr. - Oct.: 7:30 - 19:30
Nov. - Mar.: 7:30 - 17:30

Further Reading:
Top 10 Things to Do in Qingdao
- Last updated on Mar. 13, 2020 -
Questions & Answers on Badaguan & Small Qingdao Island
Asked by tanvir from INDIA | Jan. 21, 2019 19:46

Reply
what is the bus route to beer museum from ningde lu ?
Answers (1)
Answered by Chester from AUSTRALIA | Jan. 22, 2019 19:32

0

0

Reply
Walk northeast around 600 meters to get to Jitian Road Station. Take public bus no.11 to Taidong Bus Stop. Then walk west around 700 meters to find the museum.
Asked by Alex from DUBAI | Dec. 02, 2018 16:21

Reply
What are the most visiting places of Qingdao are near to each other
Is zhan bridge' badaguan scenic area' underwater world' luxun park are very close to each others? Is that .. because i want to visit 2 or 3 places at the same day...need to plan my 3 days tour
Answers (1)
Answered by David from USA | Dec. 03, 2018 21:51

0

0

Reply
Laoshan Mountain, Beer Museum, Zhan Bridge are recommended to you. Zhan Bridge is about 20-minute bus ride from the Luxun Park but the underwater world is far away.
Asked by Basant from NEPAL | Jul. 23, 2018 09:40

Reply
how to go to badaguan from qingdao railway station?
Answers (1)
Answered by Elisa from ROMANIA | Jul. 23, 2018 20:44

0

0

Reply
You can take the bus line 501 to Ning Wuguan Road or take metro line 3 to Zhongshan Park and then walk about 600m.
Asked by E San from SINGAPORE | Apr. 03, 2014 05:13

Reply
How do I get to Badaguan and Small Qingdao Island from China Community Art And Culture Hotel ?
Any direct bus ? Is Hotel China Community Art and Culture Hotel easy to access to any place of interest ?
Answers (1)
Answered by Marsha from USA | Apr. 04, 2014 04:43

0

0

Reply
Walk from your hotel to South Fuzhou Road to take bus no. 228 to get off at Wushengguan Road and then you can walk to there within several minutes!

To Small QD Island, bus no. 228 can also be used and you need to get off at Luxun Park stop and walk there!

Generally, the transportation near the hotel is convenient and easy to access to the attractions!
Asked by Avid Traveller from SINGAPORE | Mar. 19, 2014 03:29

Reply
How do I get to Badaguan and Small Qingdao Island from Copthorne Hotel?
Answers (2)
Answered by Lushan from INDIA | Mar. 19, 2014 04:56

1

0

Reply
It is only 4km from your hotel, so you can take a taxi for an easy travel! Or walk from the hotel to Fushansuo stop to take bus no. 316, 228 or 312 to get off at Yiliao Station and then walk there.
Answered by Lushan | Mar. 19, 2014 04:58

0

0

Reply
To the small island, you can also take bus no. 316 or 312, but you need to get off at Luxun Park and then walk there.