Qingdao Attractions - Things to Do
An old saying captures the essence of Qingdao City: swimming in the sea, drinking Tsingtao Beer, eating fried clams and climbing Mt. Laoshan.
Top Things to Do
The first must-see attraction is Zhan Bridge (Zhanqiao). Zhan Bridge is one of the important symbols of the city. The local railway station is a five-minute walk away. Entrance to the bridge is free, but to enter Huilan Pavilion at bridge end costs CNY 2. Opposite Zhan Bridge on the other side of the street is Zhanqiao Hotel in a prime location. To the north is the bustling commercial street, Zhongshan Road. Take Bus No. 26 or 317 to see some of the scenic spots for only CNY 1.
Qingdao Number One Bathing Beach, also Huiquan Bathing Place, is in Huiquan Bay, famous for soft sands, limpid seawater and mild waves. The bathing place is free of charge and open all day. Next to it you will find the 2nd Bathing Beach and not far away from this the 3rd Bathing Beach (near Haitian Hotel). You can reach the sites by buses No.6, 15, 26, 214, 311, 312, 316, 202 and many others. There is another sandy beach in the east (Shilaoren).
| | |
| --- | --- |
| Bathing Beach | Beach near the city |
Golden Sand Beach: with tepid seawater in the Xuejia Dao (Xuejia Isle) receives high praise yet draws fewer people.
Badaguan Scenic Area, also known as the Ten Thousand Country Architecture Garden, features foreign villas and paths. The area of the Eight Passes Villas is very pleasant; each pass has its own tree species. The Princess Building and the Huashi Building are open to the public in the daytime. The Huashi Building was home to the president of Kuomintang, Chiang Kai-shek. The Gothic-style Princess Building located at No. 10, Juyongguan Road; Eight Passes Villas Scenic Area has become a popular background for wedding photos. The spot is next to the 2nd Bathing Beach. You can get there by same buses as the 1st Bathing Beach.
Xinhao (Signal) Hill Park
Xinhao (Signal) Hill Park: No. 18, Longshan Road. You can reach the park by buses No. 228, 217, 220 and 214. From Circling Hall, you can catch the panoramic view of the city.
| | |
| --- | --- |
| Ocean View Villa | Street Scene |
Famous as the cradle of Chinese Taoism, Mt. Laoshan is regarded as the No. 1 Mountain on the sea. Spending one or two days climbing Mt. Laoshan will enrich your trip. The best season to climb is from May to October. During this period, abundant rainfall and charming sights enrich the experience. Wild vegetables from Mt. Laoshan are expensive, but you can ask for a taste from a farmer. Take the bus at Huaneng Square. 104 & 304 go to Laoshan Bus Station (Entrance). These buses pass also the magnificent Shilaoren Gardens, a place worth to be visited.
Catholic Church (St. Emil Church)
Catholic Church: Strolling along the Dexian Road, visitors will come across a high building with elegant red spires topped by two gigantic Latin Crosses. Nestling snugly in the trees and flowers, the construction looks stately and solemn. This is the famous St. Emil Church or St Michael's Church, normally known as Qingdao Catholic Church.
More Attractions

Beer Museum

Botanical Garden

Guest House

Little Fish Hill Park (Xiaoyushan Park)

Lu Xun Park

International Beer Festival

May 4th Square

Naval Museum

Qingdao Seashore Scenic Area

Small Qingdao Island

Taiqing Palace

Temple of the Queen of Heaven (Tianhou Gong)

Underwater World

Yinhai (Silver Sea) International Yacht Club

Zhanshan Temple

Zhongshan Park
Built in the 1930s, the sublime church was designed by a notable Germany architect according to the characteristics of Gothic and Roman architectures. Taking up an area of 0.247 hectare (0.61 acre), it boasts the largest Gothic construction in the city and is deservedly an outstanding masterpiece of Christian architecture.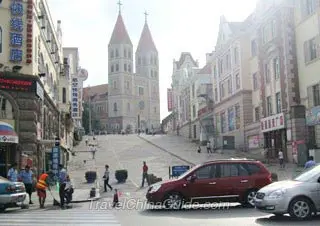 St. Emil Church
The grand church was built with yellow granite and armored concrete and covered with red tiles. The exterior is engraved with simple and fine designs. Above the entrance is a huge circular rose window typical of the Gothic style, glazed with stained glass and having intricate tracery radiating from the center. Two towering clock towers stand symmetrically either side of the window. The towers are about 60 meters (197 feet) high and have four copper clocks which have a melodious sound.
Inside the church is a spacious hall 18 meters (59 feet) high which can hold nearly one thousand people. The interior decoration of the church has an Italian Renaissance style. Seven lamps hang from the roof and the dome is painted with exquisite frescos. Soft light filters through the gorgeous windows, filling the hall with a religious atmosphere. The hall has two large alters and four small alters.
The church has a busy schedule of religious services. Solemn services are held at Easter and Christmas. Regular Sunday services are held, with an energetic congregation. Visitors can get there by bus no.1 or 367 and get off at Hubei Road. The entrance fee is CNY 5.
One has much to see in the city, not only the features mentioned. Other sights, including other bathing places, for example, Small Qingdao Island is famous for its unspoiled natural scenery, which includes steep rocky outcrops and a variety of trees. The Seashore Scenic Area is a beautiful place that integrates mountains, seawaters and architecture. Number One Bathing Beach is noted for its clear water, mild waves and soft sand. All of them are inviting your exploration. And don't forget to take part in the International Beer Festival, which enjoys a worldwide fame and attracts millions of people to share the city's unique beer culture.
- Last modified on Dec. 03, 2018 -
Questions & Answers on Qingdao Attractions
Asked by Crystal Koon from SINGAPORE | Mar. 14, 2018 23:37

Reply
I plan to visit Qingdao in early November for 3-4 days, how is the weather?
any attractions to recommend? As I will be travelling free & easy with elderly mum, please recommend good location for hotel stay with easy access of transport and eating places.

Thank you.
Answers (1)
Answered by Joe | Mar. 15, 2018 02:01

1

0

Reply
It can be sunny during that time, but you may feel a little cool, even a little cold, especially at the beach, with the temperature ranging from 8C to 16C. You are suggested to pack coat, sweater, long sleeved shirt and jeans.

Attractions like Zhan Bridge, Golden Sand Beach and Badaguan Scenic Area are recommended.

I suggest you stay near Wusi Square, where both subway line 2 and line 3 are available. Dining and shopping are also convenient nearby.
Asked by DINKUMON | Mar. 02, 2018 12:47

Reply
in qingdao where can we go for scuba diving?how to get there from the railway station?
Answers (1)
Answered by Liela from DENMARK | Mar. 04, 2018 19:28

1

0

Reply
I happen to know a Lanyu Diving Club in Jinwan Rd, Shinan Dis., you can take a taxi go there. It takes about 20mins and 30yuan or so.
Asked by razib from BANGLADESH | Apr. 22, 2017 22:17

Reply
taidong pedestrian market
Anyone know the bus no & road name to go to taidong pedestrian market from 25,shanghai road?
Answers (1)
Answered by Bob from USA | Apr. 27, 2017 20:57

0

0

Reply
First, you need to walk to the east gate of free trade port area, and then take the bus Suidao no.1 to Xizhen Bus Stop. Afterwards, walk ahead 170 meters along the Wenshang Road and turn left to find the bus stop. Then you can take bus no.2, no.320 or no.301 to Taidong Bus Stop. Upon arrival, you may walk few steps to find the destination.
Asked by Razib from BANGLADESH | Apr. 22, 2017 03:04

Reply
I am in Qingdao Training Base Fu Run Ge Hotel in free trade area.
Is there any scenic place near this place? Please suggest.
Answers (1)
Answered by Roy from ITALY | Apr. 27, 2017 20:49

0

0

Reply
There is a Huangdao Mosque near your hotel with only around 300 meters' walk. You can walk northwards along Shanghai Road to find it. It is located at near the Farmers and Merchants Bank.
Mahao Park is only about 3 kilometers' drive from your hotel. You can take a taxi there directly. Besides, the relics of the Great Wall in Qi Dynasty are only 1.7 kilometers from your hotel.