Qingdao Travel Tips

Packing Essentials:
When traveling in Qingdao, take the following:
1. A portable cup, skin care products, a multiple-use knife and common medicines such as medicines for colds, diarrhea, wounds, carsickness, and mosquito bites, etc.
2. Clothes: even during summer, take long-sleeved clothes for the cool climate here and also a swimsuit and shorts for swimming in the sea.
3. Shoes: Boots are convenient for mountain climbing or hiking a long distance. Slipper sandals are also necessary.
4. Suntan items: suntan oil and sunglasses



144-hour Visa-free Transit in Qingdao enables passport holders of 53 qualifying countries to enjoy a visa-free stay of up to 144 hours when making an international transfer there. Not only the city of Qingdao, but also the whole Shandong Province are allowed areas to remain within the 6 days.



Festival
Qingdao International Beer Festival
Established in 1991, the Festival has been held 15 times, beginning the second weekend of August and lasting 16 days. During the festival, the whole city is in great revelry. Beer drinking competitions, parties, entertainment and trade exhibitions stimulate interest. Dozens of beer companies from all over the world join the festival. Beer products and cultures from Germany and Korea are introduced into China, and interaction which enriches the Chinese beer market and enhances the cooperation of Chinese and foreign beer companies.

The International Beer Festival drives the local tourism industry and promotes communication between the local and people all over the world.



Area Code: 0532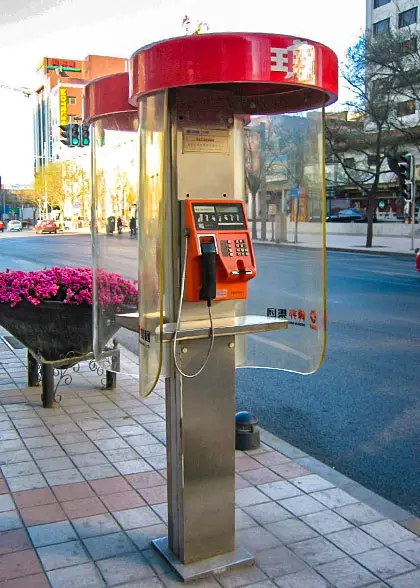 Telephone Booth

Zip Code: 266000

Bank: Bank of China Shandong Branch is located at No. 51, Zhanliu Ganlu, Shinan District

Streets and lanes are named with the names of Chinese cities or provinces -- Beijing Road, Shanghai Road, Hunan Road, Guangxi Road, and so on.
If you ask the way in there, the answer goes like this: 'Go forward, via the slope, turn right and it is at the left of the road.' People here do not describe directions as east, west, south or north but as front, behind, left and right.
Qingdao is an island city with special street layouts; many roads are one-way to reduce transportation pressures.

Important inquiry numbers:
Mayor's public telephone number: 12345
Tourists' complaint: 0532-85912000
Taxi complaint: 0532-82817777

Universities:
Qingdao University is a key university in Shandong Province.
Address: No. 308, Ningxia Road
Ocean University of China: This is another key university in this city, respected throughout the country.
Address: No. 5, Yushan Road

Dining
Seafood should not be missed in Qingdao. The local seafood has unique flavors, fresh and light, popular with visitors. The top-end hotels such as Shangri-La Hotel and Qingdao Hotel, and the Yiqinglou Restaurant serve dainty seafood.
Every tourist city has its gourmet street; Qingdao is no exception. This kind of streets includes the Yunxiao Road Gourmet Street, Minjiang Road Gourmet Street and Maidao Seafood Street.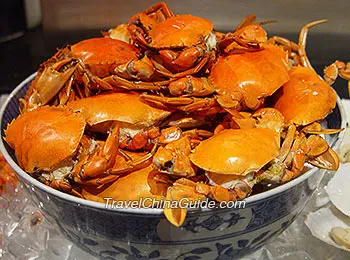 Crab Dish
Restaurants on these roads serve fresh seafood such as Fried Spicy Clams, Seafood Wonton, and Roasted Sleeve-Fish. In addition, barbecue, hotpots and dishes from other parts of the country are offered here.
Besides the above-mentioned restaurants, there are other typical restaurants that should be considered.

Famous Barbecue Restaurants
Meida'er Barbecue: a famous restaurant in the city. The chain has many outlets, one of which is at No. 125, Zhongshan Road
Wangjie Barbecue: The chain has two outlets on Zhongshan Road. One is at No. 30, Dexian Road; the other is next to Chunhe Lou. These restaurants provide the measure by which to test the price and quality of other restaurants' barbecue food.

Beer
Qingdao is the home of Tsingtao beer. Visitors can enjoy its unique taste at its place of origin.
Beer: Yingde Beer House, near Yunxiao Road and behind the Shangri-La Hotel, serves the specialty beer preferred by many.

Korean Food:
Stone House:No. 6, Taiwan Road, Shinan District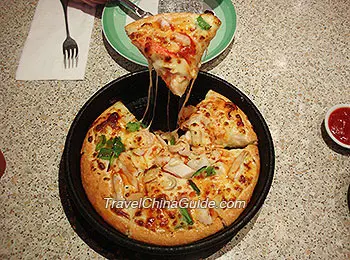 Enjoy pizza
The restaurant serves flavorful Korean food; the service is good.

Western Fast Food Chains
KFC (Zhongshan Road Branch)
Address: No. 53, Zhongshan Road
Pizza Hut
Address: Wanda Shopping Center, Taidong Yi Lu
McDonald's (Jusco in Shinan District)
Address: Floor 1, Jusco, Hong Kong Middle Road
Honolulu Bar
Address: No. 9, Nanhai Road, inside the Huiquan Dynasty Hotel

Getting to know more tips for visiting China, please see China Travel Advice.
- Last updated on Sep. 10, 2019 -
Questions & Answers on Qingdao Travel Tips
Asked by Mr.ASHNSK from IN | May. 11, 2018 21:26

Reply
HOW to reach Yujia apartment from Qingdao Airport?
what options are available from the airport to the city?
the driver knows the English?
Answers (1)
Answered by Ashby from USA | May. 16, 2018 21:40

0

0

Reply
You can take the Airport Line 2 (No.702) at the airport station, and then get off at Liaoning Road. Walk about 1100 meters, and you will find the hotel. The duration is about 2 hours.
Asked by Zafar Hasan from PAKISTAN | Apr. 30, 2016 23:05

Reply
Is there any Indian Restaurant in Qingdao ?
Answers (4)
Answered by Teddy from AUSTRALIA | May. 02, 2016 03:13

2

0

Reply
Oh, I just know one named Shi Cai Mei. It is on 3F, Wanda Plaza, no. 116, Yanji Road, Shibei District. You can find very nice indian food there. By the way, it is open from 10:00 to 21:30.

Answered by Zafar Hasan from PAKISTAN | May. 02, 2016 07:20

0

0

Reply
Thanks, and do you have it phone number ? If yes kindly communicate.
Regards
Answered by Teddy | May. 02, 2016 20:42

0

0

Reply
Hey, call 86-0532-55662365 for a try. And good luck!
Answered by Nora | May. 02, 2016 22:58

0

0

Reply
Zafar, I know another one. It is Fatema Indian Restaurant at No. 10 Ding, Gutian Road, Shinan District (near the intersection of Gutian Road and Datian Road). I have a number on their board: 0532 8696 2015. Just dial for a try!

Asked by khira jalil from MOROCCO | Aug. 18, 2014 19:32

Reply
how can i arrive to Qingdao from MOrocco
im invited to go to 1 QD bienal fom 21 semptember to 5 october and i want know how can i travel there
Answers (1)
Answered by Bob from UKRAINE | Aug. 18, 2014 20:20

1

0

Reply
You can take a plane from Murtala Muhammed airport and transit in Dubai and then Beijing. After that, you can directly fly to QD.


Asked by Grace from PHILIPPINES | Feb. 01, 2014 00:45

Reply
Which is nearer to Qingdao, Beijing, Xiamen or Shanghai?
Answers (2)
Answered by Mary Lee from CANADA | Feb. 10, 2014 20:43

1

0

Reply
Hi, Beijing is nearer. To fly from Beijing to QD, you can use Air China, or China Eastern Airlines. From Shanghai, Shandong Airlines and Chin Eastern Airlines are available. From Xiamen, there are Xiamen Airlines and Air China for your choice.
Answered by grace from PHILIPPINES | Feb. 12, 2014 16:07

0

0

Reply
Thank you so much for the reply. It is indeed helpful. Now, I can start planning for our business trip to QD.