Hulunbuir Prairie
Hulunbuir Prairie, or Hulun Buir Grassland, located in the northeast of
Inner Mongolia
, is the superbly untouched prairie in China. Hulunbuir Prairie is among the three great prairies in the world, termed "the kingdom of pasture". The prairie covers 100 thousand sq km (39 thousand sq mi) of some 3,000 interwoven rivers and 500 dotted lakes. It is a pleasure for the eyes to see the land and what it holds. Place name Hulunbuir Prairie origins from the
Hulun Lake
and the Buir Lake. Hulun means otter and Buir means male otter in Mongolian, as the two lakes used to be teeming with otters. (

See
Hulunbuir Prairie Video
)
| | |
| --- | --- |
| Hulunbuir Prairie | Mergel Gol River |
Top Attractions to See on Hulunbuir Prairie
Mergel Gol River is reputed as "the first winding river in the world". The river is very narrow but meanders. From the sky, the river is like a blue ribbon in the green prairie. Mergel Gol River is not only famous for the its course changes, but also for the inconsistent depths. When shallow, the river just comes over your feet; when at 3 m (10 ft)-deep, lots of fish can be seen.
The Golden Horde, located in the middle-west of Hulunbuir Prairie, is a nomadic Mongolian scenic spot. This area is a herd grazing pasture from times of old. Between the end of the 12th century and the early 13th century, Genghis Khan united all tribes and occupied Hulunbuir Prairie. The layout of the Golden Horde is a replica of Genghis Khan's own tent. The Golden tents are their signature housing on the move, including Khan Shatyr, military tents and for noblemen.
Admission Fee: CNY 20/person
Hulun Lake, west of Hulunbuir Prairie, is first among lakes in Inner Mongolia. The lake presents beautiful scenery and dwellers with their colorful folk customs. You can also take part in horse riding, eating all-mutton banquet, boating and fishing. From July to August, visitors may watch fish leaping up the river linked Hulun Lake to Buir Lake.
Admission Fee: CNY 40/person
Free for children under 6 years old and under 1.2 m (3.9 ft), include 1.2 m; CNY 20 for those between 6 and 18 years old.

Hulun Lake Video
| | |
| --- | --- |
| The Golden Horde | Hulun Lake |
Top Things to Do on Hulunbuir Prairie
The locals greet their visitors on horseback. And then, the visitors are brought into a Mongolian yurt and offered dairy products, flesh and milk tea. The hosts will present Hada (a piece of silk used as a greeting gift) and wine to the visitors, they will be very happy if the visitors accept the honour.
Nadam Fair is a famous traditional festival of Mongolians. The festival is usually held in July-August and November-February of the coming year. "Nadam" means "entertainment, game" in Mongolian a combination of athletics in horse racing, wrestling and archery. Nowadays, it is a solemn ceremony of harvest celebration, sports activities and goods exchanging. During the ceremony, one sees horse racing, Yak racing, shooting, wrestling, playing and singing folk song.
"Oboo" means heap in Mongolian, which is an artificial heap of stones, soil or wood bricks. Oboo is a chancel for worship, which evolves from the ancient Mongol tombs. Oboo Worship communicates with all the gods in the universe. People pray for favorable weather, healthy livestocks and peaceful life. In the religious ceremony, people present Hada and oblations, then Lama chant sutras and people kneel. Worshippers turns 3 rounds from left to right around the Oboo.
Visitors may enjoy prairie-style activities: horse riding, campfire party, archery, watching wrestling and Inner Mongolia dance.
What to Eat on Hulunbuir Prairie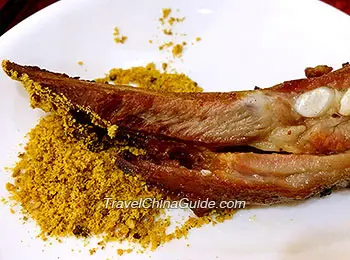 Roast Lamb
Specialties include roast leg of lamb, the whole sheep feast and grilled meat, in which roast leg of lamb is the most famous dish. Hulun Lake Fish Feast is also worth trying. The feast is made by fresh fish and shrimp from Hulun Lake.
Best Time to Visit Hulunbuir Prairie
Middle May to middle September with comfortable weather and endless green scenery is the best time for a visit, when one may also attend the Nadam Fair normally held in July or August. November to February coming year is also a good time, when the vast land is blanketed white at the winter Nadam Fair; do remember to bring warm clothing.
Travel Tips in Hulunbuir Prairie
1. There are many mosquitoes on the prairie in summer, please prepare mosquito repellent
2. Pay attention to guard against sun burnt.
3. The temperature varies widely from day to night, please take sufficient clothing, and prevent catching a cold.
4. Please respect the local customs and habits in order to avoid unnecessary trouble.
5. Book a yurt or a hotel room in advance if traveling there in peak season.
How to Get to Hulunbuir Prairie
1. Get to Hailar: Visitors often get to Hailar firstly by train or by air. Hailar has been connected by train with Beijing, Harbin, Hohhot and Baotou, etc, and by air with Beijing and Hohhot, etc.
2. From Hailar to Hulunbuir Prairie: As the area is very large and the public transport is scarce, chartered vehicles are recommended. According to circumstances, the price is CNY 600~1,200/day. The drivers will recommend a suitable route for you.
- Last updated on Apr. 12, 2021 -
Questions & Answers on Hulunbuir Prairie
Asked by Chan from CHINA | Sep. 24, 2019 02:57

Reply
I want to book a yurt for six nights near Heishantou. How can I get there from Hailar airport?
Answers (2)
Answered by Ricardo from USA | Sep. 26, 2019 17:58

0

0

Reply
There are several places having the same name "Heishantou". Could you be more specific?
Answered by Chan from CHINA | Sep. 27, 2019 08:26

0

0

Reply
Well, there is a small town called Heishantou relatively close to the Russian border. I've booked a yurt there. But thanks anyway.
Asked by Agathe from FRANCE | Apr. 25, 2019 00:09

Reply
Can we rent horses at Hulunbuir Prairie and what is the price please?
Answers (1)
Answered by Anne from AUSTRALIA | Apr. 26, 2019 01:56

0

0

Reply
You can have a horse riding, about CNY 50 for 10 minutes, CNY100 for 20 minutes.There is no horse renting of long time.
Asked by Nadav from ISRAEL | Sep. 27, 2018 02:47

Reply
How would you recommend to plan 6 days tour in hulunbeier?
I want to include also a visit to Manzhouli?
Answers (1)
Answered by Gabrielle from USA | Sep. 28, 2018 18:14

0

0

Reply
You can arrange the sightseeing in the following way:

D1 Hailar – Enhe: Anti-fascist memorial park, Golden Horde, birch forest, upper protected forest, down protected forest
D2 Enhe – Linjiang Haur River Scenic Area, cruise on Shiweijie River
D3 Linjiang – Mordaga: Old olecranon, Taiping village, Mordaga National Forest Park
D4 Mordaga – Heishantou: Derbur, Xingan Deer Park, Asian wetlands, the sunset of Heishantou
D5 Heishantou – Manzhouli: Ribbons River, Hulieyetu, herdsmen, nightlife in Manzhouli
D6 Manzhouli – Hailar: National gate, Doll Place, Hulun Lake

Hope helpful!
Asked by Jojo from UNITED KINGDOM | Sep. 01, 2018 18:51

Reply
How can I arrange a 3 day tour of hulunbuir?
Answers (1)
Answered by Sam from NEW ZEALAND | Sep. 03, 2018 19:22

0

0

Reply
Day 1: Halar-Mograd River-The White Birch Forest-Enhe

Day 2: Enhe-Erguna wetland-Black Mountain- Manchuria

Day 3:Manchuria-Hulun Lake-Hyrule