Hulunbuir Travel Guide
Chinese Name: 呼伦贝尔市 (hū lún bèi ěr shì)
Population: 2,710,000
Area: 263,950 square kilometers (101,912 square miles)
Nationalities: Mongol, Han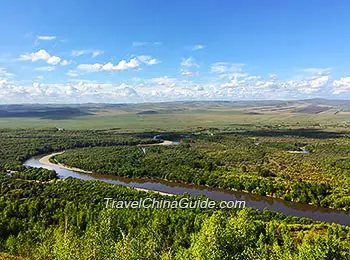 Vast Prairie in Hulunbuir

Location: Situated in the northeastern part of the Inner Mongolia Autonomous Region, Hulunbuir City borders Heilongjiang Province to the east and shares boundaries with Outer Mongolia and Russia in the southwest and northwest.

Administrative Division: 1 District - Hailaer; 4 Qis (Arun, Xin Barag, Xin Barag You and Xin Barag Zuo); 3 Autonomous Qis (Oroqen, Ewenki, and Morin Daur); 5 County-level Cities (Manzhouli, Zhalantun, Yakeshi, Genhe and Eerguna)

Note: Qi (or Banner) is a county-level administrative entity in Inner Mongolia's political divisions. A League or Meng is an administrative unit in Inner Mongolia consisting of several qis.

Seat of the City Government: 24, Shengli Jie, Hailaer District



Useful Telephone Numbers:
Tourist Complaints: 0470-8238664
Weather Forecast: 121
Zip Code Inquiry: 184



Bank of China Hulunbeier Branch: 16, Alihe Lu, Hailaer District


China Post Hulunbeier Branch: Jiagedaqi Lu, Hailaer District
Hulunbuir Attractions - Things to Do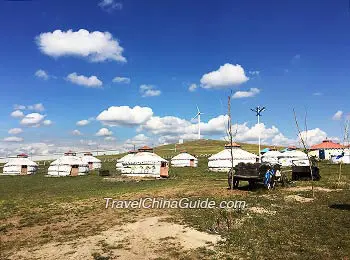 White Yurts on Hulunbuir Prairie
Hulun Lake
are the most famous sights in that area. The lake is teeming with fish and shrimp. Hulun is the largest lake in Inner Mongolia and one of the five largest freshwater lakes in China.
Phoenix Villa (Fenghuang Shanzhuang)
It is an excellent winter resort located in the Daxing'anling Mountains. European-style villas with red roofs stand out among the pines and white snow. Additionally, Hailaer National Forest Park and Darbin Lake National Forest Park cater to visitors who feel enthusiasm for the natural greenery and tranquil forests.
How to Get to/around Hulunbuir/Manzhouli by Air
Hailaer (Dongshan) Airport is 7 kilometers (4.3 miles) from downtown Hulunbuir. Every week, there are flights to Beijing, Hohhot and Shenzhen. Manzhouli Airport is 9 kilometers (5.6 miles) southwest of Manzhouli City and operates flights to Beijing, Hohhot, Guangzhou, Shenzhen and Qingdao. There are also international flights available to Chita and Irkusk in Russia.
Weather
-
Situated in the continental climatic zone, Hulunbuir is characterized by cool short summer and long chilly winter. The average temperature range during a year is -5 - 2

C (23 - 35.6

F). Precipitation becomes common in June and August.

When to Go: Mid-May to mid-September and November to February are the best periods to visit the region. The former period is best for viewing the flourishing grassland and latter period is better for viewing the grand snowscape. Weather in late May and mid-September is generally the most comfortable. From June to August, the grasslands are frequently overrun with swarms of mosquitoes.
Hulunbuir Travel Tips

History: During the Western Han Dynasty (206BC-24AD) and the Qing Dynasty (1644-1911), many nomadic tribes in North China settled in the vast grassland of Hulunbuir. Today, it is still the homeland of more than thirty ethnic minorities. In 2001, Hulunbuir's status was changed from a league to a city.

Physical Features: The Daxing'anling Mountains stretch through the central region of Hulunbuir City from the northeast to the southwest. The city is divided into three regions: the grassland in the west; the forest zone in the mountain area and the hill and river valley area in the east.

Special Local Products: The minority Daur, Oroqen and Ewenki people make products from birch bark. Russian handicrafts are available, too. Locally raised mushrooms, beef and mutton and dairy products are of good quality.

Local Highlights: Hulunbuir hosts an azalea festival in the spring; a grassland culture and beer festival in the summer; a forest culture festival celebrating Daxing'anling Mountains in the autumn and an ice and snow festival with a strong ethnic flavor in the winter.
- Last modified on Dec. 11, 2018 -
Questions & Answers on Hulunbuir / Hulunbeier Travel
Asked by Jay from CHINA | Nov. 27, 2017 04:54

Reply
Are there any nightlife, like bars or clubs in Hulunbuir, and can I find expats there?
Answers (1)
Answered by Gloria from CANADA | Nov. 27, 2017 21:10

0

0

Reply
I just know a Live House Bar on Shengli Street. You may go for a try! And if you wanna meet expats, perhaps it is more likely at local hotels like Wangchao Hotel, Tianjiao Hotel and Bojue Hotel. Good luck!
Asked by Tosh from INDONESIA | Aug. 30, 2015 20:15

Reply
Trip to Haila'er Grassland
Hi, if i arrive at Haila'er from Beijing on 11 Sep 2015, is it easy to book a tour to the hulunbeier grassland in Haila'er? Are there many tour agencies in Haila'er? i would like to start the tour the next day on 12 Sep. Is that possible? Or better to book in advance? Thanks
Answers (1)
Answered by Fendi from INDONESIA | Sep. 01, 2015 20:39

0

0

Reply
You'd better book the tour in advance; the tour agencies are limited there, not like that in other hot attraction cities. And there are even less English tour guides. Have you booked a hotel there? If so, you can ask the hotel to help you with the booking. They have easier access to the local agencies and they are familiar with the route. Good luck~
Asked by Nathan from UKRAINE | Jul. 04, 2015 04:08

Reply
Hiring a car/driver in Hulunbeier
Hi, I'm about to travel here, but a bit worried about the car and driver situation. DO you have to hire before you go? Or can you hire when you get there?
Answers (1)
Answered by Grace from USA | Jul. 04, 2015 21:53

0

0

Reply
You can hire the car upon arrival there. Or you can ask your hotel staff to arrange the car rental for you.
Asked by ahbeng from SINGAPORE | Oct. 25, 2013 23:03

Reply
hello... hailar/manzhouli in winter (january) is okay for visit?
Answers (11)
Answered by Fenny from DENMARK | Oct. 26, 2013 01:19

1

0

Reply
I'm afraid not. It will be extremely cold in Jan. there, with the average temp of around -30C.
Answered by ahbeng from SINGAPORE | Oct. 28, 2013 23:28

1

0

Reply
Hi Fenny, thanks for your reply.

I know it will be freezing, but since I am also coming from harbin, i guess it makes no difference (or it did?).

just curious about this little city :)

so nothing to see in January?
Answered by Joe | Oct. 29, 2013 02:01

0

0

Reply
No difference between the two places. Very cold!

In Jan. 2013, the National Auto Icy Tournament was held in Hailar. It was really worthy time. But the activities in Jan. 2014 hven't been published yet. Anyway, it would also be a good idea to experience the life of local people there.
Answered by ahbeng from SINGAPORE | Nov. 05, 2013 22:36

0

0

Reply
ok. can someone suggest the best way to get to manzhouli from harbin?

train will be 700RMB/person round trip, 14 hours mostly.

can't find any flight at the moment.

is it a good idea not to prebook the flight 3 weeks travel prior to chinese new year?
Answered by Joe | Nov. 09, 2013 00:02

0

0

Reply
Yeah, although there is train service between, it takes a little long. I suggest you book the air ticket between Harbin and Manzhouli three weeks to a month ahead.
Answered by ahbeng from SINGAPORE | Nov. 12, 2013 21:40

0

0

Reply
any recommendation where and what flight to book?

Answered by Joyce | Nov. 13, 2013 01:01

0

0

Reply
I heard the Tianjin Airline owns that flight.
Answered by ahbeng from SINGAPORE | Nov. 13, 2013 04:33

0

0

Reply
hi joyce, thanks for your reply

I could not find any schedule for january which is quite strange
Answered by ahbeng from SINGAPORE | Nov. 18, 2013 22:43

0

0

Reply
Still cannot find any flight for this little gem
Answered by ahbeng from SINGAPORE | Dec. 27, 2013 21:31

0

0

Reply
just to update that I found the flight round trip cost me 1000 RMB which is okay i belive.

so let's go to manzhouli

any suggestions what to visit is highly appreciated.

love you all
Answered by ahbeng from SINGAPORE | Jan. 22, 2014 22:43

0

0

Reply
hi all

i just came back from manzhouli...

the cold is almost unbearable :)

honestly, nothing much to see.