Wuhai Travel Guide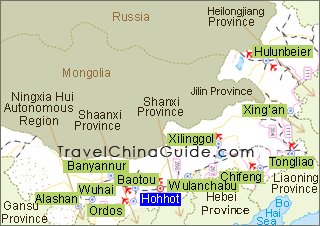 Wuhai Facts
Chinese Name: 乌海 (wū hǎi)
Population: 563,300
Area: 1,754 square kilometers (677 square miles)
Location: in the southwest of Inner Mongolia, north China
Administrative Division: 3 districts (Haibowan, Hainan, Wuda)
Area Code: 0473
Zip Code: 016000
GDP (2018): CNY 49.59 billion (USD 19.67 billion)
Nationalities: Han, Mongol, Hui, Man, Zang
The City Rich in Mineral Resources and Grapes
Wuhai is a new industrial city located in the southwest of Inner Mongolia. It is close to Ordos to the north and east, Alxa to the west and Ningxia to the southwest. Wuhai is rich in mineral resources whose high-quality coking coal accounts for 75% of the reserves in Inner Mongolia. Known as the city of calligraphy, Wuhai has a large number of members of the Chinese Calligraphy Association and more than 100,000 fans who practice calligraphy all year round. Thanks to rich water, soil, light and heat resources, Wuhai produces high-quality grapes and establishes many desert original ecological wineries. While visiting the city, mountains, Gobi, deserts, deserts and grasslands here will offer you a visual feast. Some historical sites like the Great Wall in the Qin Dynasty (221 BC – 207BC) are still preserved.
Wuhai Attractions - Things to Do

Rock Paintings on Mt. Zhuozi: Created in the
Neolithic Age
, the rock paintings reflect the religious culture of the northern hunt and herd nationalities of ancient China.

Qixiagu Grand Valley
: More than 650 meters (710 yard) long, the valley is lined with strange peaks on both sides, leaving just a little space which is called 'A line of Sky' by the locals.

Diversifolious Poplar Islet
: Set in the center of the Yellow River, it is made of five smaller islets, among which one is covered with diversifolious poplar.

Xi Erduos National Nature Reserve
: Thousands of rare or ancient plants are preserved in this area, among which Tetraena mongolica Maxim (Sihemu) is the most precious one. It is the peculiar plant in Alxa desert area and is under the second-class protection of the state.

Other Tourism Spots
: Jinshawan Ecological Tourism Resort, Mabudian Ecological Tourism Resort, Yellow River Holiday Resort, Dayu Wharf, Ancient City Site of the
Han Dynasty
(206 BC-220), Beacon Tower of the
Ming Dynasty
(1368-1644)
How to Get to/around Wuhai
Wuhai Airport is located 14 kms (9 miles) north of Haibowan District. It has flights to Beijing, Hohhot, Lanzhou, Xi'an, Shanghai, Shenzhen and other important cities. Baolan Railway (Baotou- Lanzhou) traverses the city and extends to Tianjin, Beijing, Datong, Yinchuan and many other northwest cities. Wuhai West Railway Station is located in Wuda District.
Weather
-
Wuhai belongs to typical continental climate zone. Rain is infrequent in spring; it is hot in summer and cool in autumn with little snow in winter.

When to Go
: Best time to visit Wuhai is between summer and autumn, around August and September.
Wuhai Travel Tips

History
: Wuhai's history dates back to the
Western Han Dynasty
(206BC-24) when the embryonic form of the city came into being. On August 30, 1975, it was approved to be the present Wuhai under the State Council.

Physical Features
: Three parallel mountains stretch from north to south, with two plain basins in the middle.

Local Highlights
: As an industrial city, Wuhai has various natural resources, among which the coal mine is the richest. Wuhai is also one of the most important grape bases in China. For tourism, it is famous for Yellow River and desert scenery. It also boasts of its calligraphic works, many of which have been released in national newspapers and television stations. In addition, 24 ethnic minority groups add to the charm of Wuhai. Folk culture such as Gao Qiao (walking on stilts), camel racing and playing on the Matou Qin (a musical instrument) appeal to tourists.
- Last updated on Jun. 03, 2020 -
Questions & Answers on Wuhai Travel
Asked by AO from AUSTRALIA | Nov. 20, 2015 19:48

Reply
WuHai Holidays tips?
Hi, I am planning to go in April to WH first than to JiangXi, I have the following questions:

1. What kind of weathers should I expect?
2. What is a good reasonably price, mid range Hotel, with free Wifi and close to public transport?
3. Are free Wifi easily available outside of Hotels?
4. I like to visit mountains, can I easily get to nearby mountains by public transport or is it easy to book local tours when I arrived?
5. I would also like to attend church on Sunday, are there churches nearby that I can visit?
6. Are food easily available within WH? Street food? Opening and closing time?

This will be my first trip to China, so any advise would be much appreciated. Thanks in advance.
Answers (3)
Answered by Fenny from CHINA | Nov. 21, 2015 20:54

0

1

Reply
1. According to the weather records, it would be still cold at that time. The average temp may reach 65F in the day time and 40F at night.
2. I suggest you live near the railway station, and here are some hotels for your reference.
Rongxing Hotel, located at No. 33 West Xihua Street.
Xiyue Hotel, located at 550 yards to the east of the railway station.
Xinrun Express Hotel, located at No. 7 south Xinhua Xijie.
3. I'm afraid you can hardly get access to free wi-fi outside hotels.
4. Yes, most spots can be reached by public transport, but joining a local tour is the best option, and you can book it through the hotel.
5. Near Shuangyong Street, there is a church, you may go there to have a try.
6. Yes, you can have easy access to local food. I advise you go to the Jianshe Road. Along the road, there are a lot of restaurants. Have a try.
Answered by AO from AUSTRALIA | Nov. 22, 2015 02:44

1

1

Reply
Thanks for your reply, could you please provide links to the hotels and map of the streets you mentioned? I was not able to search the address via Google.

Thanks again for your useful information.
Answered by Fenny from CHINA | Nov. 22, 2015 20:13

1

0

Reply
Hi, AO. The Xiyue Hotel near the railway station is highly recommended, which provides high quality service and clean environment. It is located to the northwest of the crossing of Xinhua Avenue and Jianshe Road. It is 500 yards to the east of the railway station. You can easily find it. ;)
Asked by Natalie from ISRAEL | May. 03, 2013 02:41

Reply
Is wuhai sutiable for a one year baby?
We have a job offer there and i would like to know.
Answers (2)
Answered by Nancy | May. 04, 2013 04:31

2

1

Reply
Yes, it is suitable.
Answered by natalie from ISRAEL | May. 04, 2013 07:13

1

1

Reply
Is Wuhai considered westuran?
if we need to stay there for 6 monthes where do you recommend us to stay and which accmdiantion?
can you please be specipek.

bests
Asked by Inbal from ISRAEL | Oct. 15, 2012 12:27

Reply
Visiting Inner Mongolia
Hey, we're going to stay in wuhai of Inner Mongolia for work for the next month. We wanted to ask about the best hotel price is not important and good restaurants, mostly Western food. We will be with our baby 3 months old, are there any recommendations for excursions in the area? Thank you
Answers (1)
Answered by Rita | Oct. 16, 2012 04:03

0

0

Reply
You may think about the Binhe International Hotel at Xuefu Road, Binhe District. It is a nice 5 star hotel at the downtown area. It also provides western food. Since you have a baby only 3 months old, I think it is not suitable for a excursion. If you really want, you may go to the Yellow River Holiday Resort or Dayu Wharf for a visit.
Asked by Mr.Colin from UK | Jan. 05, 2010 05:48

Reply
I do not speak Chinese but need to work for a few months at place that is somewhere between Wuhai and Ordos. Assuming that the travel time from both cities to my work places is about the same, which city will be more convenient form - Wuhai or Ordos? Why will it be better for me?

Answers (1)
Answered by Ms.Sally | Jan. 07, 2010 22:33

1

1

Reply
I think you could stay in Ordos which is much closer to Baotou and Hohhot, the two largest cities of Inner Mongolia. So, the daily life will be easier! Hope this helps!