Wuhai Travel Guide
Wuhai Facts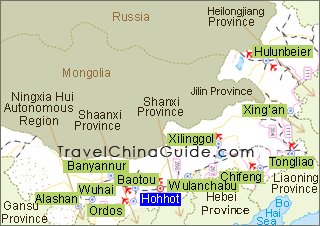 Chinese Name: 乌海 (wū hǎi)
Population: 465,000
Area
: 1,754 sq kms (677 sq miles)
Nationalities
: Han, Mongolian, Hui, Manchu, Daur, Korean, Zhuang, Dongxiang, Bouyei, Xibe, Tibetan, Miao, Tujia, Oroqen, Yi, Dong, Ewenki, Uygur, Russ, She, Shui, Tu, Bonan and Li

Location
: Wuhai is in the west of Inner Mongolia, along the upper reach of the
Yellow River
, neighboring
Ningxia Hui Autonomous Region
.
Administrative Division
: 3 districts - Haibowan, Hainan & Wuda

Useful Telephone Numbers
:
Tourist Complaints: 0471-6282653
Consumer Complaints: 12315
Zip Code Inquiry: 184
Express Mails: 185
People's Hospital: 0473-2034491
Train Station Inquiry: 0473-2229411
Long Distance Bus Station Inquiry: 0473-2026346
Wuhai Airport (WUA) Inquiry: 0473-2888866
Wuhai Attractions - Things to Do

Rock Paintings on Mt. Zhuozi: Created in the
Neolithic Age
, the rock paintings reflect the religious culture of the northern hunt and herd nationalities of ancient China.

Qixiagu Grand Valley
: More than 650 meters (710 yard) long, the valley is lined with strange peaks on both sides, leaving just a little space which is called 'A line of Sky' by the locals.

Diversifolious Poplar Islet
: Set in the center of the Yellow River, it is made of five smaller islets, among which one is covered with diversifolious poplar.

Xi Erduos National Nature Reserve
: Thousands of rare or ancient plants are preserved in this area, among which Tetraena mongolica Maxim (Sihemu) is the most precious one. It is the peculiar plant in Alxa desert area and is under the second-class protection of the state.

Other Tourism Spots
: Jinshawan Ecological Tourism Resort, Mabudian Ecological Tourism Resort, Yellow River Holiday Resort, Dayu Wharf, Ancient City Site of the
Han Dynasty
(206 BC-220), Beacon Tower of the
Ming Dynasty
(1368-1644)
How to Get to/around Wuhai
Wuhai Airport is located 14 kms (9 miles) north of Haibowan District. It has flights to Beijing, Hohhot, Lanzhou, Xi'an, Shanghai, Shenzhen and other important cities. Baolan Railway (Baotou- Lanzhou) traverses the city and extends to Tianjin, Beijing, Datong, Yinchuan and many other northwest cities. Wuhai West Railway Station is located in Wuda District.
Weather
-
Wuhai belongs to typical continental climate zone. Rain is infrequent in spring; it is hot in summer and cool in autumn with little snow in winter.

When to Go
: Best time to visit Wuhai is between summer and autumn, around August and September.
Wuhai Travel Tips

History
: Wuhai's history dates back to the
Western Han Dynasty
(206BC-24) when the embryonic form of the city came into being. On August 30, 1975, it was approved to be the present Wuhai under the State Council.

Physical Features
: Three parallel mountains stretch from north to south, with two plain basins in the middle.

Local Highlights
: As an industrial city, Wuhai has various natural resources, among which the coal mine is the richest. Wuhai is also one of the most important grape bases in China. For tourism, it is famous for Yellow River and desert scenery. It also boasts of its calligraphic works, many of which have been released in national newspapers and television stations. In addition, 24 ethnic minority groups add to the charm of Wuhai. Folk culture such as Gao Qiao (walking on stilts), camel racing and playing on the Matou Qin (a musical instrument) appeal to tourists.