Alxa Travel Guide
Alxa Facts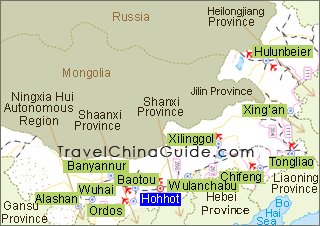 Chinese Name: 阿拉善 (ā lā shàn)
Population: 196,279
Area
: 267,574 square kilometers (103,311 square miles)
Nationalities
: Mongol, Han

Location
: Alxa, also Alashan, is a prefecture at the westernmost end of the Inner Mongolian Autonomous Region and neighbors Jiuquan, Zhangye and Wuwei in Gansu Province in the west. It is separated from Ningxia Hui Autonomous Region by Helan Mountain in the east, sharing a 733.48 kilometers (456 miles) boundary with Mongolia. Bayanhot is the administrative center
Administrative Division
: Alashan Zuo Qi, Alashan You Qi, Ejina Qi (Qi, refers to a special county-level administrative unit in Inner Mongolia)

Useful Telephone Numbers
:
Tourist Complaints: 0483-8337204
Weather Forecast: 121
Zip Code Inquiry: 184
Bank of China: 0483-8331379
Alxa Attractions - Things to Do
Badain Jaran Desert
Lies to the north of
Alxa Right Banner
in Inner Mongolia. It covers an area of 18,146 square miles and is the third largest desert in China and fourth in the world.
Endowed with beautiful and colorful views, Badain Jaran desert has cragged peaks, beautiful lakes, springs and temples. In the middle area of the desert are countless sand-echoing hills. The roaring and gliding sands reverberate through the whole desert like the noise of an airplane. Unlike other dry deserts, Badain Jaran Desert is dotted with over 140 crystal lakes. Most of these are saltwater lakes, but there are also many pure springs.

Badain Jaran Desert is not a barren land. Instead, many desert plants and animals flourish here. Around the lakes, there are thick reeds, white poplars and narrow-leaved obleaster trees. Countless plants, such as camel thorns and Jiji Grass, serve as wind breakers and help anchor the sand. Many of these plants have medicinal values.

The mountains of Badain Jaran Desert have harder surfaces than those in other deserts. This provides an opportunity to explore the desert on wheels. An unforgettable experience is to drive an off-road vehicle at high speed on the wave-like sand mountains.

Tips: The best months to visit Badain Jaran Desert are August, September and October. Because of the extreme weather, bring an overcoat and warm clothing. Bring plenty of water for hydration. The ultraviolet radiation in the desert is very strong, so sunglasses and sunscreens are essential.

Helan Mountain
It is the largest north-to-south mountain range in northwestern China. It neighbors the Loess Plateau in northwest and the Qinghai-Tibet Plateau in northeast. The unique location blesses it with distinct natural scenery, human landscapes and ecosystems.

L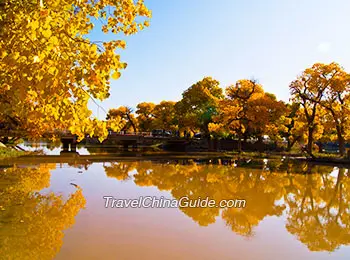 Poplar Forest National Nature Reserve, Ejina
ying in
Alxa Left Banner
in Inner Mongolia, Helan Mountain National Reserve covers a large area, 261 square miles, with the highest peak measuring 11,700 feet. It lies in the transitional zone between grassland and desert. The main feature it protects is the forest ecosystem in arid and semiarid regions which contains rare plants and animals. Walk into the virgin forest of Helan Mountain, and you will feel you are entering a natural "zoo" which is home to hundreds of wild animals such as musk deer, berghaan, foxes and dzeren. Standing on top of the mountain and having a vertical view, you will be dazzled by the vast green sea of trees and, at the same time, be astonished by this marvelous creation of nature.

Ejina Diversifolius Poplar Forest National Nature Reserve
One of the three extensive poplar forests in the world has enthralling autumn scenes beloved by numerous tourists and photographers

Virgin Forest in Helan Mountain
A perfect attraction combining natural forest landscapes and Buddhist temples, such as the Guangzong Temple and the Fuyin Temple.

Moon Lake in Tengger Desert
A leisure destination in the shape of the map of China with one kilometer (0.6 mile) long natural bathing beach and medicinal lake water.
How to Get to/around Alxa
Buses are the main vehicles in
Alxa League
. Recently, visitors have been able to take buses directly between
Alxa
and other cities in Inner Mongolia, Ningxia, Gansu, such as Hohhot, Lanzhou, and Yinchuan. In addition, visitors can also get in and out of the prefecture through the nearby airport.
Alxa Right Banner
is 520 kilometers (323 miles) from Lanzhou Zhongchuan Airport, while Zuo Qi is only 110 kilometers (68 miles) from the Yinchuan Hedong Airport in Ningxia.
Weather
-
Alxa has a typical continental climate for its location in the hinterland of Asia remote from the moisture of the sea. Wind blowing with sand, rare rain and dry air are the main features of its weather. The winter is chilly and the summer is parched.

When to Go
: Summer is the best time to explore the scenic spots of Alxa around Helan Mountain, while the poplar forest in Ejiana Qi tinged with autumn red is also fascinating.
Note: Apart from the tourist necessities, such as sunglasses, sunblock, and clothes with long sleeves, visitors should also pay attention that not to shelter from the wind behind the lee slope of a dune. The correct action is to stand in front the dune behind camels.
Alxa Travel Tips

Physical Features: Alxa is situated on the Inner Mongolian Plateau having an average altitude of 1000-1400 meters (3281-4593 feet) with its topography inclining from the higher north to the lower south. The Gobi Desert and desert grassland comprise the main landscape of this area.



History: Historically, Alxa was a beautiful place with many mellow waters and grass although there are many deserts in this area too. It has been shielded for hundreds of years from sparseness by the forests in Helan Mountain, Heihe River and oases. In the 17th Century, a tribe of Mongolians, the Tuerhute, after much difficulty contrived to come back and settle in this area from Volga River region. From then on, Alashan was inhabited over generations.



Special Local Products: cashmere, camel hair, curious stone carvings