Populus Euphratica Forest in Ejina
The populus euphratica is one of the few trees which can live in the desert thanks to their strong vitality. They can survive where there is little water and rain , or in a climate with extremely high or low temperatures. The Populus Euphratica Forest in Ejina, about 250 square kilometers (97 square miles) in size, is one of only three existing populous euphraticas forests in the world and it is listed as a world geopark.
The area of the Populus Euphratica Forest in Ejina open for tourists is located in the northwest of Ejina, Alxa of Inner Mongolia, or more specifically in a 200-kilometer-long (124 miles) belt-shaped region from Yidaoqiao to Badaoqiao, with the widest part being 15 kilometers (9 miles) and the narrowest part only 1 kilometer (0.6 mile). There are over 20 scenic spots in the Ejinan Populus Euphratica Forest Tourist Area, each standing out for its special populus euphratica trees or woods. The major scenic spots are listed below:
| | |
| --- | --- |
| Populus Euphratica Forest in Ejina | Map of Populus Euphratica Forest in Ejina |
Taolai Woods - Young Populus Euphratica
Taolai originates from the Mongolian language and means euphrates poplar. The trees in Taolai Woods are young populus euphratica and the shape of the leaves is long and slender, like the leaves of a willow. The woods is located near Yidaoqiao.

Paddle Populus Euphratica - Best Spot for Photography
The Paddle Populus Euphratica is like a girl who is sitting by the river and dipping her feet in the water. The formation of this scenic spot is of a tree trunk of a euphrates poplar falling into the river. It is the best spot for photography in the Populus Euphratica Forest in Ejina and every year many shutterbugs take beautiful pictures of it.

Welcoming Populus Euphratica
Welcoming Populus Euphratica is a euphrates poplar with two large branches, looking like a person with outstretched arms to embrace guests. It is over 400 years old and about 17 meters (56 feet) high. Its trunk is so thick that it needs 3-4 persons to circle it.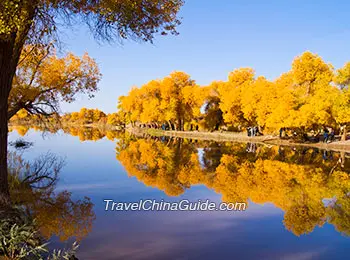 Hero Woods - Over 1,000-Year-Old Euphrates Poplars
The Euphrates poplar is called the Hero Tree of the Desert because it can endure drought and sand. The Hero Woods in the Populus Euphratica Forest in Ejina is the greatest concentrated place of 1,000-year-old euphrates poplars in Ejina Populus Euphtatica Tourist Area, about 6.7 square kilometers (2.6 square miles). The shape of old populus euphratica in the Hero Woods varies. Most of the trees are over 1,000 years old and their trunks are thick.

Different ages of the euphrates poplar present different leaf shapes. Young poplars have long and slender leaveswhile middle-aged trees have oval, broad oval or triangular leaves and visitors can see that the leaves of these old euphrates poplars are similar to maple leaves.

The Best Time to Visit the Populus Euphratica Forest in Ejina
The best time to visit the Populus Euphratica Forest in Ejina is early to middle October, when the leaves turn yellow and the forest turns into a golden fairy tale world. However, Oct. 1st to Oct. 7th is the National Day Holiday in China and the tourist area may be full of other visitors, so you should not come then if you would like a a more leisurely trip.

How to Get to the Populus Euphratica Forest in Ejina
Firstly, you need to get to Ejina. It can be reached by air from Xi'an in four hours and by train from Hohhot in around 16 hours. From Jiuquan in Gansu Province and Yinchuan in Ningxia Hui Autonomous Region there are long-distance buses, taking around six hours and 10 hours respectively.

On arrival, tourists are advised to rent a car to visit the Populus Euphratica Forest and other attractions in Ejina together, as public transportation in that area is not well developed. It costs about CNY 250-300 per day.
Opening Hours

May 20th - Late October or Early November, except high seasons: 08:30 - 18:00

September 1st - September 25th: 07:00 - 19:00

September 27th - October 8th: 05:00 - 19:00

October 9th - October 30th: 07:00 - 19:00

Entrance Fee
CNY 150
CNY 75 for children between 6 and 18 years old
Free for children under 1.2 meters (3.9 feet) or less than 6 years old
Sightseeing Bus
in the Tourist Area
CNY 30
- Last updated on Jun. 20, 2022 -
Questions & Answers on Populus Euphratica Forest in Ejina
Asked by Riri from CHINA | Sep. 30, 2020 18:16

Reply
Hello, how long do we need to visit those scenic in Ejina?
Answers (1)
Answered by Mackenzie | Oct. 12, 2020 00:21

0

0

Reply
Generally speaking, you are suggested to prepare 2-3 days.