Badain Jaran Desert
The location of Badain Jaran Desert is in the west of Inner Mongolia and in the center of Alxa League. It's the fourth largest desert in the world and the third largest desert in China, with an area of 47,000 square kilometers (18,150 square miles). However, about 10,000 square kilometers (3,860 square miles) of the desert has not been touched by human beings. It's also the most beautiful desert in China, famous for the world's tallest sand dune- Bilutu Dune, the world's largest singing sand area - Baoritaogaile, many lakes and oases including the famous lake - Badain Lake, the magic spring- Yinderitu, and the ancient temple in the isolated desert - Badain Jaran Temple. The strange and charming scenery attracts many people to visit, explore and take photos.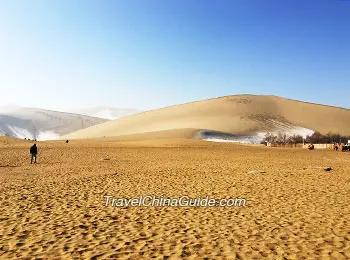 Badain Jaran is Mongolian language. It is said that a person, called Badain, once lived here so the place is called as that. The meaning of Jaran is sixty in Mongolian to indicate this place has a number of lakes. Once upon a time, Badain Jaran wasn't a desert region and there were mountains, rivers and grasslands. In Ulanhot, a big city of Badain Jaran, an emperor went to Lhasa to bless for the country's rich and people's health. After the emperor went to Lhasa, the courtiers convinced his son the emperor went there just to pray the son to die. The silly son believed them and killed his father. After the emperor died, the sand fell from the sky for seven days. Henceforth, the kingdom disappeared and Badain Jaran became a desert area.
Bilutu Dune - Dune "Qomolangma"
Bilutu Dune is the world's highest sand dune with an altitude of 1,609 meters (1,760 yards) and a relative elevation of near 500 meters (547 yards), so it is called Dune "Qomolangma". When you are on the top of the dune, other badain jaran desert dunes and lakes nearby present a spectacular and grand sand sea. Bilutu means a place with whetstones in Mongolian. It is said that Bilutu is famous for producing whetstones.

Baoritaogaile - World's Biggest Singing Sand Area
It is the biggest singing sand area in the world, also called "Singing Sand Kingdom". The sound of the singing sand is like thunderclap or the roar of a plane. The sound is loud so that it's heard even beyond 10 kilometers (6 miles).

Yinderitu - A Magic Spring
Yinderitu means the place with steps in Mongolian. The total area of Yinderitu Magic Spring is 1 square kilometer (0.4 square mile). Yinderitu Magic Spring is a salt water lake. But in it, there is a 3-square-meter (3.6-square-yard) reef, on which there are 108 spring holes pouring out water day and night. The spring water is sweet and contains many kinds of trace elements, hence the spring is called "A Magic Spring" by local people. In history, the princes in Alax drank the spring's water by using the camels to convey it to their house even though the distance is very far. In recent years, two old Germans go to the place to drink the spring water every year.

Badain Lake - Pearl Lake of Badain Jaran Desert
Badain Lake is one of the rare freshwater lakes among the various Badain Jaran Desert lakes. It is also called Pearl Lake because the landscape of the lake is pretty like a bright pearl inserted in the desert. There's a legend about the origin of the name. A shepherd, called Badain, once came into the desert, found a beautiful lake and afterwards he lived there so the first lake coming into his eyes is named Badain Lake.

Badain Jaran Temple -"Forbidden City"of Badain Jaran Desert
Badain Jaran Temple, established in 1,755, is well preserved. The temple, 273.7 square meters (2,950 square feet) large, has two floors now. It's an important place for people's meeting and showing respect for Buddha in Badain Jaran Desert.

The Best Time to Visit Badain Jaran Desert
The best time to visit Badain Jaran Desert is August and September because you can not only enjoy the scenery, but also join the Desert Cultural Tourism Festival. It only holds in these two months every year, and the activities are horse racing, camel racing, climbing the desert dunes, rallycross, photographic exhibition and strange stone exhibition.

How to Get to Badain Jaran Desert
1.
First, you can arrive at Lanzhou or Jinchang in Gansu Province, or arrive at Alxa Left Banner in Inner Mongolia.
2. Second, take a long-distance bus to Badain Jaran Town or Yabrai Town. The duration is about 6 hours, 2 hours and 7 hours respectively.
3.
Third, you are advised to rent a SUV from Badain Jaran Town or Yabrai Town to the desert because the scenic area is large. The official SUV rent fee is CNY 850 for a one-day Badain Lake tour and CNY 3,000 for a one-day or two-day Badain Jaran Desert tour.
Opening Hours

All year
Entrance Fee

Badain Jaran Desert: CNY 160
​Badain Lake: CNY 70

Free for children under 1.2 meters (3.9 feet)
- Last updated on Mar. 07, 2020 -
Questions & Answers on Badain Jaran Desert
Asked by Simona from ITALY | Aug. 29, 2019 00:42

Reply
How can we get the permission to enter in the Badain Jaran Desert?
Hello, I have been working in China for a year and this October I would like to travel between Gansu and Badain Jaran Desert, I only have 9 days of vacation so I plan to spend only one night or two in the desert. We travel in two without relying on tourist agencies. How can we get the permission to enter in the desert? Are there any excursions that take you to the city of Khara Khoto? I would like to go in the paths less traveled by the Chinese tourist mass.

Thanks in advance
Simona
Answers (1)
Answered by Richard from USA | Sep. 04, 2019 18:17

0

0

Reply
You can buy the ticket to enter this dessert. Usually, people will have self-guided tour to this place and it is not a popular attraction so you don't need to worry about issue of crowds.
Asked by Agathe from FRANCE | Apr. 25, 2019 00:12

Reply
Is it possible to trek to visit Badain Jaran Desert (no jeep) by our own ?
What is the price with a guide ?
Can we visit it with camels as well and what is the price ?
Answers (4)
Answered by Alice from CANADA | Apr. 26, 2019 02:07

0

0

Reply
Yes, it is possible but it takes around 7 days for the trek and the fare was around CNY 1,500 per person several years ago. You can contact the scenic area 0483-6026555 for more information.
Answered by Agathe from FRANCE | Apr. 29, 2019 21:05

0

0

Reply
Ok thanks a lot !!
Answered by Daan from NETHERLANDS | Jul. 02, 2019 03:54

0

0

Reply
Hi Agathe,

Did you get some more information about trekking in the Badain Jaran Desert? And when are you planning to go?

Greetings Daan
Answered by Andrew from CHINA | Jul. 18, 2019 23:51

0

0

Reply
Hello Agathe and Daan,

Agathe, I am also curious if you'd received more information. I am considering a trek in early October of this year.

Best, Andrew