Jiuquan Travel Guide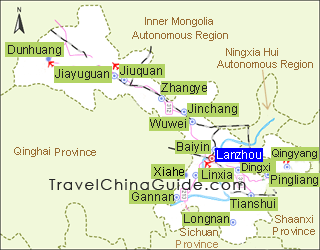 Jiuquan Facts
Chinese Name: 酒泉市 (iǔ quán shì)
Population: 1,020,000
Area: 192,000 square kilometers (74,132 square miles)
Location: in the northwest of Gansu Province, northwestern China
Administrative Division: 1 district (Suzhou); 2 counties (Jinta, Guazhou); 2 autonomous counties (Subei Mongol Autonomous County, Akesai Kazak Autonomous County); 2 county-level cities (Yumen, Dunhuang)
Area Code: 0937
Zip Code: 735000
GDP (2018): CNY 59.69 billion (USD 9.02 billion)

Famous for China's Largest Satellite Launch Center
Situated in the northwest of Gansu Province, Jiuquan neighbors Zhangye in the east within the province. It is also bordered with Qinghai Province to the south, Xinjiang Uygur Autonomous Region to the west and Inner Mongolia and Mongolia to the north. Jiuquan is the hometown of Dunhuang art, the cradle of modern spaceflight, and the birthplace of China's oil and nuclear industry. About 200 km (124 mi) away from Jiuquan City, Jiuquan Satellite Launch Centre is the earliest and largest comprehensive rocket and satellite launch center in China and the only manned space launch site. Since its establishment in 1958, the center has carried out 110 space launch missions and successfully sent 145 satellites, 11 spacecraft and 11 astronauts into space. Also, Jiuquan presents magnificent and unique natural scenery which is composed of the glaciers, oases and magical mirages that appeared in the desolate Gobi and deserts.
Jiuquan Attractions - Things to Do

Wine Spring of the Western Han Dynasty
: Covering an area of 270,000 square meters, the Wine Spring of the Western Han Dynasty is a well-preserved classic garden with a history of over 2,000 years. The garden was constructed to be elegant and unsophisticated, including vigorous spring, waving lake, vivid sculpture and exquisite palaces.

Mural in Eastern Jin Tomb: There is a royal tomb of the Eastern Jin Dynasty (317-420) located to the northwest of the city. The entire tomb, 12 meters beneath the earth, was constructed with bricks and divided into two rooms. The former room was paved with colorful murals on the roof and walls, as well as the latter room only has mural in the posterior wall. These murals depict the Chinese ancient legend, labor and life of the people vividly.

The Bell and Drum Tower: Constructed in the Eastern Jin Dynasty, this tower is located in the Shizi Street. The 24-meter's high tower consists of two parts—a brick square base and a three-storied wooden body. On the each side of the base, there is an arch with its own inscription in turn—'East to
Mt. Huashan
', 'West to
Hami
', 'South to Qilian Mountain' and 'North to Desert'.
How to get to Jiuquan
Jiuquan Dingxin Airport is located in Dingxin Town of Jinta County, operating three flights a week to and from
Beijing
. Jiuquan Bus Station offers buses in the morning to the airport. Furthermore, the Jiayuguan Airport is only 27 kilometers (17 miles) from downtown area of Jiuquan. It has opened flights to and from Beijing,
Xi'an
,
Lanzhou
,
Urumqi
and
Dunhuang
. It is half hour's drive from
Jiayuguan
to Jiuquan and about six hours' drive to Dunhuang. Additionally,
Dunhuang Airport
is another important airport in this area.
Jiuquan Bus Station is located in No. 47, Xiguan Road, Suzhou District. There are several buses daily to Dunhuang,
Zhangye
and
Wuwei
. It is about four hours' drive to Zhangye and another three hours' drive to Wuwei.
Weather
-
Enjoying a continental desert climate in temperate zone, Jiuquan is dry and seldom rainy throughout the year. The winter is chilly and summer is hot, the spring is arid. Wind blowing with sands often happens in spring and autumn. Temperature difference varies greatly during a day. It has slim rainfall during the whole year, mainly falling during July to October.

When to Go: May to October is the best season to visit.
Jiuquan Travel Tips

History: Since extremely long ago, this area had been inhabited by nomads of several ancient ethnic minorities in northwestern China. It was until the early ages of the Western Han Dynasty (206BC-24AD) that vast land west of the
Yellow River
including Jiuquan was entirely put into the regnal territory. The famous
Silk Road
stretched through the city and it had been the vital pass linking Central China with Central Asia and Europe.

Physical Features: Basically, the terrain is higher in the south, lower in the north and slopes downward from southwest to northeast. Offshoots of the Qilian Mountains occupy the south part of the city. The central land distributes basins, and the Gobi area is mainly distributed in its north.

Special Local Products: luminous jade cup, pile blanket, water pipe tobacco, black melon seeds
- Last updated on May. 24, 2022 -
Questions & Answers on Jiuquan Travel
Asked by Magdalena from POLAND | Jan. 15, 2017 09:41

Reply
The Silk Route Museum in Jiuquan - does it still exist?
I know it opened in 2009 but in 2017 its website is inaccessible and there is no info over the internet about the opening times and fees. Does anyone by any chance know if it is still there? Thanks.
Answers (1)
Answered by Shane from UNITED KINGDOM | Jan. 16, 2017 03:03

1

0

Reply
Yes, it still exists. But I heard the ticket price is CNY60; the site-clearing starts at 16:30 or so. You may make some further check on it.
Asked by josette logeay from FRANCE | Mar. 11, 2016 06:51

Reply
Do you know if it is possible to take a bus from Guazhou (gansu) to Jiayuguang?
if possible how long it would take? Thanks
Answers (1)
Answered by Kyle from AUSTRALIA | Mar. 11, 2016 20:44

1

0

Reply
Well, I cannot find the coach service between these two places. But don't worry. You can take direct train from Guazhou Railway Station and get to Jiayuguan Railway Station. They depart at 10:49, 17:13 and 20:21. The duration is 3 to 4 hours. The ticket fare of soft sleeper is CNY138.5 and hard sleeper is CNY95.5.
Asked by Yaqoob from BAHRAIN | Sep. 01, 2012 03:31

Reply
from beijing to Jiuquan
hello ,
i want to visit there can i ask if there is flight from Beijing?
thank you
Answers (1)
Answered by Vicky | Sep. 01, 2012 04:09

2

2

Reply
Yes, there is direct flight from Beijing to Jiuquan, but not daily.