Dingxi Travel Guide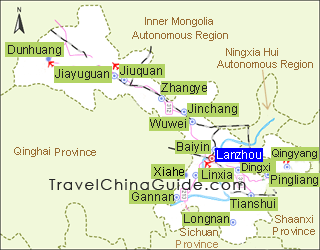 Dingxi Facts
Chinese Name: 定西市 (dìng xī shì)
Population: 2,960,000
Area: 20,300 square kilometers (10,425 square miles)
Nationalities: Han

Location: Dingxi City is located in central Gansu Province neighboring Lanzhou and Baiyin in the north, Pingliang and Tianshui in the east, Longnan in the south, Gannan Tibetan and Linxia Hui autonomous prefecture in the west.

Administrative Division: 1 district (Anding); 2 counties (Tongwei, Lintao, Zhangxian, Minxian, Weiyuan, Longxi)
Seat of the City Government: No.31, Zhonghua Lu, Anding District

Useful Telephone Numbers:
Tourist Complaints: 0932-8212959
Weather Forecast: 121
Zip Code Inquiry: 184

Bank of China Branch: No.60, Yongding Dong Lu, Anding District
China Post Branch: No.6, Minzhu Lu, Anding District
Dingxi Attractions - Things to Do
Shouyang Mountain
Baling Bridge
Weiyuan Tower
Lotus (Lianhua) Mountain
How to get to Dingxi
1. It is only 98 kilometers (61 miles) from the capital city, Lanzhou. Longhai (Lanzhou-Lianyungang) Railway and the secondary line of Baoji-Lanzhou Railway pass through Dingxi and No.310, 312, 212, 316 national highways and other expressways radiating from Lanzhou all run across Dingxi. It makes the city definitely the east gate to the capital city of Gansu.
2. Dingxi Railway Station and the bus station are not far away from each other, both located in Jiaotong Lu of Anding District.
Weather
-
The northern region of Dingxi enjoys a middle temperate semi-arid climate and the south bears a warm temperate semi-humid climate. Strongly affected by its landform and the monsoons, the temperate is higher in the north than that in the south, while the rainfall is quite the opposite. The annual average temperature maintains around 5.6

C-7.6

C (42.1

F-45.7

F).

When to Go: Sandstorms are common in spring, and it is chilly in winter. Summer and autumn are the best times to visit.
Dingxi Travel Tips

History: Dingxi, located on the upper reaches of the
Yellow River
, is an important cultural centre exhibiting more than 2,200 years of history. Several cultural relics of the Neolithic Age have been discovered in the city. It was a flourishing place of great importance on the
Silk Road
. After the establishment of the PRC, Dingxi Special District was set up and changed to Dingxi Region in 1970, then Dingxi City in 2003.

Physical Features: With the Weihe River as a limit, the city can be divided into the gully area of Loess Plateau in the north and the cold and humid highland area in the south. On the whole, the terrain declines from the south to the north.

Local Products: potato, herbs (astragalus, codonopsis, angelica), horsebean.

Local Highlights: This city is a town of folk arts. Carvings, paper cuttings, shadow puppetry, local operas and the most popular style of folk songs, Hua'er, are all attractions of the city.
- Last modified on May. 24, 2019 -