Dunhuang Travel Guide
Situated near the common boundary of Gansu, Qinghai and Xinjiang, the historical city Dunhuang is a renowned tourist destination, famous for the Mogao Caves. The landform of this area is a declining basin-plain from west to northeast, high in the north and south, and low in the middle, with Mt. Qilian in the south, Mt. Mazong in the north and desert from east to west.
In ancient times, Dunhuang was the trade center between China and its western neighbors. At that time, it was the most westerly frontier military garrison in China. With the flourishing of trade along the Silk Road, it was prompted to become the most open area in international trade in ancient Chinese history. It provided the only access westward for the Chinese Empire and eastward for western nationalities. Today, as a reminder of this historical area, we are left with the Mogao Caves, Yangguan Pass, Yumenguan Pass and many wonderful Chinese poems depicting the time. As a city in desert, sandstorm usually happens, so prepare glasses, hats and gauze kerchiefs to protect you. The best visiting time is from May to September.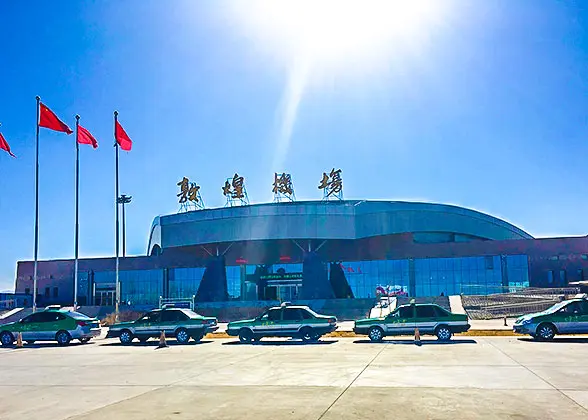 Flight is the most direct method from some major Chinese cities to Dunhuang. Trains are available from Xi'an, Lanzhou and Jiayuguan. In addition, long-distance buses extend to Jiayuguan, Lanzhou, Kumul, Urumqi, Turpan and Xining. There are buses from downtown to nearby attractions or one can hire a car for traveling around.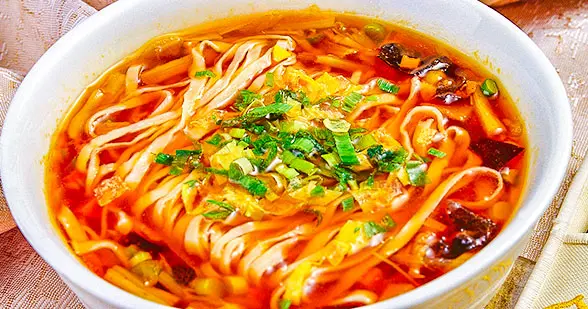 Close to Xinjiang, food in Dunhuang combines features of both Xinjiang cuisine and Lanzhou food. Mutton is very popular local food. Flour foods such as minced noodles are delicious. Those who want spicy food can eat Ma La Tang (a kind of hotpot) in restaurants along streets. Small but authentic restaurants are very easy to find such as the Daji Lvrou Huangmian Restaurant famous for Yellow Noodles with Donkey Meat. In addition, Shazhou Night Market is a must for tasting local snacks.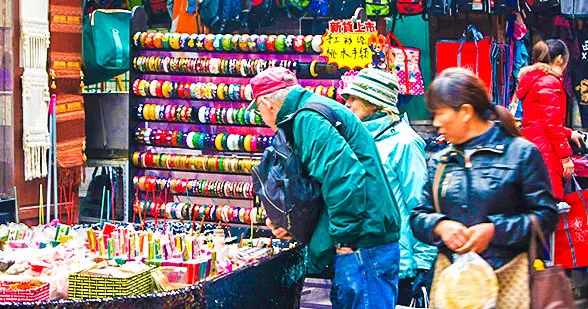 Without large shopping malls, Shazhou Market and Feitian Market sell various souvenirs such as carpets, craftworks of camel imitations, and luminous cups. Visitors can go to Shazhou Market at night. There one can purchase souvenirs while enjoying tasty snacks.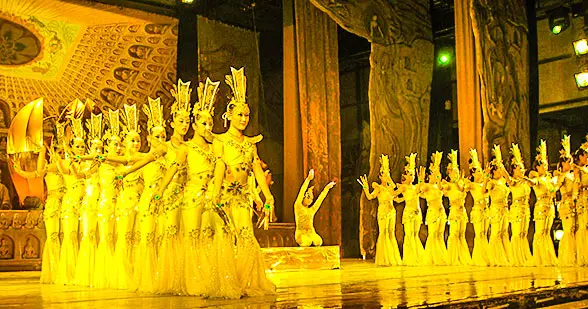 Night here is usually used for a good rest, since there are a few cafes, bars or discos. If you want to make full use of the traveling time, Shazhou Market is highly recommended to go to pick up some souvenirs or eat some snacks. Or watching the Summer of Dunhuang is a nice option to learn more local culture.
With four thousand years' history, the city played a vital role in China's development. It used to be an important portal to central China from Middle Asia. Tang Dynasty (618 - 907) was its heyday.
Some fast facts and practical information are provided to facilitate your trip.
Area & Zip Code
Useful Numbers
Post Office
Activities
Banks
Hospitals
- Last modified on Nov. 07, 2018 -
Questions & Answers on Dunhuang Travel
Asked by Jacklyn from USA | Nov. 06, 2018 06:01

Reply
Please help me with the information on long distance bus from Lanzhou to Dunhuang.
Hello
- which bus station should i go? And how to get to that bus station from Airport as i will arrive on Air from the US?
- how much does it cost? And will there be option for sleeper bus? Thanks
Answers (1)
Answered by Jances from SINGAPORE | Nov. 07, 2018 01:54

0

0

Reply
You should go to Lanzhou Passenger Transport Center to take the bus. Do you mean the Lanzhou Zhongchuan International Airport? If yes, there is the direct airport shuttle bus Chengguan District Line. You can get off at Ruida Business Hotel and then walk about 7 minutes to Lanzhou Passenger Transport Center. The tikcet fare is CNY260 per person. It is not a sleeper bus but seated bus.
Asked by Sandra from POLAND | Aug. 04, 2018 03:25

Reply
I couldn't find any confirmation that there is a Catholic church in Dunhuang Gansu on the internet.
But I arrived in the city just today and I was able to hear church bells twice already! First at noon (Angelus?) and then at 6pm. So is there a catholic church in DH? If yes, where is it?
Thank you
Answers (1)
Answered by Emma from UNITED KINGDOM | Aug. 07, 2018 01:09

0

0

Reply
I didn't find any church there; maybe you can ask local people for that.
Asked by Marek from BELGIUM | Jul. 25, 2018 09:52

Reply
Hi, I'm having a hard time planning my trip from Dunhuang to Jiayuguan and then to Zhangye.
I will arrive in the early morning in DH from a sleeper train from Lanzhou. How many days do you recommend I stay in DH. I want to visit Mogao caves, Echoing-Sand Mountain and Crescent lake, Yardang national park and the night Market. After DH I want to go to Jiayuguan to visit the pass and then to Zhangye to visit the danxia national landform geopark. I travel on a budget, so I will be mostly relying on public transport. I also want to be efficient, so visit alot of things in little time. I was thinking of staying for 3 days in DH and then 1 day in Zhangye and 1 dag in Jiayuguan. Thanks in advance!
Answers (1)
Answered by Fanny from FRANCE | Jul. 25, 2018 20:03

0

0

Reply
Your schedule is abailable, but the public transport is not very convenient.
Asked by Peter h from UK | Mar. 01, 2018 11:47

Reply
How do I get to dunhuang from xiahe
Answers (2)
Answered by Emily from AUSTRALIA | Mar. 02, 2018 02:42

0

0

Reply
You can take a bus from Xiahe Bus Station to Lanzhou first. Then transfer to another bus to DH within 15 and the bus fare is CNY260. Or fly there directly within 1.5h.
Answered by Jacklyn from USA | Nov. 05, 2018 23:23

0

0

Reply
Hello!
Which bus station do i take long distance bus from Lanzhou to Zhangye/Dunhuang? And how much does it costed? Thanks
Asked by cami from SPAIN | Jan. 05, 2018 09:11

Reply
any bus or train from dunhuang to turpan in xinjiang? how to buy the tickets?
Answers (1)
Answered by Albert from ITALY | Jan. 07, 2018 22:00

0

0

Reply
First, you need to take a bus from DH bus station to Liuyuan.
Then, walk northeast for 3 minutes to Liuyuan Railway station. Take a normal train to Turpan; or take a taxi to Liuyuan South Railway station and take a bullet train to Turpan.

The normal train takes about 6-7h and CNY93; the bullet one takes about 3h 40 minutes and CNY195.5 for a second class seat, CNY234.5 for a first one.

All the tickets can be bought at the ticket counter in the bus/railway station.