Crescent Lake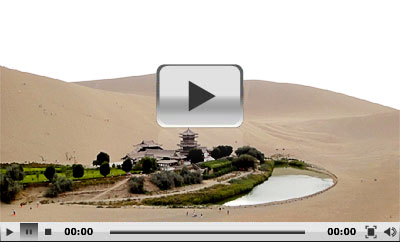 Crescent Lake Pictures
Crescent Lake Facts
Chinese name: 月牙泉 (yuè yá quán)
Location: north of the Echoing-Sand Mountain and about six kilometers (four miles) south of Dunhuang City

Just as water and fire are incompatible, neither can a desert and a spring coexist. But, this is not the case for the Crescent Lake that is surrounded by the Echoing-Sand Mountain. The golden sand hill and the blue lake cast a beautiful contrast in a harmonious existence.

The Crescent Lake is also known as the Crescent Spring, Crescent Moon Spring, or Yueya Spring. It can be considered a natural wonder of the Gobi Desert. Just as its name implies, the lake appears like a crescent moon and with its crystal clear water, resembles a turquoise or pearl inlaid in the vast desert. Some say it reminds them of the eye of a beautiful woman, lucid, beautiful and amorous. Others say it looks like the mysterious, gentle and seductive lips of a pretty woman, or a slice of a lush, sweet and crystal cantaloupe.

One should visit both the Crescent Lake and the Echoing-Sand Mountain together. Entry to the area can be by using either the shuttle buses, located left of the entrance, or by walking along the main path to the lake when time permits. Another option is to ride on a camel and have fun sliding down the slope of the sand dune before walking to the lake. Admire the thick reeds swaying gracefully in the breeze at the southern bank of the lake; as well as a group of elegant pavilions and temples dominating the skyline.

Visitors are able to witness the variable scenes of the lake from early sunrise to sunset; such as the soft glow of sunrise and the smooth mirror image at dusk. It is during the latter time that the lake reflects the rosy clouds and golden dunes of the surrounding. In the evening, blue neon light encircles the lake resembling the moon on the ground. The scenic area stays open till late in the evening, allowing visitors to enjoy themselves under the starry night. It is also a photographer's paradise as ticket is valid for three days. Hence, photographers have the opportunity to shoot at different time of the days.

Overall, one not only wonders the strange co-existence of an oasis and a desert, but also the opportunity to have great sand adventures, such as camel rides, 'dune surfing' and shooting arrows. Other exciting facilities such as gliding, motorcycling, karting, SUVs and helicopter rides are also available. One would definitely marvel the dramatic view at the top of the dunes.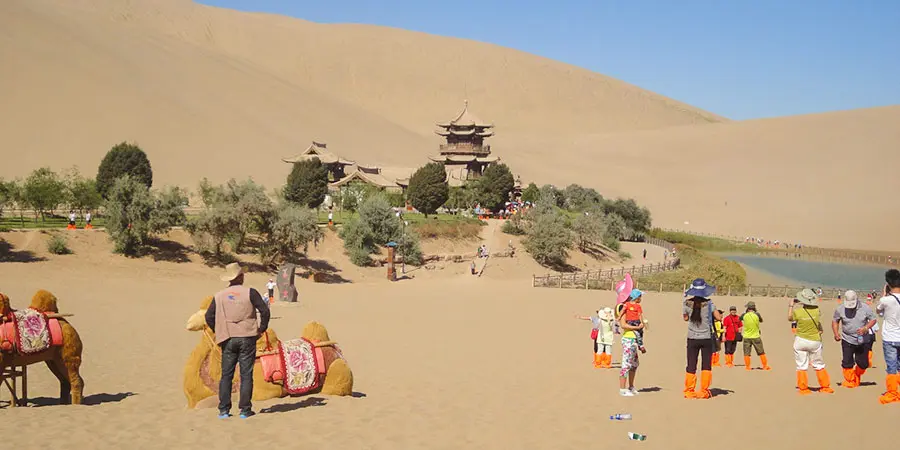 Why do sands not bury the Crescent Lake
Research shows that the mysterious crescent landform was the result of a natural wind created depression. As the cross-ventilation theory states, sands falling from the surrounding mountains would be blown to the other side of the nearby Echoing-Sand Mountain. Thus, the sands do not smother the spring. This natural phenomenon keeps the sand dunes and spring in a harmonious and almost paradoxical existence.
Crescent Lake facing the threat of disappearing
The crescent shape has been considered as one of the "Eight Great Sights in Dunhuang" since the
Han Dynasty
(202BC-220AD). Having in existence among these sand dunes for thousands of years, the Crescent Spring survived many sandstorms and still retains its position as the No. 1 spring in the desert. However, there was a time when the water level was lower than 0.7m (2.3 feet). Hence, the Crescent Lake Oasis might face a possibility of disappearance due to severe soil and water loss.
Tips:
1. Visit the attraction in the morning or late afternoon since it is hot at noon.
2. Prevent sunburn by applying sunscreen cream, wearing a hat and/or cover yourself with a scarf.
3. Keep your camera encased when not using it to keep the lens away from sand.
How to get to Crescent Lake
1. Take Dunhuang Bus No. 3 to Yuyaquan (Crescent Lake).
2. Take a taxi from the downtown area to the scenic area, costing CNY 15 to 20.
Entrance Fee
Crescent Lake & Echoing-Sand Mountain:
May to October: CNY 110
November to April: CNY 55

Half price for children between 1.2 - 1.4 meters (3.9 and 4.6 feet);
Free for children below 1.2m.

Ticket holders have multiple entries to the Crescent Lake and Echoing-Sand Mountain for three days. Interested visitors for the multiple visits must have their fingerprints and tickets recorded at the ticket barrier before they finish their first visit and leave.
Note: The above rule does not apply to visitors enjoying free entry.
Opening Hours
05:00 to 20:30
Please note that the opening hours may be adjusted according to the number of tourists.
Best Time to Visit
Summer evening (from June to August)
Camel Ride
CNY 100 for a round-way trip
Shooting Arrows
CNY 1 per arrow
Grass Skiing
CNY 25 per person
Sand Sliding
CNY 15 per person
Shoe Cover Rent
CNY 15 per pair
Sightseeing Bus
CNY 10 for a one-way trip; CNY 20 for a round-way trip

You may like:
15 Spectacular Natural Wonders of China
- Last updated on Feb. 19, 2023 -
Questions & Answers on Crescent Lake
Asked by jenn_ho from AUSTRALIA | Sep. 10, 2023 02:07

Reply
Opening hours
Please advise if Mingsha Mountains / Crescent Lake is open to tourists on New Year's day (1 January 2024).
I would be in Dunhuang during the Christmas till New Year period and look forward to visiting this amazing place.

Thank you!
Answers (1)
Answered by Flora | Sep. 11, 2023 20:55

0

0

Reply
Yes, it will open and the opening hours are 07:30 - 18:00. Take enough clothes because it could be really cold by then.
Asked by Vasquellian from EUROPE | Feb. 17, 2023 09:52

Reply
Is it called crescent because of shape or other meaning?
becus shape is crescent moon or is it for different reason?
Answers (1)
Answered by John | Feb. 19, 2023 19:34

0

0

Reply
Yes, it's because of the shape.
Asked by Pat Delmenico from THAILAND | Dec. 10, 2019 01:42

Reply
We would like to visit Dunhuang, end of February till beginning of March 2020 but still flexible,
Could you please recommend to us what we should visit, we have seen the must see from internet such as Yumen pass, Yardan Nation Geologic Par, Echo Sand Mountains, Crescent Lake, night market and Mogao Grottoes, etc....
Awaiting for your answer, best regards
Answers (1)
Answered by Brandon from FRANCE | Dec. 12, 2019 00:04

0

0

Reply
Yes, you are right. The scenic areas are must sees in this area. Have a nice journey!
Asked by Rory from AUSTRALIA | Mar. 11, 2019 18:51

Reply
What kind of flora will you find in Crescent Lake?
Are there any types of plants special to that oasis?
Answers (1)
Answered by Emery from FINLAND | Mar. 12, 2019 20:24

0

0

Reply
As I know, you can see reeds and charophyte plants there.