Crescent Lake & White Horse Dagoba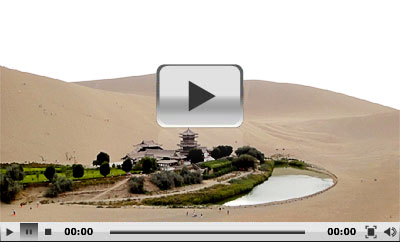 Crescent Lake Pictures
Crescent Lake

Just as oil and water don't mix, so do springs and deserts. But Crescent Spring is an exception.

About 6 kilometers (3.73 miles) south of Dunhuang city, and surrounded by the Echoing-Sand Mountain, Crescent Spring can be called a natural wonder in the Gobi Desert. Some say it reminds them of the eye of a beautiful woman, lucid, beautiful and amorous. Some say it looks like the mysterious, gentle and seductive lips of a pretty woman, or a slice of lush, sweet and crystal cantaloupe. Actually, it resembles a crescent fallen down into this desert. Having been lying among these sand dunes for thousands of years, although given many surprise attacks by sandstorms, Crescent Spring still gurgles clear, and still remains worthy as the first spring in the desert.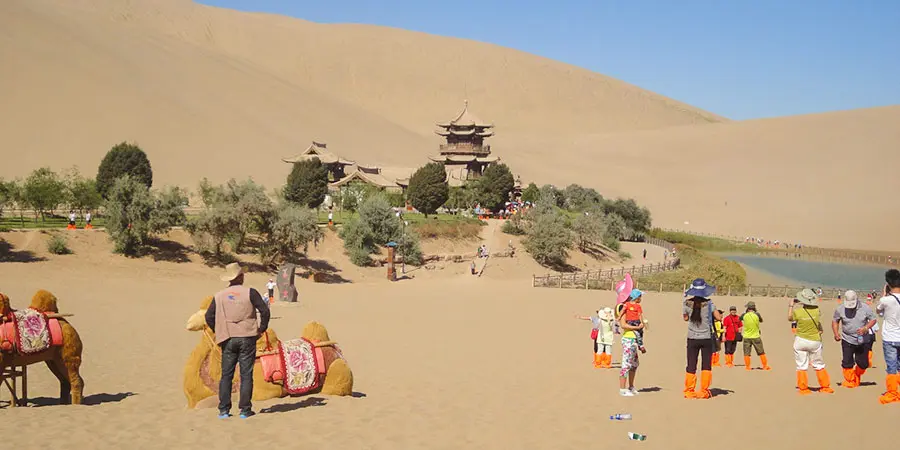 You may be wondering how this desert wonder formed. Research has discovered that in this special crescent landform the wind created this depression, as the cross-ventilated theory states, the falling sands from the surrounding mountains would be sent back to the other side of nearby Echoing-Sand Mountains. Thus, the sands do not smother the spring. And this particular earth movement keeps the sand dunes and spring eternally in a harmonious and almost paradoxical existence.

Here you can enjoy not only the rare view where an oasis meets the desert, but also some fun sand adventures, such as riding camels, 'dune surfing' sand sliding. After climbing to the top of the dunes, from there you can't help but marvel at the dramatic view. You have discovered the wondrous sight of Crescent Spring!

Transportation:
1. Those who arrive at Dunhuang Airport or railway station can take mini-bus to the downtown area first. It costs CNY 3 per person. Then they can catch no.3 bus from Panxuan Road to the scenic area directly. The ticket price is CNY 1.
2. Taxi: CNY 10 to 15 from the downtown area to the scenic area.
| | |
| --- | --- |
| | |
Admission Fee:
Crescent Lake & Echoing-Sand Mountain:
May 1 to October 31: CNY 160
November 1 to next April 30: CNY 80

Three-day Multiple Visits Policy:
From June 15, 2015, visitors (excluding those who enjoy free entries) are allowed to enter Echoing-sand Mountain and Crescent Lake many times in three days after buying the entrance tickets. To enjoy this policy, they should have their entrance tickets and fingerprints recorded at the ticket barrier before their first visit ends.
Opening Hours:

May 1 to October 31: 06:00 to 19:30
November 1 to next April 30: 07:00 to 19:00

the scenic area may adjust the opening hours according to the number of tourists.

Recommended Time for a Visit:
One Hour
White Horse Dagoba
White Horse Dagoba is located in Baima (White Horse) Village, Danghe Town, 1 km (0.62 mile) west of Dunhuang City, Gansu Province. The dagoba has 9 stories, is 12 meters (39.4 feet) in height with an octagonal foundation. Structures resembling up-turned lotus petals surround its central body. On each of the angles of its hexagonal roof hang bells which chime in a breeze.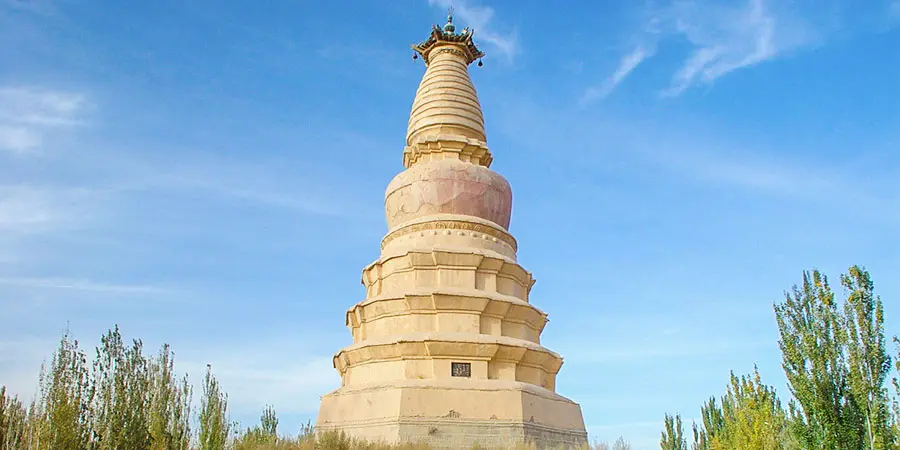 White Horse Dagoba, Dunhuang
The dagoba is of the lama dagoba style of the Ming Dynasty (1368-1644). It is evident from the characters engraved on two stones and on a block in the middle of the second story that the White Horse Dagoba was repaired many times by later generations.
A story accompanies the dagoba origins. Legend has it that the dagoba was built in memory of a white horse. It is said that in 384, Fu Jian, emperor of the Former Qin Dynasty (351-394), invited Kumarajiva, a master specializing in Buddhist dharma, to carry Buddhist doctrine into China from the West Region. When Kumarajiva reached the present Dunhuang City, his white horse got sick and died. The white horse had accompanied Kumarajiva through the Gobi, several times saving his life. In memory of his loyal horse Kumarajiva and local Buddhist followers raised money and had this dagoba built in 386. According to records, in 1930, a 0.9-meter-high (3.0-foot-high) pagoda with
a diamond sutra
(abbreviation name for a kind of Buddhist sutra) carved on it was excavated. However it was later lost.
Even after 1000 years, the White Horse Dagoba set off by surrounding green trees and cyan tiles is still straight and majestic, a treasure of Dunhuang City.
Transportation:
There is no public bus to reach White Horse Pagoda. Visitors need to catch a taxi to visit the pagoda. However, taxi drivers usually don't run the meter. Therefore, they'd better bargain with the drivers. Normally, it costs no more than CNY15 from the downtown area to the pagoda.
| | |
| --- | --- |
| Admission Fee: | CNY 15 |
| Recommended Time for a Visit: | 45 minutes |