Western Thousand-Buddha Cave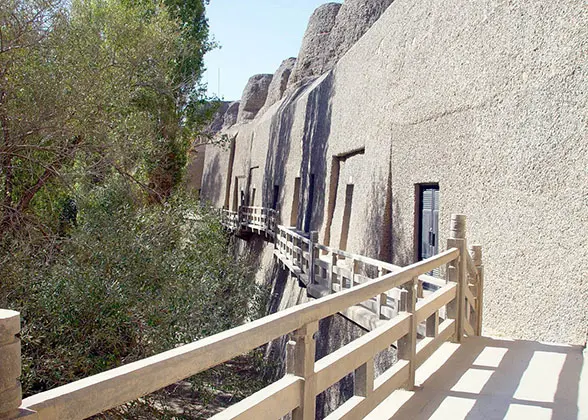 Western Thousand-Buddha Cave
In Dunhuang, Gansu Province of China, we find the Duhuang Mogao Grotto, which consists of the
Mogao Caves
, the Yulin Cave, and the Western Thousand-Buddha Cave.
The Western Thousand-Buddha Cave, which is situated to the west of Mogao Caves, is set into a cliff on the bank of the Dang River, 35 kilometers (about 22 miles) from Dunhuang City. Because the frescos in this cave are similar in structure and artistic style to those found in Mogao Caves, the Western Thousand-Buddha Cave is considered Duahuang Buddhist art. Although the exact ages of the caves are not known, there is speculation that this cave may have emerged earlier than the Mogao Caves did.
There are 16 caverns, over 800 square meters (about 8,611 square feet) of murals and 34 painted clay statues. Some of the caverns were made in the Tang Dynasty (618 - 907) and others in the Wei Dynasty (386 - 534). Unfortunately, some of the caverns have collapsed, but ten of them are open to tourists.
In cavern No. 4, we find several very large statues. They are painted with strong bodies and slender eyebrows. In cavern No. 5, decorated during the Wei Dynasty, we find an inscription written by a Buddhist disciple called Tanzang for the figures of his dead grandparents and parents. So far, more than 70 characters can be seen clearly. Moving on to cavern No.7, we see one of the most famous aspects of the cave, a painting of Apsaras, a Buddhist god (known for dancing and singing), which is painted so vividly that it seems to come to life. In cavern No. 9, a unique structure shaped like nomad's yurt, serves as a valuable reference for researching the ethnic customs of Gansu Province. The god Nryana, an outstanding warrior in Buddhist legend, appears painted under some stone statues. In the caves, many colorful frescos tell informative Buddhist stories, putting these caves among the finest sources of Buddhist art in China.
| | |
| --- | --- |
| Colourful fresco | Buddha Statue |
Western Thousand-Buddha Cave is all this and more. The surrounding landscape is blessed with healthy ancient trees, and a nearby brook runs clear and clean, making this impressive repository of Buddhist art feel like Xanadu.

How to get to Western Thousand-Buddha Cave
1. Take a western line bus in front of Dunhuang Hotel on Mingshan Road to the cave, and the bus fare is CNY 76/ 86.
2. Take a taxi or rent a car to visit the cave. It takes about 2h from the downtown area.
Entrance Fee
CNY 30;
Free for children under 1.4m (4.6 feet).
Opening Hours
May - Oct.: 8:30 - 17:30
Nov. - Apr.: 9:00 - 17:00
Ticket hours stops 30mins earlier.
- Last updated on May. 24, 2022 -
Questions & Answers on Western Thousand-Buddha Cave
Asked by Biswo Ulak from NEPAL | Aug. 30, 2018 07:16

Reply
Is there Namo Buddha Stupa in the cave?
I am Biswo Ulak from Kathmandu, Nepal. I came to know from a Buddhist from Kathmandu who visited in those caves has told me that there is a memorial of Prince Mahasattwa (Namo Buddha) of Nepal with a Namo Buddha Stupa and wall painting on his life history including self sacrificing for the save of hunger tigress and recently born five cubes. It this correct? If so I am happy to share of my proposal on Global Cultural Peace Walk that may interest to you.
Look forward to hearing from you.

Kind regards
UlaK
Answers (4)
Answered by Peter from FINLAND | Aug. 31, 2018 00:16

0

0

Reply
Hi, i didn't find any information about this, but you can contact the scenic area to confirm it. The phone number is 0937-8857158.
Answered by Biswo Ulak from NEPAL | Aug. 31, 2018 04:01

0

0

Reply
Many thanks Peter for your prompt response. Is the given phone number of Dunhung China? May I know the full phone number with country code?

Kind regards
Ulak
Answered by Peter from FINLAND | Sep. 02, 2018 18:51

0

0

Reply
Yes, it is the number of the official website of the Western Thousand-Buddha Cave and the country code is +86.
Answered by Biswo Ulak from NEPAL | Sep. 03, 2018 04:26

0

0

Reply
Many thanks sir
Asked by Wilma Post from NERHERLANDS | Jun. 24, 2018 10:18

Reply
Is it also neccessary to book ahead for the western thousand buddha cave?
Answers (1)
Answered by Helen from GREECE | Jun. 26, 2018 01:27

0

0

Reply
No, you can buy it when you get there.
Asked by Shirley Feldman from USA | Feb. 09, 2016 17:09

Reply
Proximity to Beijing of caves with Buddhas
Which of the caves or grottoes with thousands of Buddhas is closest to Beijing. Is it possible to visit these caves on a one day outing from the capital city?

Answers (2)
Answered by Lilian from USA | Feb. 16, 2016 21:19

1

1

Reply
Well, in fact, the Western Thousand-Buddha Cave is located about 22 miles (35km) away from downtown area of Dunhuang.
The distance between this scenic area and Beijing is about 1490 miles (2400km).
So one day for round-trip is not impossible. You are suggested to take flight from Beijing to Xi'an first. Then transfer the flight to Dunhuang. The whole way takes around 5 hours. After arriving, you are suggested to stay at the hotel in downtown area. And in the next early morning, you can hire a private car to get to the scenic area.
Answered by IKUFFEL from US | Sep. 30, 2016 16:37

0

0

Reply
The closest to Beijing would be the Yungang grottoes near Datong (~200 miles from Beijing). A day trip would be ambitious, though I suppose you could get an early flight out and late flight back. But the Yungang Grottoes were truly jaw-dropping, and when we visited 3 years ago, it was not that busy and we could wander through on our own, at our own pace. Highly recommended.
Asked by Marcus from AUSTRALIA | Jun. 02, 2014 16:44

Reply
What is the closest airport for Western Thousand-Buddha Cave in Dunhuang?
Answers (1)
Answered by Jojo from MALAYSIA | Jun. 02, 2014 20:19

0

0

Reply
Dunhuang Airport is the closest airport for the western thousand-buddha cave.
Asked by jayoo from INDIA | Jan. 05, 2013 09:39

Reply
If we spend a day at Mogao in Gansu, are there fascilities like food,toilet,tea etc
Answers (1)
Answered by Daniel | Jan. 06, 2013 01:51

0

0

Reply
Yes, you can find many restaurants there. Many shops have water selling. Of course you can find toilets insides, so do not worry about it.