Yangguan Great Wall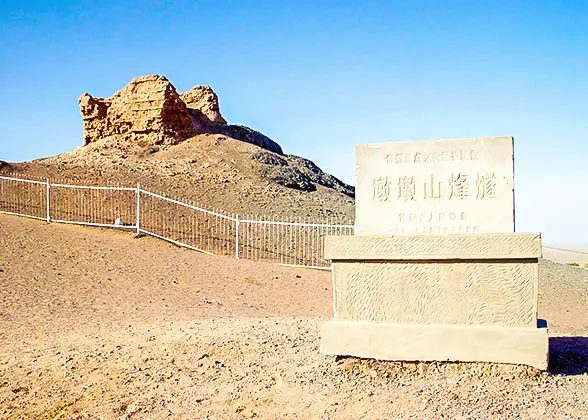 Yangguan Pass, Gansu

Photos
Yangguan Pass, is known as a defence line along the Great Wall on the Silk Road, but is synonymous with parting with sorrow, as people would send off their loved ones with famous poetic quotes from right here. Among them, the most famous is 'Oh, my friend, I sincerely entreat you to have another cup of wine; you will see no more friends west out of the Yangguan Pass', by Wang Wei, a famous poet in Tang Dynasty (618 - 907).

Basic Facts of Yangguan Great Wall

It was one of two major strongholds (the other one: Yumenguan Pass) on the western border in the Western Han Dynasty (206 BC – 24 AD). The Emperor Wu ordered them built initially to consolidating the frontier defence.

Yangguan and Yumenguan were also trading gateways between central and west China. They saw the prosperous days of the Silk Road, the world's oldest trade route.

In the Tang Dynasty, it feted the return of Xuan Zang, a monk pilgrim on royal commission to fetch original Buddhist texts from their western source. In the Song (960 – 1279) and Ming (1368 – 1644) Dynasties it faded from people's view.

'Yang' in Chinese refers to the sun. Because of geography, the sun shines on south side of terrains in China for most of the day. So, people use 'Yang' to indicate south. Being south of Yumenguan Pass, people called it Yang Pass.

It was linked with Yumenguan by a 40-mile (64-kilometer) wall interspersed with some ten beacon towers every three miles (five kilometers). Nowadays, most parts of Yangguan Pass lie under the flowing dunes. Only the beacon tower on the top of Dundun Mountain is spared.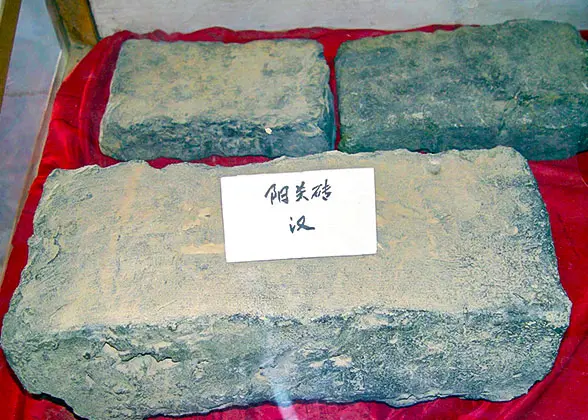 Bricks in Yangguan Museum
Yangguan Museum
It is the entrance of the entire scenic area, 870 yards (796 meters) north of the solitary beacon tower on the Dundun Hill. There are nearly 4,000 items on exhibit related to the two passes – Yangguan and Yumenguan and the Silk Road, like the bronze ware, ironware, jade, fabrics, and weapons. It is more like a mock-up city in imitation of the pass rather than a simple museum, with gate tower, general's office, and barracks dotted among the area.

Yangguan Avenue
Once you get out of the gate tower in the museum, the 870-yard (796-meter) long avenue leads you to the relic's site of the pass. The name of the road translates to an avenue towards bright happy future, carrying good wishes from the family and friends. You ride through it on horse back, donkey cart, or sightseeing bus. The price is CNY 40, CNY 20, and CNY 10 per passenger respectively.

Beacon Tower
When arriving at the relic's site, you will see a solitary beacon tower at the top of the Dundun Hill. No trace of anything else due to natural erosion. However, photographers love taking pictures of it for artistic reasons.

Curio Sand
1,500 yards (1,371 meters) south of the beacon tower, there is a small valley, called Curio Sand, where souvenir hunters once could dig for a treasure trove. It is rumoured that sand storms had overcome a caravan carrying a royal princess's dowry on the spot. Other bits and pieces have also been found as the sand slowly yields up its mysteries.
| | |
| --- | --- |
| Admission Fee | CNY 50 |
| Opening Hours | 8:00 – 20:00 |
Experiencing the Ancient Exit Procedure on Your Own
When stepping outside the pass, you would have set foot on foreign soil – in former times. You may get authentic-looking immigration papers as souvenir of this trip. Here lists what you may expect:

Apply for a passport at the general's office. The border officer dressed in uniform documents your particulars and appends the authorized seal to the passport.

Next, you approach the gate tower for a final check.

Once approved to leave, you are sent off by costumed girls doing a traditional farewell dance.

Included in the package, you get a cup of wine, a branch of willow, arranged to symbolize a longing to remain behind.



Notice:

The re-enactment is staged from April to November for a group cost of CNY 600 with less than 20 attendees, CNY 1,000 for a group of 20-50 attendees, and a charge of CNY 30 per person when there are more than 50 participants.

The price of the passport varies according to quality:
| | |
| --- | --- |
| Inscribed wooden slip style | CNY 50 |
| Waist tag style | CNY 30 |
| Linen-made passport | CNY 20 |
| Paper-made passport with silk cover | CNY 20 |
Travel Tips

The best time to visit the site is by either sunrise or sunset. A scarlet sunlight turns the desert into a sea of 'fire', a reminder that here was a fierce battlefield. Come to the scenic area between 17:00 and 18:00. After a one-hour visit to the museum, you can head to the relic's site straightly for the sunset. To prepare for the sunrise, you need to reach the scenic area a day before and stay there overnight in the barracks or farmhouses near the pass.

After your visit and two hours spent in the desert sun, you ought to get rather thirsty. Yangguan Town, two miles (three kilometers) east of the pass, is where you quench your thirst. It is the 'Second Grape Valley of China (after the one in Turpan, Xinjiang)'.

How to Get There From Dunhuang
Dunhuang City is not well served by public transit. Generally, visitors need to charter a minibus to get around places like Western Thousand-Buddha Cave, Han Dynasty Great Wall, Yumenguan, Yangguan, and Yardang National Geopark. It would cost CNY 400 – 500/per bus.
- Last updated on Aug. 02, 2022 -
Questions & Answers on Yangguan
Asked by Lena Lim from SINGAPORE | Sep. 16, 2015 23:34

Reply
is there any public transport to reach yangguan pass and what is journey duration?
Can we do echoing sand mountain and the pass in one day? If not possible, which scenic place we can include into the pass.
Lena
Answers (3)
Answered by Linda from SINGAPORE | Sep. 17, 2015 04:36

2

0

Reply
Lena, there are buses from Dunhuang Bus Station (located on the other side of Yingbin Hotel) to Yang guan Town. But they don't arrive at the pass. You need to get off at Yang Guan Crossing and then walk around 30 minutes to reach there. I do not suggest you do this because it's difficult for you to get back to Dunhuang. The easiest way is to hire a taxi / car. It costs around CNY 100 for a round trip.

The echoing sand mountain and the pass are far from each other. One is in the west and the other is in the east. You actually can visit Yardan Landform and Yumen Pass on the way.
Answered by FabGreg from FRANCE | Mar. 12, 2018 14:27

0

0

Reply
When do leave these buses Dunhuang to Yang Guan town? Do they respect strict times or do they leave only when full? If leaving when full, when do they operate around the day (earliest departure, latest return to Dunhuang)?

Such a public transportation would be very useful for visiting the Western 1000 Buddhas Caves which are close to the G215 road.

Thank you in advance for your information.

Fabrice
Answered by Evelyn | Mar. 12, 2018 22:06

0

0

Reply
I have no idea about the exact bus schedules from Dunhuang to Yangguan. For your convenience, you are advised to hire a private car to go there directly.