Turpan Travel Guide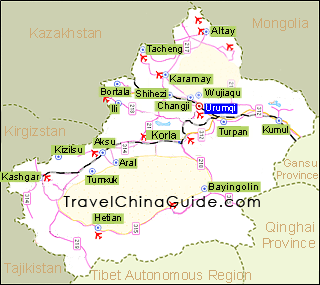 Turpan Facts
Chinese Name: 吐鲁番 (tǔ lǔ fān)
Population: 633,400
Area: 70,049 square kilometers (27,046 square miles)
Location: in the central area of Xinjiang, northwest China
Administrative Division: 1 district (Gaochang); 2 counties (Shanshan, Toksun)
Area Code: 0995
Zip Code: 838000
GDP (2018): CNY 31.059 billion (USD 4.694 billion)
Nationalities: Uygur, Kazak, Han, Hui
China's Death Valley as World's Second-Lowest Depression
Turpan City is located in the middle of Xinjiang and close to Hami to the east, Bayingolin to the west and south, Urumqi to the north. It is an olive-shaped intermountain basin in the east of the Tianshan Mountains, surrounded by mountains on all sides. The Aydingkol Lake in the south Turpan, 155 meters (509 feet) below sea level, is the second-lowest depression in the world. Turpan is widely known by many visitors because of the Flaming Mountain. It is the hottest place in China, with the highest temperature of 47.8 ℃ (118 ℉) in summer and 89 ℃ (192 ℉) on the surface. Tourists can also explore the magic Karez system which is actually a unique water intake project in Xinjiang and witness the ancient city ruins in the desert.



Pictures

Flaming Mountain, which is mentioned in a classical Chinese novel The Journey to the West is the hottest place in China.


Emin Minaret is the largest ancient Islamic tower in Xinjiang.


Jiaohe Ancient City and Gaochang Ancient City are witnesses to the long history of Turpan.


Aydingkol Lake, at the bottom of Turpan Basin, is the lowest point in the country.


Astana-Karakhoja Ancient Tombs, Bizalkik Thousand Buddha Caves and Tuyu Valley are also popular attractions.


Karez System is one of the four great irrigation system of China and it is a crystallization of ancient people's wisdom and the life source there.
| | |
| --- | --- |
| Ancient City of Jiaohe | Flaming Mountain |
Recommended Tour Itineraries:
Pearl of Silk Road: 11 days of Shanghai, Xi'an, Lanzhou, Turpan, Urumqi and other cities
Hiking Adventure
Turpan is an important city along the ancient Silk Road and the transportation here is very convenient. It is considered to be the hub between Xinjiang and the eastern part of China. Turpan Jiaohe Airport has flights to about 20 domestic cities, such as Shanghai, Guangzhou, Shenzhen, Xi'an, Changsha. Also, trains and intercity buses serve the people. Except these usual vehicles, there is a special 'donkey taxi' here. It is a kind of flatbed drawn by donkey. Visitors can sit and ride on the vehicle to get a broad overview from a leisurely look around the city.
The city, which is also known as Huo Zhou (a place as hot as fire), is the hottest place in China. The annual average temperature is 14

C (57.2

F). It is reckoned that there are 152 summer days on average, and 28 really broiling days with the temperature above 40

C (104

F). Although the high temperature can be oppressive people can also get some benefits from it. The abundant sunshine gives the melons and grapes ideal conditions to grow. The fruit here is widely known for its high sugar content, especially the grapes. The place is praised as the 'Hometown of Grapes' and the Grape Valley is a good place to enjoy the grapes of hundreds of varieties. Apart from that, the locals are quite fond of sand therapy which has a history of hundreds of years. People lie or sit under sheds, burying their bodies in hot sand about 50

C (122

F) to 60

C (140

F). It is said to be a good way to treat rheumatism and skin ailments. There is a Sand Therapy Center in the northwest of the city which is popular among visitors.

History: This is an old city with a long history. Traces have been found of humans living there, dating as far back as 6,000 years ago. The city was known as Gushi in the Western Han Dynasty (206BC-24AD); and in the Ming Dynasty (1368-1644), it got its name Turpan, which means 'the lowest place' in the Uygur language and 'the fertile land' in Turki. Lying in the Turpan Basin, the elevation of most of the places in the area is below 500 meters (1,640 feet). Turpan is the city with the lowest elevation in China.



Local Highlights: The city has star-level hotels as well as economy hostels. Nearly all of them have their own grape wines and wineries. Visitors can take a walk or taste the sweet grapes under the grape vines. Traditional Uygur singing and dancing shows can be seen there, too.



Special Local Products: As a city inhabited by minority groups, you can find Uygur snacks in the streets and lanes. Kebabs, Zhua Fan (Rice Eaten with Hands), Nang, Roast Lamb will make your mouth water. There are also many traditional drinks there, including milk tea, black tea, grape wine and mare's milk. The traditional handcrafts are exquisite and are worth collecting. Carpets, clothes, caps and knives are favorites, with distinctive folk characteristics.
| | |
| --- | --- |
| Visiting a local family | Products sold in a local bazaar |

Further Reading:

Dinning

Shopping
- Last updated on Apr. 12, 2021 -
Questions & Answers on Turpan Travel
Asked by Naomi from INDONESIA | Jul. 01, 2019 20:50

Reply
Hi can you inform number of tourists coming to most popular Western China City in 2018?
Answers (3)
Answered by Lisa from USA | Jul. 02, 2019 02:14

0

0

Reply
It's about 16.0683 million tourists in Turpan of 2018.
Answered by Naomi from INDONESIA | Jul. 02, 2019 19:51

0

0

Reply
Hi can you inform the number and figures but for top 5 most popular cities in western china?
Answered by Lisa from USA | Jul. 04, 2019 02:06

0

0

Reply
Well, it is hard to find that and I'm not clear which cities are the top 5 popular.
Asked by Kambalah from PHILIPPINES | Mar. 19, 2019 22:07

Reply
Hi, we will be staying at jinjiang metropolo hotel.
where is turpan city food street located?
ty
Answers (1)
Answered by Sophie from UNITED KINGDOM | Mar. 25, 2019 01:17

0

0

Reply
You can find a food city called Aili Kaimu, which is located at No.318, Bozikelike Road, Gaochang District. The distance to your hotel is located at around 700 meters. You can find authentic and delicious local foods there.
Asked by Peter Tarzian from USA | Jan. 20, 2018 11:21

Reply
Best way to travel to Turpan from Beijing
I am interested in visiting TP again with my wife who did not accompany me when I traveled there with my father 31 years ago. At that time there was only transportation to that area by either rented taxi or bus; we traveled from Urumqi by taxi. Can you provide advice?
Answers (2)
Answered by Eglise from FRANCE | Jan. 21, 2018 21:35

0

0

Reply
I happen to know a train from Beijing West Railway Station to the city at 10:00, and it takes about 30h, costs CNY507.5 for a hard sleeper, CNY802.5 for a soft one
Answered by SOPHIA_IN_TURPAN | May. 29, 2018 21:30

0

0

Reply
Hi, hopefully it is not too late to reply you.

The transportation from Urumqi to Turpan is so easy now. There are many high-speed trains travelling between Urumqi and Turpan which only takes 45mins from the Urumqi South Station(49RMB) and 1hr from/to Urumqi Station(51RMB).