Turpan Travel Tips
City General:
Area: 69,700 square kilometers (26,911 square miles)
Population: 572,000
Area Code: 0995
Zip Code: 830000
Emergency Numbers:
Fire: 119
Police: 110
Ambulance: 120
Traffic: 122
Useful Numbers:
Consumers Complaint Line of the Turpan Consumers' Association: 123154
Tour Complaints: 8523216
Time Inquiry: 117
Telephone Number Inquiry: 114
Weather Forecast: 121
Railway Inquiry: 8642233
Tourist Bureau of Turpan Region: 8523653 / 8523663
Tourist Bureau of Turpan City: 8520171
Banks: The Bank of China provides foreign exchange service.
Bank of China Turpan Branch
Address: No.18, Old City Road
Hospital:
People's Hospital of Turpan City
Address: No.4, Gaochang Road
Phone Number: 0995-8522461
Bus Routes: 2, 5, 7
People's Hospital of Turpan Region
Address: No.23, Oasis Road
Phone Number: 0995-8522724
Bookstore:
Turpan Region Xinhua Bookstore
Address: No.29, Old City Road
Customs and Taboos:
When traveling in Turpan, you should pay attention to Muslim customs and taboos in particular.
1. Do not poke the food in dishes or get close to the kitchen.
2. Never eat pork or talk about pigs when a Muslim is present.
3. Do not wear clothing that is short and too revealing.
When receiving something, you should use both of your hands to show your thanks and respect to the host.

Turpan Nightlife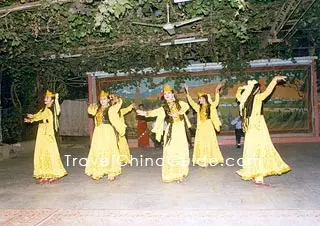 Uygur singing and dancing show
Everyday after sunset the temperature drops rapidly in Turpan but the nightlife heats up as people gather together in bars, discos, cinemas and clubs to relax. Although the nightlife is not as well developed as it is in other modern cities in China, it is well patronized by locals who are looking for entertainment after a hard day's work.
The Real Love Club is one of the top-grade KTV in the city. It is very popular among young people with its gorgeous decoration and outstanding facilities. The sound effects in the club are particularly excellent and make every singer sound like a superstar. The food is also very delicious
Address: No.321, Oasis Road
The Tian Yi Jiao Amusement World is also a popular KTV in the city.
Address: Min Mao Mansion, Old City District
Opening Hours: 13:00-24:00
Another popular place is the Turpan Tourist Culture Square. This multi-functional square is an ideal place for visitors to relax and enjoy the beautiful night-time atmosphere of the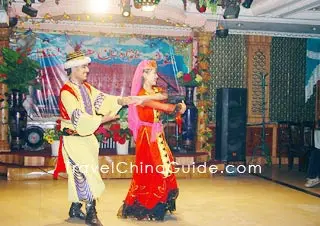 Uygur Dance
city. As the night falls, colorful neon lights are lit and these enhance the beauty of the
surrounding buildings. In the middle of the square, there is a big fountain whose water spouts rhythmically with the music.
The Uygur people are known for their singing and dancing. Visitors can see a Uygur Singing and Dancing Show in nearly all of the star-level hotels. Even some small hostels have these kinds of shows. The Grape Valley is also an ideal venue to enjoy a show. During the Grape Festival the show can be seen in every corner of the city.
- Last updated on Jul. 15, 2019 -