Grape Valley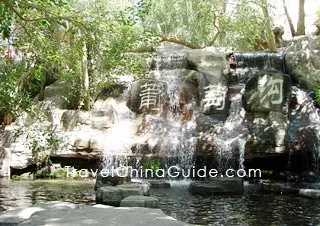 Grape Valley
Located 7 miles (11 km) to the northeast of Turpan, the Grape Valley stretches 5 miles (8 km) from north to south with a width of 1.2 miles (2 km). Being one of the valleys on the west side of the Flaming Mountain, it has totally different scenery from the Flaming Mountain. It is burning hot at Flaming Mountain, but pleasantly cool in this green Grape Valley. This paradise of 543 acres (220 hectares) is covered with layer upon layer of grapes.

About 13 varieties of grapes such as Manaizi (mare nipple grape), Wuhebai (white seedless grape) and so on are cultivated. Every year over 300 tons of raisins are made here. Every single grape is crystal and juicy - some are as green as emerald; some as red as agate, some as small as pearls while others are like olives. Among all these grapes, Wuhebai is reputed as a 'bright pearl' with the sugar content as much as 20% to 24%. Containing sugar about 60%, the raisin made of the Wuhebai, is tasty and the treasure of Turpan.

Besides the grapes, fruits such as peach, apricot, apple, and pomegranate are also planted. The water in the valley is melting snow water from Tianshan Mountains and it makes the valley lively. Wandering around, visitors can also find the drying rooms, where the sweet raisins are produced. Escaping from the fiery Flaming Mountain, one may take a seat under the grape trellis, savor various grapes, appreciate the beautiful Uyghur girls in their ornate costumes, and be fully intoxicated by this refreshing palace of grapes!

In the valley, there are five major sites from the south to the north:



Grape Manor
The Grape Manor, covering an area of 42 acres (170,000 square meters), is the first sightseeing place after entering the valley. Travelers can choose to see local sights such as the apricot garden and Apandi's residence, or see some shows like cock-fighting, or pick up and taste the fruits while walking under the thousands meters long grape corridor.
| | |
| --- | --- |
| Vines Form a Green and Cool Corridor | Uygur people in Grape Valley |

Home of Apandi
The Home of Apandi is not only a place for knowing the stories of Apandi, but also for knowing how ancient Turpan people lived. In local culture, Apandi (a figure in the Islamic legends), recorded as born in 1208, helped the local people fight for justice and rights, so he was the embodiment of diligence and wisdom. Day-to-day items from the Tang Dynasty (618 - 906) to the Qing Dynasty (1644 - 1911) were also collected here, from which visitors can understand how local agriculture and handicraft industry developed.



Folk-Custom Park of Darwaz
In the Folk-Custom Park, visitors can enjoy the high-wire walking show and taste 'Naan' (a kind of baked flatbread) baked by the world largest 'Naan Stove'. The 26-feet high stove can hold two oxen, ten sheep and one camel at the same time. Try visiting Grape Festival in August, because during the festival, one can enjoy the delicious food baked by this stove.



Wang Luobin Art Museum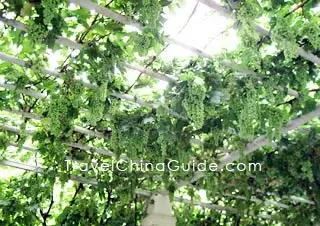 Grapes on the Vines
Wang Luobin is a famous Chinese songwriter, who devoted his whole life creating ethnic minority themed songs. In the museum, visitors can get a comprehensive idea about this famous composer and his popular songs.



Amusement Park
The last interesting place is the amusement park, in which people can drink the sweet water from Qianlei Spring (Tear Spring) and taste the local wine. It is said that men will become braver and more considerate and women become more beautiful and gentle after drinking the water from the Qianlei Spring, so you may try it when you go there.

From April, the grapes begin to ripen, and August is the best time for tasting different kinds of fruits.
How to reach Grape Valley?
The local public bus line 5 reaches the entrance of the valley. If starting from Turpan Railway Station, you can walk to the nearby Daheyan Bus Station to take direct buses toTurpan City. The bus departs once fully occupied starting from 05:30. Duration is around one hour and the fare is around CNY 11. After reaching city center, one can take a taxi to the valley at a cost of CNY 15 to 20.

Top 10 Things to Do in Xinjiang
- Last updated on Apr. 11, 2023 -
Questions & Answers on Grape Valley
Asked by Patapong from THAILAND | Apr. 08, 2023 08:42

Reply
Can I travel 1 day trip in Turpan?
If I travel in Turpan 3 day! Please you suggest plan.
And I need to stay in home stay in grape valley, how can I contact them?
Answers (1)
Answered by Olivia | Apr. 11, 2023 18:29

0

0

Reply
Here is a 3-day itinerary for reference:
Day 1: Turpan Museum - Emin Minaret - Prince's Mansion - Qingnian Road at night
Day 2: Gaochang Ancient Town - Astana-Karakhoja Ancient Tombs - Bezeklik Thousand Buddha Caves - Flaming Mountain
Day 3: Jiaohe Ancient Town - Grape Valley

You may buy a combo ticket which will save you a lot of money. Also, the public transport there is not very well developed and it's more convenient to hire a car, especially for day 2, which costs CNY400-500 per day.

As for home stay, you may search online and choose one with high ratings.
Asked by Patapong from THAILAND | Apr. 08, 2023 08:37

Reply
Grape​ Festival
When is the 2023 Turpan Grape Festival?
Answers (1)
Answered by Mike | Apr. 09, 2023 18:21

0

0

Reply
It's still unknown yet. But it is usually held from late August to early September.
Asked by Tania from NEW ZEALAND | Aug. 04, 2018 22:38

Reply
When is the 2018 Turpan Grape Festival?
I am interested in visiting Turpan during the Grape Festival. Does anyone know when in August the Grape festival is?

Thanks in advance
Answers (1)
Answered by Kelvin from USA | Aug. 07, 2018 02:03

0

0

Reply
It should be from August 20 to September 5.