Turpan Transportation
As a tourist center of Xinjiang, the transportation in Turpan is convenient. Visitors can get there by air, by train or by long-distance buses. As the city is not far from Urumqi, Urumqi Airport is good option. In addition, it is very convenient to get to the city by train and bus from Urumqi. It is the hub of southern and northern Xinjiang with several main rail and road intersections. Traveling in that area, you can get to the scenic spots easily. Except for Emin Minaret, all the other attractions are not longer than 40 kilometers (25 miles) from the city center. And they are well-connected.

Getting there
By Air
Turpan Jiaohe Airport
is in the northwest of the city center which is only about 500m (550 yd) to Turpan North Railway Station. It now has opened flights to major domestic cities like Shanghai, Guangzhou, Shenzhen, Xi'an, Chengdu... Also, it has connected to other cities in Xinjiang, including Hotan, Kashgar, Aksu...
By Train
Turpan Railway Station is located in Daheyan County, about 50 kilometers from the city center. Although it is a bit far from the city center, the traffic condition is good as the city buses and taxis are all available for you. It takes about CNY90-100 by taxi and CNY11 by bus. The buses leave for the city center every 30 minutes from 05:30 to 20:00 every day. The transport lines extend in all directions. In the railway station, there are frequent trains to and from other cities in Xinjiang Province, such as Urumqi, Hotan, Kashgar and Korla. Apart from that, there are trains to and from many big cities of China, including Beijing, Shanghai, Xi'an, Jinan, Chongqing and Zhengzhou.
Inquiries phone number: 0995-8642233

North Railway Station, adjacent to Turpan Jiaohe Airport, is about 9 miles (15 kilometers) from the city center. Passengers can get here easily by city bus no.202. As a main station along the Lanzhou-Xinjiang High Speed Railway, both ordinary and bullet trains are operated here to/from many domestic cities including Xining, Lanzhou, Kumul (Hami) and Urumqi.

Additionally, there is a smaller railway station - Qiquanhu Railway Station near Turpan city. The trains with good facilities from and to Chengdu, Xi'an, Urumqi and Korla will stop at the station every day.



See detailed
Turpan - Urumqi Train Schedule

Turpan - Kashgar Train Schedule

Turpan Train Schedule and Stations

By Long-distance Bus
There are two bus stations in the city: Turpan Bus Station and Daheyan Bus Station. They offer the convenient traffic within Xinjiang. Everyday, there are over 140 buses taking 7,000 passengers to the big cities such as Urumqi, Shanshan, Kashgar, Hotan, Tuokexun and Aqsu.
Turpan Bus Station is located on Old City Road. Bus No.1 will take you there.
Destination: neighboring cities in southern Xinjiang, including Urumqi, Hami, Korla and Tuyu Valley. The regular bus to Urumqi leaves the station every 25 minutes from 07:30 to 20:00 every day. And it will take two and half hours on road.
Lying outside the Turpan Railway Station, Daheyan Bus Station offers people the most convenient way to get to the city center from the railway station. The bus leaves for downtown every 30 minutes from 07:00 to 20:00 each day. Most of the buses in Daheyan Bus Station are long-distance ones with sleepers.
Destination: Tuokexun, Heshuo, Khotan, Aqsu and neighboring cities in Xinjiang.
Address: Center Road, Daheyan County
Getting around
By City-bus
Like other middle cities in Xinjiang, Turpan is not a city with high population density. So it is not very crowded when taking a city-bus and it is easy for you to find a seat. There are eight city bus routes in the city which can take you to different directions of the city. The ticket fare for the first 6 stops is CNY0.5 per person, and CNY0.5 should be added for greater distances.
By Taxi
Taxi can be the best option to save time during your stay in Turpan. Except that it is fairly convenient to travel avoiding language barrier, taking a taxi can escape from the high temperature.
Distance
Daytime
Night: 00:00 – 08:00 the next day
Within 3km (2mi)
CNY7
CNY7
3-7km (2-4mi)
CNY1.4/km
CNY1.6/km
Beyond 7km (4mi)
CNY2.1/km
CNY2.4/km
Waiting Fee: It costs CNY1.4 for every 3 minutes' waiting.
Note: It is regulated that all taxis should charge by meter. If confronted with refusal or unreasonable charge, it is advised to call 0995-8522319 to file a complaint.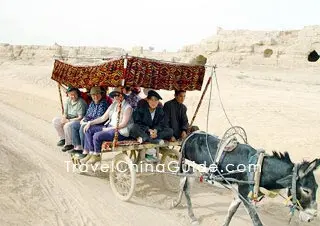 Visitors enjoy the mysterious scenery
by donkey taxi
By Donkey Taxi
If you want to make a short trip in or around the city, you should try a special vehicle to taste the real life of the Uygur. That is the so-called 'donkey taxi'. It is a kind of flatbed drawn by donkey which is reined by locals. And generally, the vehicle which is decorated by colorful blanket can hold 10 passengers. It can take you to bazaar or some attractions near the city. After bargaining for a suitable fee, you can sit on the vehicle leisurely to wander around the mysterious old city.
By Chartered Vehicle
The traffic condition in the city is good and driving a private car here is enjoyable. Considering the hot weather, good air-conditioning in the car is necessary. You can rent a car for CNY150-200 per day to make your trip easier as it will save a lot of time. Generally, you will need a full day to visit the main attractions around the city. To remind you, when you drive in China, a driver's license is necessary. If your driver's license is not acceptable here, you should hire a driver for about CNY50 a day. Further, bicycle rental is also available. You can rent a bicycle outside the Turpan Hotel.
- Last updated on Jul. 18, 2022 -
Questions & Answers on Turpan Transportation
Asked by Ali from USA | May. 26, 2019 01:11

Reply
In 2019, is it still possible to take bus from Turpan to Hotan
and get down in some town on the highway to enjoy desert ?

Does the bus stop along the way in Korla?
Answers (3)
Answered by Antony from ARGENTINA | May. 26, 2019 23:21

0

0

Reply
As I know, there is no direct bus available but you can take direct train from Turpan to Hotan.
Answered by Ali | May. 27, 2019 05:52

0

0

Reply
Thanks Anthony. How long is the train journey?
Answered by Antony | May. 27, 2019 18:28

0

0

Reply
It is about 20.5-24 hours.
Asked by Rentier from FRANCE | Jan. 23, 2019 05:12

Reply
Is it possible to take a taxi from Kuqa to Turpan?
How much will that cost?

How can that be arranged?

Regards
Rentier
Answers (1)
Answered by Thea from CANADA | Jan. 23, 2019 19:55

0

0

Reply
Well, there is no taxi because of the long-distance. And if you hire a private car, the cost would be expensive. Thus you are advised to take the direct train. The ticket fare of soft sleeper seat is CNY244, hard sleeper is CNY161 and hard seat is CNY86. TravelChinaGuide. com provides train ticket booking service. Their contact information is booking

travelchinaguide.com.
Asked by Lok from MALAYSIA | May. 27, 2017 08:08

Reply
we are staying in Turpan and are planning to visit the Kumtag desert in Shanshan County.
We planned to see the Flaming Mountain too. Should we take a train from Turpan North to Shanshana North or a bus to Shanshan? Which is the better choice?
Thank you

LOK
Answers (1)
Answered by Dana from CHINA | May. 31, 2017 03:35

1

0

Reply
You are advised to take the high speed train which only takes around 30 minutes at a cost of CNY28/person.
Asked by Angie from INDONESIA | Jun. 30, 2015 00:08

Reply
From Turpan to Hotan, which bus route is better: via Korla or Aqsu ?
Answers (3)
Answered by Mary from INDONESIA | Jun. 30, 2015 00:54

1

2

Reply
As I know, there are direct buses from Turpan to Hotan in Daheyan Bus Station without transfer in Korla or Aqsu.

There is also a train available at 16:12. The travel time is about 26 hours, and the fare is CNY158 for the hard seat, CNY351 for the hard sleeper, CNY539 for the soft sleeper.
Answered by Angie from INDONESIA | Jun. 30, 2015 08:08

2

0

Reply
To enjoy the Taklamakan Dessert, which mode is better : bus or train ?
How long the bus to Hotan, and do you know the schedule ?
Answered by Jackie | Jul. 02, 2015 04:15

3

2

Reply
To enjoy the dessert from Hotan, it is highly recommended to hire a car or MPV for a good trip.

Only one direct bus leaves from Daheyan Bus Station to Hotan at 19:30 and it costs around CNY230. It takes around 20-22 hours. It passes the famous Dessert Highway, so you can get off there and have a special experience in the dessert.