Turpan Shopping

What to buy: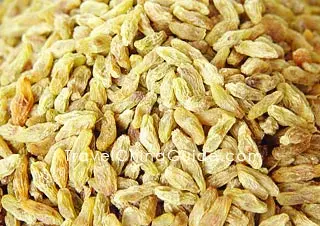 Raisins, Turpan's local product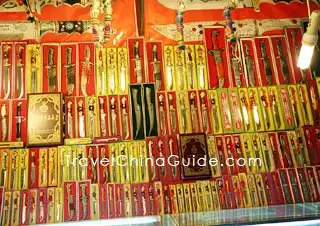 Knives sold in the bazaar
If you are traveling in the Turpan area of Xianjiang you will find that the grapes grown in this area are incredibly delicious, and the raisins from these grapes would make a first-class gift to bring home to your friends. You will also find that the wine made from the local grapes is superior in quality, and surprisingly inexpensive. When shopping for grapes, you can expect the average price to be around CNY1 per kilogram, while the price of raisins being more expensive will range from CNY10 and CNY200. If you are looking for something else to buy, you can also find locally made knives, colorful caps, and knitted carpets.
Knives:
The knives made in Xinjiang are well-known throughout the country. They are not only practical, but also quite beautiful. Knives made in Yengisar are hand-crafted and represent the unique culture of Middle Asia. They are popular with visitors with their unique shapes and exquisite materials. Most of the knives made in Yengisar are scimitars, and are made of wood, horns, copper and silver. Skilled craftsmen carve beautiful traditional designs in bright colors on the knives, and sometimes, they will even set valuable diamonds in the knives. In addition to the locally made scimitar, the phoenix knife made in Kuqa is also quite remarkable and would also make a very nice gift. If you do buy one of the local knives and are traveling by air, remember that you will not be allowed to bring your knife on board the aircraft and you will need to pack it with your baggage that will be checked, or you may need to mail it to your home.
Colorful Cap:
Uygur people have the habit of wearing colorful caps that are an essential part of their daily life, and it is not uncommon for the hospitable Uygur people to send these beautiful caps to friends as a gift. Generally speaking, these caps are unique to the area, and can be quite different in different areas of Xinjiang. Caps made in Turpan have big flower designs, and the bottom is a bit narrow. With their flower designs and bright colors, these caps seem be quite popular with senior citizens.

Pa La Zi (Knitting Carpet):
Pa La Zi is another example of the traditional craftworks of Uygur. Pa La Zi is crafted by using colorful wool to knit a variety of geometric figures. Once complete, a carpet can be used as a rug, blanket, or even as a decorative wall hanging. Sometimes the locals will wrap the carpet on the back of their horse or camel in order to use the carpet as a riding blanket.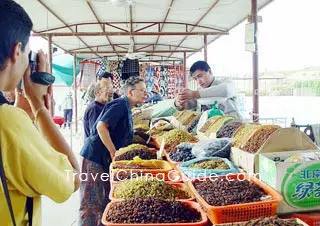 Turpan raisins sold in the bazaar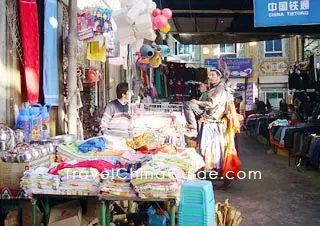 The bazaar in Turpan

Where to buy:
Turpan's Department Store is a multiple commercial shopping center in Turpan. It is located at the crossing of Gaochang Road and Old City Road, one of the busier areas of the city.
Turpan Free Market
, situated in the south of the Old City Road is the largest market dealing with farm and sideline products. It offers the visitors a wide variety of locally produced goods with distinctive folk features that are of superior quality and not at all expensive.
Silk Road Jade Carving Emporium
sells the local jade articles and special handcrafts.
Address: No.25, Old City Road
Opening Hours: 10:00-20:00
Second Hotel Market
offers you precious jewelries, jade articles and colorful tapestries.
Address: Qingnian Road
Opening Hours: 15:00-01:00 (the next day)
Fairyland of Karez gives you a choice of locally made souvenirs with strong folk flavor. The more traditional clothing and carpets would make nice gifts for you to bring home to your family and friends.
Address: Gaochao Village, Ya'er Town
Opening Hours: 9:00-22:00
- Last updated on Jul. 18, 2022 -