Turpan Dining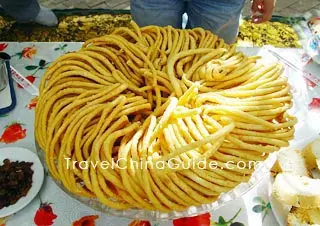 Sanzi, the local snack eaten at festivals
As a city inhabited by minority nationalities, Turpan is famous for delicious Uygur snacks, which are quite like those in
Urumqi
. Famous snacks such as Kebabs, Nang, Zhua Fan are visible at every corner of the old city. A bite of any of these snacks will give you a flavor that will linger in your memory for quite a long time. Apart from that, there are many other local dishes:
Roasted Dumplings
The stuffing for these dumplings is made from first-class mutton, with added onions, salt and pepper. After wrapping the stuffing in dough, the locals roast the dumplings in a big oven for about 20 minutes. The roasted dumpling is really delicious with its rather crispy skin and tender stuffing.

Sanzi
Sanzi is one of the Hui snacks eaten at festivals. It is considered as a table delicacy for giving guests a special treat. To make Sanzi, you should mix the flour with oil, Chinese prickly ash and egg white to make dough. And then, pull the dough into thin noodles and deep-fry the noodles in oil for several minutes.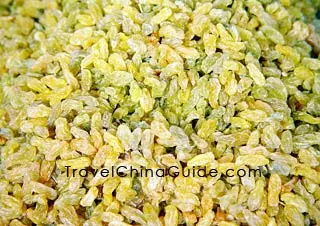 Dried Grapes
Ququ (Wonton)It is quite similar to Wonton in other parts of China. The stuffing is made of mutton, onion, salt and pepper, in a square dough wrapper. After boiling it in broth, some coriander is added. It is presented with this delicious broth, as well as having a thin skin around the deliciously tender stuffing.
Additionally, Xinjiang is distinguished by its fruits, especially the Turpan grape. It enjoys great prestige both at home and abroad. Benefiting from the advantageous geographical position, the grape here has rich sugar content. There are hundreds of grape varieties here, and in harvest season, you can see people eating grapes everywhere in the city as their staple food. This special phenomenon is rare in other parts of China. When coming to Turpan, you should taste the 'grape banquet' for yourself.
In addition to the above, Turpan provides a wide range of table delicacies as well as local and traditional cuisine. Visitors can find other varieties of Chinese Cuisine, including
Sichuan Cuisine
,
Guangdong Cuisine
and
Hunan Cuisine
.

Where to Eat: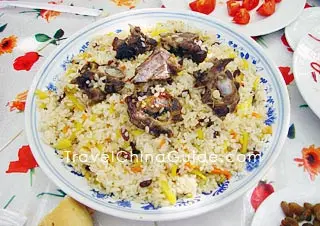 Zhua Fan (Rice Eaten with Hands)
On Bizaklik Road, there is a local snack street-
Guanghui Street
. Visitors can find cheap, but delicious, local snacks in a very wide range of selections. And the restaurants in Turpan offer you the best dishes which have a strong Uygur flavor. All of the local food exudes a sweet aroma and is waiting to be enjoyed by you!
Furthermore,
Dongmen Market
in Ya'er Town would also be a good option for snack hunters. The snacks there, with a Uygur flavor, would also satisfy their tastes.
Bus No.1 will take you to Dongmen and you will find the market nearby.
Opening Hours: 9:00-24:00
The restaurants in the Oasis Hotel, which is located in Qingnian Street, offer you a great variety of table delicacies. There are four different restaurants there, including the Muslim Restaurant, Han Restaurant, Western Restaurant and Flavor Restaurant. You will find your own tasty delights easily amongst the attractive dishes on offer.
Recommended dishes: Roasted Lamb, Kebabs, Zhua Rou (Mutton Eaten with Hands), Braised Mutton.
A snack street in Turpan
Red Rose Restaurant
which is located on Gaochang Road is the best folk restaurant which has food with a special flavor. Furthermore, the decoration in it follows the unique style of the Uygur residents.Address: No.551, Gaochang Road
Baiyang Restaurant
is the best option for you to taste the genuine Zhua Fan (Rice Eaten with Hands).
Address: Outside the Railway Station of Shanshan County, to the east of Turpan City
Fang Ling Xuan Restaurant
is a Moslem restaurant offering the customers Specialty Dishes of Xinjiang as well as Sichuan and Guangdong Cuisines.
Address: North of Bizaklik Road, Turpan City
- Last updated on Jul. 18, 2022 -
Questions & Answers on Dining in Turpan
Asked by Rita from PHILIPPINES | Jul. 18, 2012 05:13

Reply
Can anyone advise me if 7 hours is enough to visit some selective sites in Turpan like Sugong Pagoda
Jiahe, Karez, Tuyugou and Flaming Mountain?

Answers (1)
Answered by Nina | Jul. 18, 2012 20:36

1

0

Reply
I don't think you can cover all the places you mentioned in 7 h. I suggest you spend about 2 days to visit them.