Private Itineraries
Unique Services
Free Inquiry
Lowest Price
Expert Guide & Driver
Downtown Hotels
A La Carte Meals
Chinese Family Visit
Free Cooking Class
Best Flight Times
Kudos from Clients
No Hidden Charges
No Forced Shopping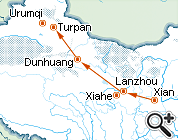 Pearl Cities along Silk Road
604:
11 Days Private Xian

Lanzhou - Xiahe - Lanzhou

Dunhuang

Turpan - Urumqi
From
$1999
per person
Free Inquiry

Overview
Full Itinerary
Price Details
Price Includes
Virtual Gallery
Sincere greetings & airport-hotel transfer, City Wall if time permits.
Terracotta Warriors Museum, Big Wild Goose Pagoda, Provincial History Museum. (B)
Great Mosque, A local family visit, Home-cooked lunch. Fly to Lanzhou. Airport-hotel transfer. (B+L)
Yellow River Mother's statue, Waterwheel Garden, Zhongshan Bridge, Binglingsi Grottoes. (B+L)
Gansu Provincial Museum. Lanzhou-Xiahe transfer, Sangke Grassland, a Tibetan family. (B+L)
Labrang Monastery, Xiahe-Lanzhou transfer. (B+L)
Fly to Dunhuang. Airport-hotel transfer. Echoing-Sand Dune (camel-riding) and Crescent Lake. (B)
Mogao Grottoes, Dunhuang Museum. High speed train to Turpan. Railway station-hotel transfer. (B+L)
Jiaohe Ruins, Karez Well, Sugong Pagoda. (B+L)
Gaochang Ruins, Baizikeli Thousand Buddha Cave, Flaming Hill. Land transfer from Turpan to Urumqi. (B+L)
Day11
Departure from Urumqi
Hotel-airport transfer & see you off. A pleasant onward trip! (B)
B-- Breakfast
L-- Lunch
D-- Dinner
View Full Itinerary
Upon your arrival, our guide will welcome you outside the arrival hall of the airport and transfer you to downtown Xian to check in the hotel. If time is available, we will take you to the ancient
City Wall
. Standing on it, you may see a modern developing Xian blossoming outside the wall while an ancient city inside.
Meals: No meals, advice freely available
Terracotta warriors
Today begins with the visit to the
Terracotta Warriors and Horses Museum
. In the museum, you will appreciate a picture of the vivid and lifelike warriors and horses arranged in the battle formation, seems ready to set out anytime, just like how the Qin soldiers united China over 2,000 years ago.
In the afternoon, explore the
Big Wild Goose Pagoda
and
Shaanxi History Museum
. The Big Wild Goose Pagoda is a seven-story-high brick building in square pyramid. Standing there for more than 1,300 years, it has been considered as the landmark and symbol of Xian. Shaanxi History Museum is the most comprehensive national museum displaying numerous historical and cultural relics.
Meals: Western buffet breakfast
Binglingsi Grottoes
This morning, you will visit the
Great Mosque
, a large traditional palatial architecture. It is a crystallization of Muslim culture and Chinese culture, appearing in a combination style of traditional Chinese and Muslim. Afterwards, pay a visit to a
local Chinese family
to learn about how the common Chinese people lead their daily lives. After enjoying a home cooked a la carte lunch (valued at CNY120.00 per person and included in our price) in this family, you will take a flight to Lanzhou, where our guide will greet you at the Airport and transfer you to the hotel.
Meals: Western buffet breakfast, Home-cooked a la carte lunch
Morning excursion will be devoted to the Yellow River Mother's statue,
Waterwheel Garden
and Zhongshan Bridge. Then the tour will continue to the
Binglingsi Grottoes
by boat. Due to the relatively good natural conditions and little man-made damage, the grottoes have been preserved comparatively complete. Now there are still 776 Buddha statues, over 1,076 square yards murals and 6 stones sculptures being kept here after a long history of 1,600 years.
Meals: Western buffet breakfast, Lunch
Today, you will first visit the
Gansu Provincial Museum
, the largest comprehensive museum in Gansu Province which houses about 350,000 pieces of ancient cultural relics, contemporary and modern cultural relics, ethnic cultural relics and fossil specimens. Then continue the private journey to Xiahe and check in the hotel upon arrival. After a short break in the hotel, you will travel to
Sangke Prairie
, typical plateau grassland. Covering a vast area of 27 square miles and being encircled by mountains, Sangke Prairie is a great place to appreciate the magnificent pastoral scenery while the river is slipping slowly northwards and sheep and cattle are freely wandering about on it. After that, you will have a visit to a local Tibetan family to experience the nomadic life.
Meals: Western buffet breakfast, Lunch
Labrang Monastery, Xiahe
The travel destination today is the
Labrang Monastery
, one of the six most noted monasteries as well as the largest Buddhist Institute of Tibetan Buddhism. This monastery boasts tens of thousands of statues of Buddha made of various materials. You will also watch the morning devotion there. Then, you will travel back to Lanzhou and check in the hotel again.
Meals: Chinese breakfast, Lunch
Your visit in Lanzhou ends here and you will reach Dunhuang by flight. Upon your arrival, our guide will meet you at Dunhuang Airport and transfer you to the hotel. Then you will experience a short camel-ride along the
Echoing-Sand Dune
to reach the
Crescent Lake
. The Echoing-Sand Dune is named so because one can hear clarion and thunder from the inner of the dunes, intermittent, rising or falling. The Crescent Lake is a crescent-shaped lake encircled by sand dunes. Lying there for thousands of years and survived from countless sandstorms, the lake has been reputed as the 'No. 1 Lake on Desert'.
Meals: Western buffet breakfast
Camel ride along the Echoing-sand Dune, Dunhuang
Today's private tour starts with a visit to the
Mogao Grottoes
, one of China's four most renowned grottoes. The grottoes here are scattered in a cliff of the Mingsha Mountain at five different levels. The frescoes in the grottoes are the gems of classical Chinese culture, reflecting the particular styles of different ages. After visiting the
Dunhuang Museum
, you will take a high speed train to Turpan. Our local guide will meet you and take you to the hotel.
Meals: Western buffet breakfast, Lunch
Our clients visiting Jiaohe Ruins, Turpan
Your trip today includes the
Ancient City of Jiaohe
, the
Karez System
and the
Sugong Pagoda
.The Ancient City of Jiaohe is the world's largest, oldest and best-preserved earth-constructed city and reputed as the 'Most Perfect Ruins in the World'. The Karez (well in Uyghur language) System is the crystallization of ancient people's diligence and intelligence. By making full use of the local special landform as well as taking the weather conditions into consideration, local people created this distinctive canal to bring in water for irrigation and living. Sugong Pagoda appears to be a pale yellow brick pagoda in a shape of cylinder, which gradually decreases upwards.
Meals: Western buffet breakfast, Lunch
Karez Well irrigation system, Turpan
Today we will take you to explore the
Ancient City of Gaochang
, the
Baizikeli Thousand Buddha Caves
and the
Flaming Mountain
. Initially built in the first century BC and used for over 1,300 years, the outline of the city can still be seen clearly nowadays. The Baizikeli Thousand Buddha Caves has been seriously damaged in the religious conflicts. But you can still see a magnificent, delicate, colorful and large cultural and art treasure house on the site. The Flaming Mountain is reputed as the hottest place in China. All over the bold and rough hill, there is no sign of life and it is mainly covered by weathered sand. The luminous red sand stones look like the burning flame, hence the name Flaming Mountain. After the full day sightseeing, you will head to Urumqi by car and check in the hotel.
Meals: Western buffet breakfast, Lunch
Day11
Departure from Urumqi
Bid farewell to Urumqi. Our guide will transfer you to the airport for your homebound flight. We wish you a pleasant journey!

Meals: Western buffet breakfast
Accommodation
Grade
Luxury
Standard
Xian
Wyndham Grand Xian South
Wyndham Xian
Lanzhou
Grand Soluxe Hotel Gansu
Legend Hotel
Xiahe
Labrang Civil Aviation Hotel
Labrang Civil Aviation Hotel
Dunhuang
Dunhuang Hotel

Building No. 8

Dunhuang Hotel

Building No. 8

Turpan
Huozhou Hotel
Huozhou Hotel
Urumqi
Sheraton Urumqi Hotel
Orient Dynasty Hotel
Grade
Luxury
Standard

Group Size

Month

2-3 travelers
4-5 travelers
6-9 travelers
2-3 travelers
4-5 travelers
6-9 travelers

Mar-Nov

$2999

$2559

$2219

$2869

$2429

$2079

Dec-Feb

$2909

$2469

$2119

$2779

$2349

$1999
Price Includes
Domestic airfares & train fares
Hotel accommodation with breakfasts
Lunches as itinerary specifies
Private English-speaking guides
Private drivers & air-conditioned vehicles
Entrance fees to tourist sites
Price Excludes
Airfares of arrival and departure
Entry visa fees
Personal expenses
Tips or gratuities for guides and drivers
Itineraries you may also like:
The above routes do not meet your requirements? Please click
Tailor My Trip