Nara Weather
Nara weather is greatly influenced by monsoons and the adjacent ocean. Also because of its location in the temperate zone, Nara has relatively short but torrid summer from June to August, when it is mostly cloudy. Its winter, from December to February, is bitterly cold and mostly clear. Averagely, the temperature varies between 2°C (35.6℉) and 33℃ (91.4℉) in a year, and it is rarely below -3°C (26.6℉) or above 35°C (95℉). It is relatively humid all year round, with the humidity always above 50% and the annual average precipitation of about 1,400mm. From mid-June to late July, it is the rainy season in Nara, when it receives the most rainfall in the year. The typhoon season in September also brings sufficient precipitation to Nara.
Best Time to Visit Nara
March to May in spring and October to November in autumn are the best time for sightseeing in Nara. These months are blessed with pleasant weather in Nara, when it is neither hot nor cold. The spring months are nice for spring outings, or to admire well-known oriental cherry blossoms and more blooming flowers. The autumn months are also pleasant, when fall foliage is beautiful and imposing.
Nara Weather by Month
Averages for Nara Weather
High/Low Temperatures of Nara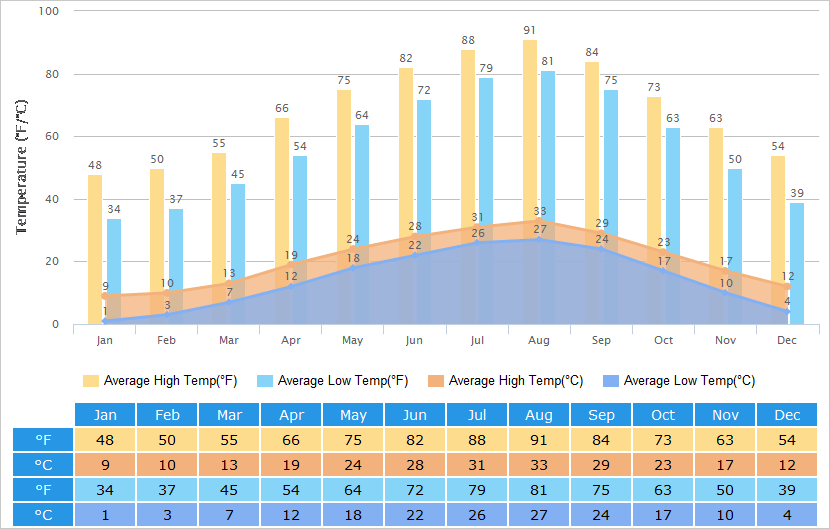 Average Temperatures of Nara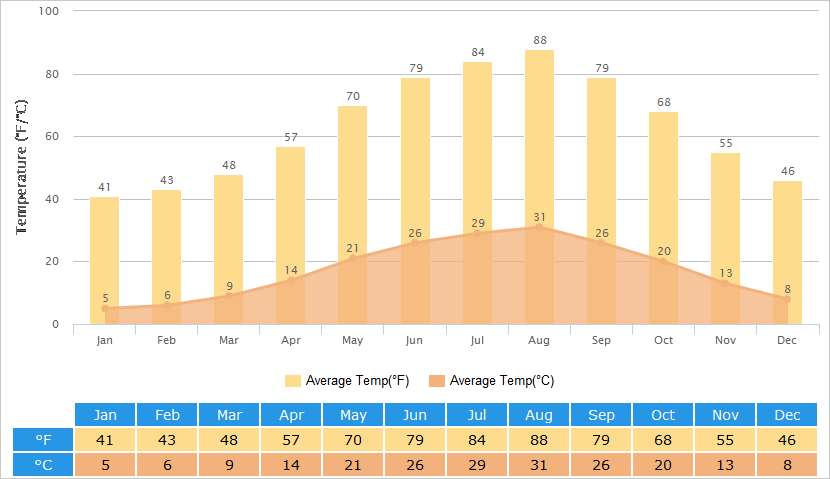 Humidity Graph of Nara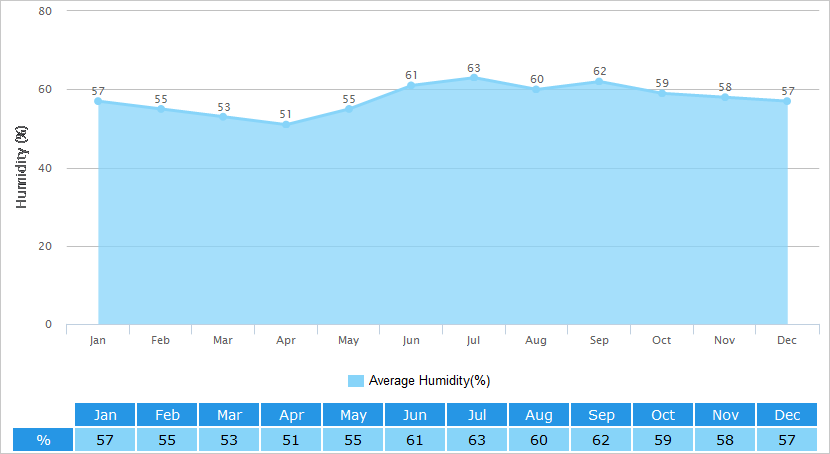 Average Rainfall of Nara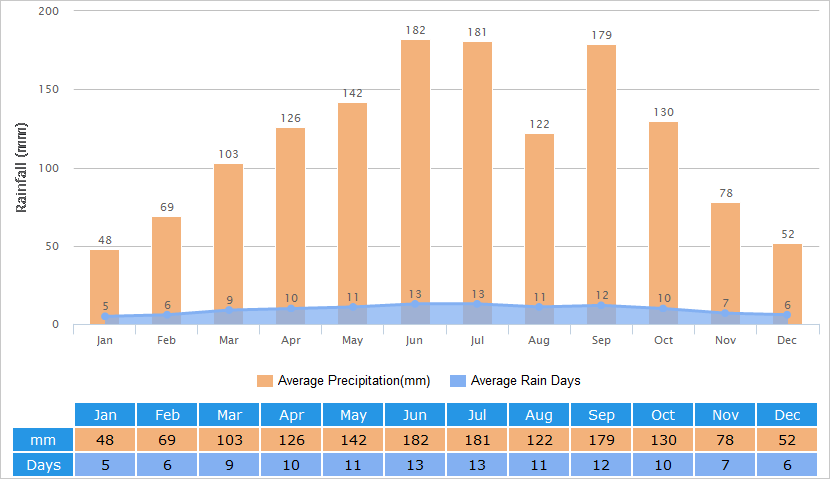 Nara Climate - Seasons & Travel Advice

Spring (March – May)
It becomes warmer and warmer in spring in Nara, as the average temp is 9℃ (48.2℉) in March and rises to about 21℃ (69.8℉) in May. Cherry blossom is always the signal of spring in Japan, so as in Nara; it's the most attractive spring landscape there. Thin sweater or knitwear plus a thin jacket and jeans are just right in Nara in spring.

Summer (June – August)
Summer in Nara is sweltering with a great deal of rainfall. According to historical records, June has the average temperature of around 26℃ (78.8℉), while August sees it increasing to 31℃ (87.8℉). During the rainy season from mid-June to late July, there are much rains, which requires a convenient umbrella or other rain gear on your Nara tour. Light, airy and sweat-absorbent short clothes, dresses and skirts are recommended.

Autumn (September – November)
September witness the fading of summer as well as the coming of autumn in Nara. Some people think September belongs to summer in Nara climatically as it is still hot at 26℃ (78.8℉) averagely. However, typhoons would attack Nara in September, which bring not only with heavy rain, but also lead to temperature drop. Since then, the temperature gradually drops to 13℃ (55.4℉) at average till November. It is one of the best seasons to visit Nara, as superb autumn views in breezes make the whole city like a colorful oil painting. A blouse topped with a thin jacket could be proper for Nara sightseeing in autumn.

Winter (December – February)
It gets colder and colder in Nara in winter, and the temperature gradually drops to as low as 5℃ (41℉) averagely in January. There is much less precipitation, as it rarely rains and snows only occasionally. Near the ocean, the humidity in Nara is still high during winter, when onsen bathing and skiing become popular activities. Down coat, sweater, padded pants, boots, hat, gloves, scarf, etc. are the necessities for keeping warm.
- Last updated on Mar. 22, 2023 by Nancy He -