Osaka Weather
Osaka is surrounded by highlands and mountains in the north, east and south, while its west faces Osaka Bay. Therefore, it is featured with the typical Setouchi climate of subtropical marine monsoon climate. In Osaka, southeast monsoon prevails in torrid and humid summer from June to August, while northwest monsoon blows in cold and drier winter from December to February. The max temperature may reach 33℃ (91.4℉) in August, while the min is about 3℃ (37.4℉) in January. Osaka weather is also featured with high humidity throughout the year. Its rainy season falls from June to July, and typhoons in September and early October also bring much rainfalls. Thanks to rich moisture and mountains hindering cold air from Siberia in certain degree, winter is not too dry in Osaka.
Best Time to Visit Osaka
The best time to visit Osaka is March to May in spring and October to November in autumn.

Osaka weather is warm, neither too hot nor too cold for travelling in these months. From March to May, oriental cherry blossoms is the must for sightseeing. In October and November, Osaka's climate is pleasant to appreciate spectacular autumn foliage and flowers.
Osaka Weather by Month
Averages for Osaka Weather
High/Low Temperatures of Osaka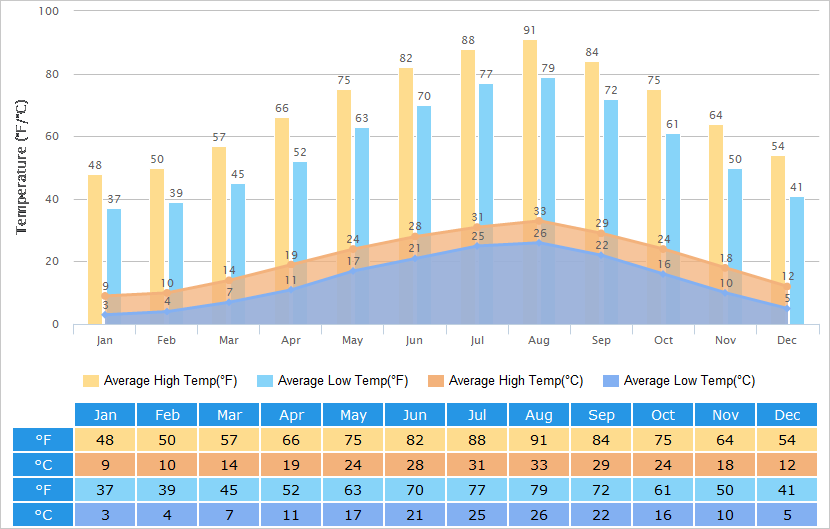 Average Temperatures of Osaka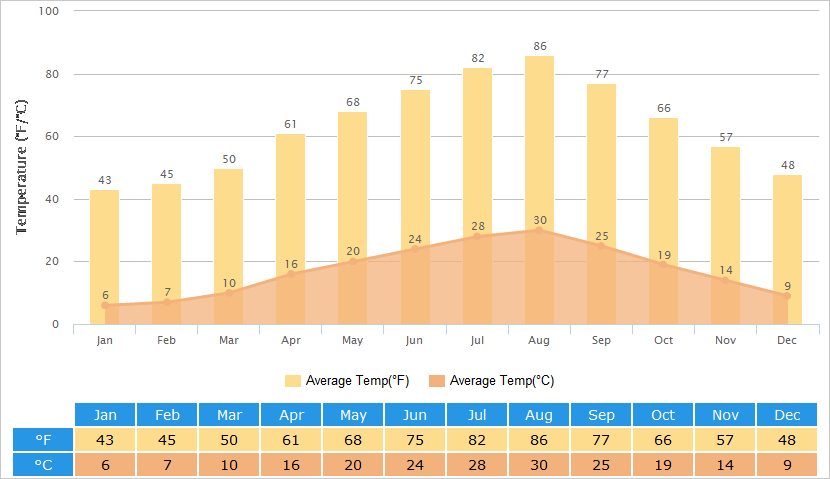 Humidity Graph of Osaka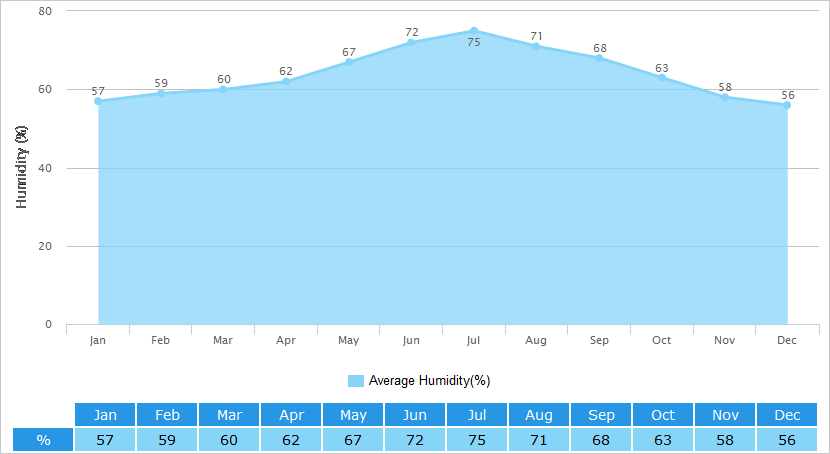 Average Rainfall of Osaka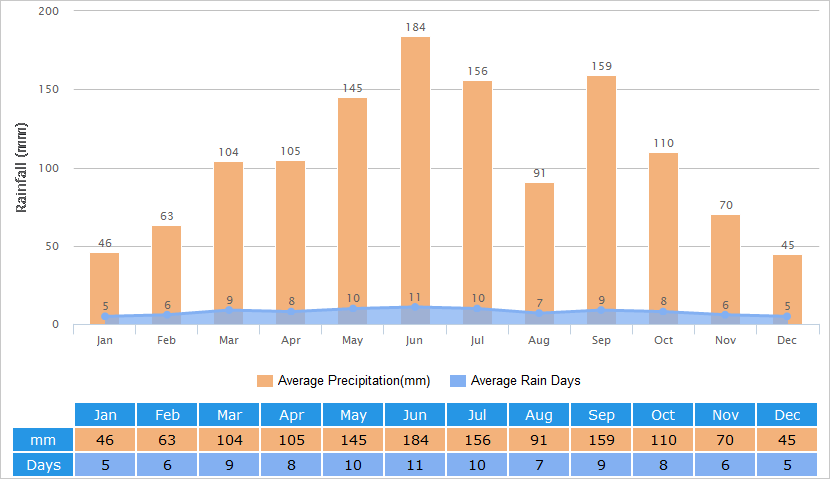 Osaka Climate - Seasons & Travel Advice
Osaka has pleasant spring and autumn, broiling summer and cold but somewhat humid winter. From June to July, it's the rainy season in Osaka, which brings the most rainfall in a year. There are also much rains in September and early October, which comes from marine monsoon climatically.

Spring (March – May)
In spring in Osaka, coldness fades into warmness gradually, as the temperature goes up month by month. Having an average temperature of 16℃ (60.8℉), spring is an ideal season to visit Osaka. The main trails and parks are caught in a sea of pink cherry blossoms, appealing to a lot of tourists. Thin sweaters, knitwear, thin jackets, jeans, etc. are suitable for your spring tours in Osaka, no more thick clothing!

Summer (June – August)
Osaka is quite hot in summer with plenty of rainfall and high humidity. The average temperature in June is around 24℃ (75.2℉), while it rises to 30℃ (86℉) during July and August. It is a must to protect your skin from boiling sun outdoors. June to July is also the rainy season in Osaka, and it's recommended to take a convenient umbrella in case of sudden rains. Sweat-absorbent summer clothes are optimal.

Autumn (September – November)
In September, Osaka still seems to be in hot summer, with a temperature of 25℃ (77℉) at average. Meanwhile, typhoons brings a lot of rainfalls in September. However, the temperature difference between day and night becomes bigger. To October and November, Osaka weather is completely autumnal, with the average temp of 19℃ (66.2℉) and 14℃ (57.2℉) respectively. The best time to see red leaves might start from mid-late November. A jacket could be added out of long-sleeve T-shirt when sightseeing in Osaka in autumn.

Winter (December – February)
Winter in Osaka is cold, and the average temperature is lower than 10℃ (50℉) monthly. In particular, it lowers to about 5℃ (41℉) in January, the coldest month in a year. Although it becomes drier than other seasons, the humidity is not very low compared with other world's travel destinations. Seeing winter landscapes and skiing are popular there. Down coats, sweaters, padded pants, padded hats, gloves, scarves, etc. are great to fight against coldness.
- Last updated on Mar. 02, 2023 by Zhangyi Zhang -