Tokyo Weather
In temperate monsoon zone, Tokyo has four distinct seasons. In summer from June to August, the southeast monsoon from ocean brings rain to the city, making the weather muggy. In winter from December to February, it's cold and a little dry. Spring from March to May and autumn from September to November are the optimal seasons to travel there for warm and peasant climate. It comes to plum rain season in June and July. It's hottest in August, as the average high temperature may go up to 31℃ (87.8℉); while it's coldest in January with the average low temperature of 2℃ (35.6℉). After thriving spring and summer, the typhoon season comes in September. Typhoons give rains but also bring temperature down before frosty winter.
Best Time to Visit Tokyo
The best time to visit Tokyo should be spring and autumn, or March to May and September to November as Tokyo weather is balmy and mild in the two seasons. In spring, the prosperous oriental cherry blossoms can't be missed definitely. In autumn, red leaves everywhere is the most wonderful scenery. Visitors may sightsee the memorable scenes in Tokyo, while enjoy characteristic culture.
Tokyo Weather by Month
Averages for Tokyo Weather
High/Low Temperatures of Tokyo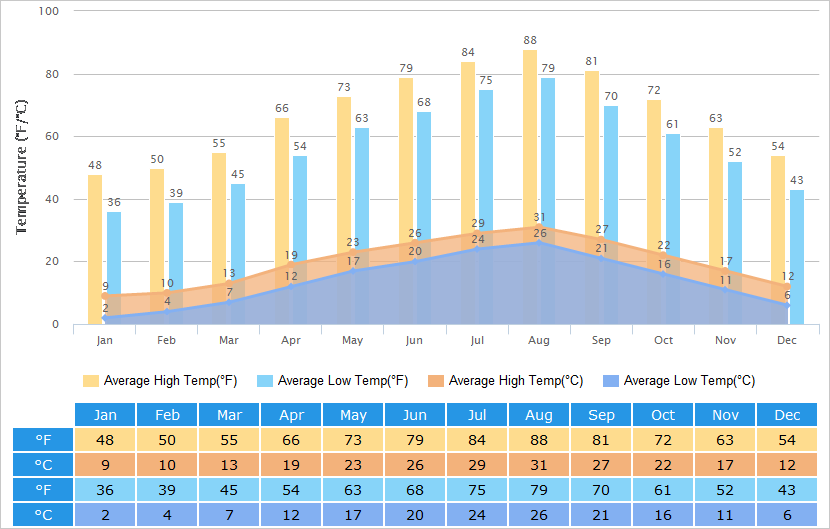 Average Temperatures of Tokyo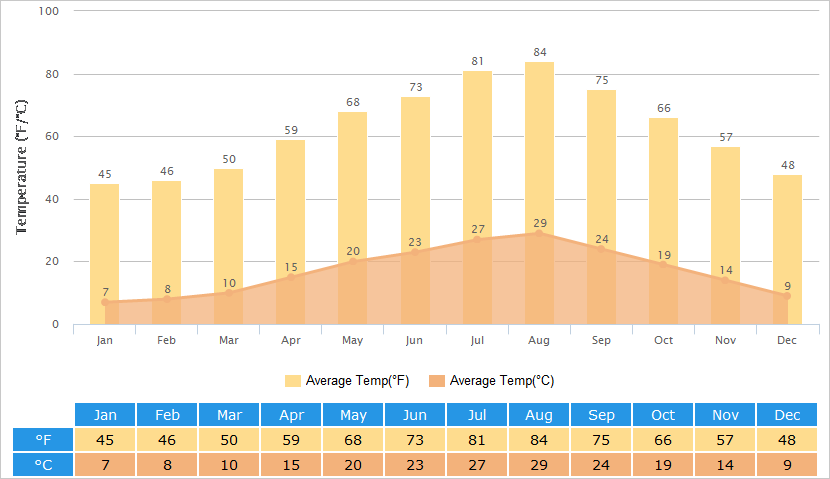 Average Humidity of Tokyo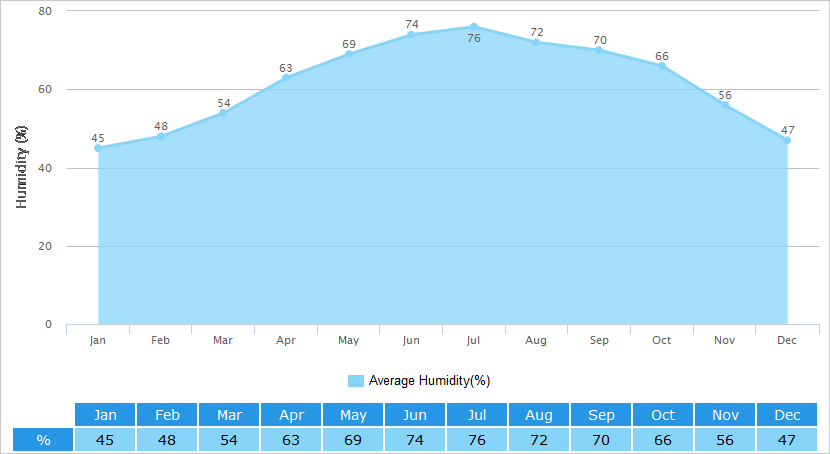 Average Rainfall of Tokyo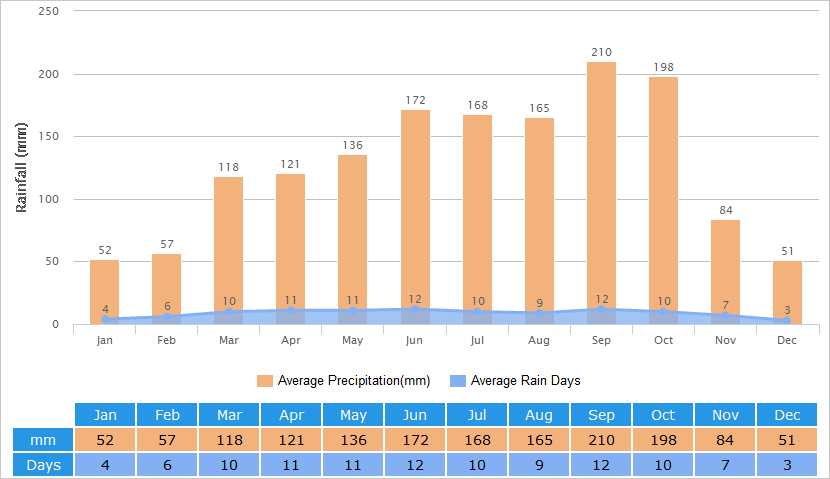 Tokyo Climate - Seasons & Travel Advice
Spring (March – May)
The temperature of Tokyo goes up to 14℃ (57.2℉) in spring. However, in early spring, it is still a little cold there. Thus, it's vital to keep warm and bring a coat or woolen sweater when you go out. To May, Tokyo weather gets warmer, and short sleeves are wearable during the day for a comfortable tour. Spring is one of the best seasons for tours in Tokyo. It is perfect for outdoor activities or journey on a sunny day, to admire cherry blossoms.

Summer (June – August)
In spite of the rising temperature, it rains more in summer of Tokyo. June to mid-July is the plum rainy season, the wettest period in a year. The rain is not heavy but lasts long. A raincoat and waterproof shoes are great choices for your journey in Tokyo; foldable umbrellas can also be easily found in convenience stores. As plum rain season ends, it embraces sultry weather while the temperature rises a lot. To prevent heatstroke, enough water should be taken and direct sunlight should be avoided as much as possible immediately if you feel hot or dizzy.

In summer, beaches are full of people. Visitors can also enjoy gorgeous fireworks show across the city at night, and various street celebrations are held.
Autumn (September – November)
In general, the temperature and humidity gradually drop, becoming comfortable and pleasant, although in September it may still be hot and typhoons sometimes attack the shore, which may affect your travel plans or outdoor activities. By late October, leaves change from green to red, yellow or orange, and red leaves is the well-known scene to see in Tokyo in autumn. The same as spring, it is recommended to wear a coat or jacket. Autumn is also a great season for outdoor activities.

Winter (December – February)
In winter, the temperature in Tokyo occasionally drops below 0℃ (32℉); most of the time, it falls between 2℃ (35.6℉) and 10℃ (50℉). The sunshine duration is short and it may snows. Visitors can wear sweater, wool coat or down jacket; gloves, scarf, and hat are also necessaries. Heavy winter clothes are not required unless you go outdoors in the mountainous area of western Tokyo. Festival celebrations during Christmas, New Year and Saint Valentine's Day are brilliant, a hot spring bath and hot food such as Sukiyaki are also unmissable if you travel there in these cold days.

- Last updated on Mar. 10, 2023 by Nancy He -