Hiroshima Weather
Situated in the southwest end of Honshu Island in temperate zone but close to subtropical zone, Hiroshima is warmer than many other places in Japan. The city is also influenced by monsoon circulation, so the summer from June to August, influenced by southeast monsoon from the sea, is hot with high precipitation, while the winter from December to February, influenced by northwest monsoon, is comparatively clear and rainless. The highest temperature may rise up to 33℃ (91.4℉) in August, and the lowest may drop to 2℃ (35.6℉) or so in January. By the ocean, Hiroshima sees high humidity all year round. Besides, the southern coast facing Seto Inland Sea is often warm and sunny with less rainfall, but the northern place standing back against mountains has more rainfall, and snow falls in winter. The typhoons may land between late August and October in Hiroshima.
Best Time to Visit Hiroshima
The spring time from March to May and autumn from September to November are considered as the best time to visit Hiroshima. The seasons are warm and pleasant for travelling around and visitors won't feel too hot nor too cold. Oriental cherry blossoms in spring and red fall foliage are always highlights in Japan, certainly including Hiroshima.
Hiroshima Weather by Month
Averages for Hiroshima Weather
High/Low Temperatures of Hiroshima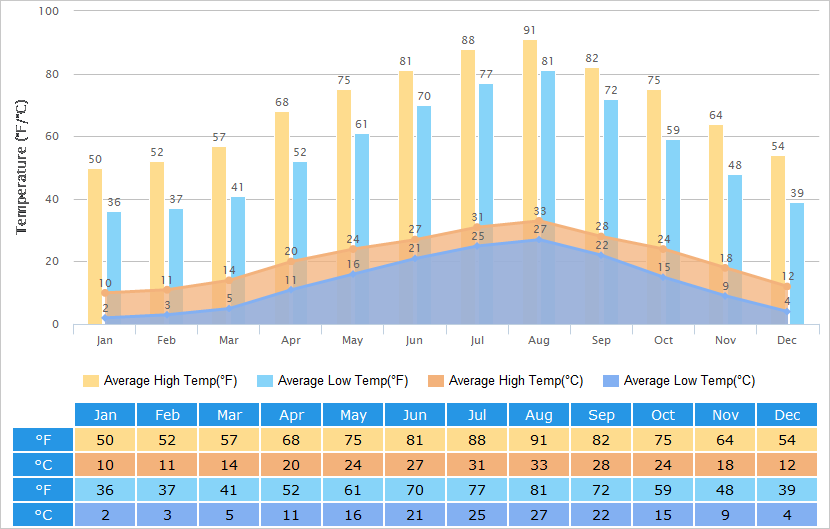 Average Temperatures of Hiroshima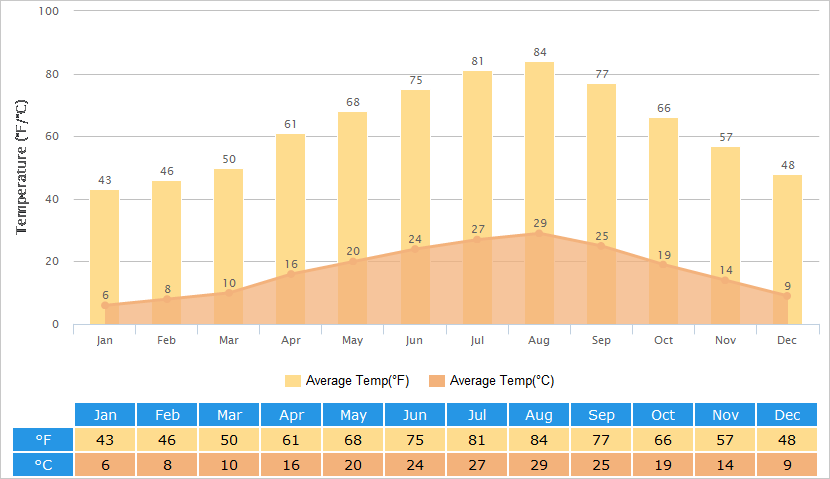 Humidity Graph of Hiroshima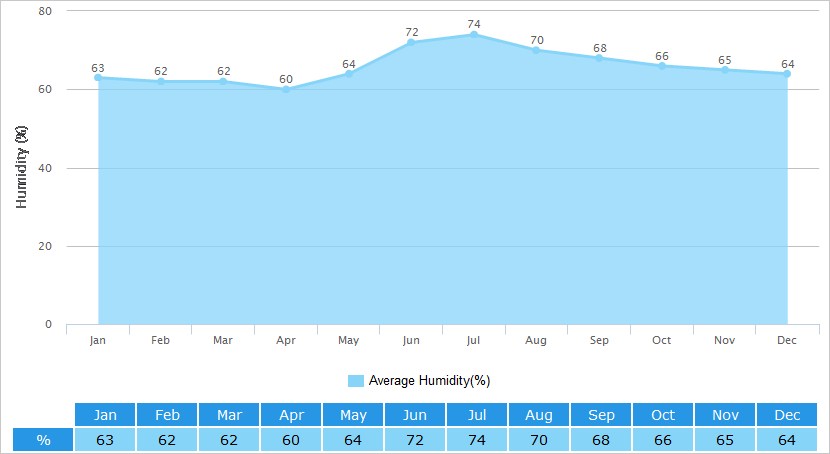 Average Rainfall of Hiroshima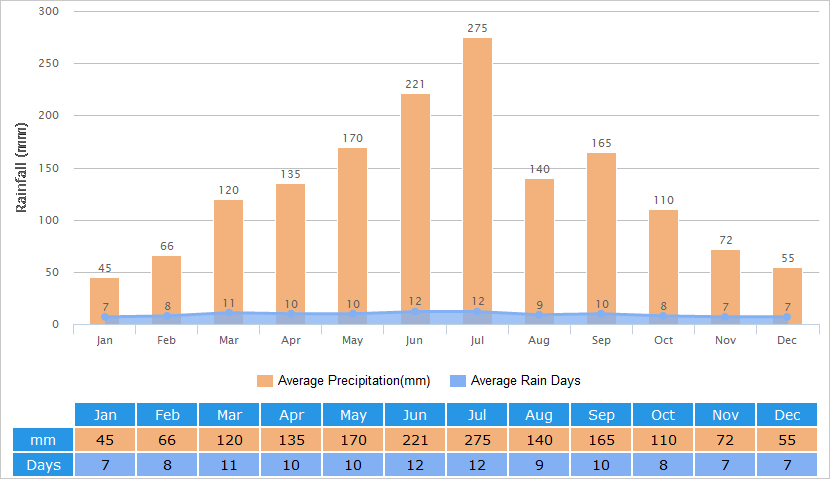 Hiroshima Climate - Seasons & Travel Advice
Spring (March – May)
As spring starts, the temperature in Hiroshima gets higher and higher. In March, the highest temperature is around 14℃ (57℉) averagely, while it rises to 24℃ (75.2℉) in May. As a whole, it is pleasant and warm with gentle breeze, but it would get cool or even cold at night. Cherry blossom starts to flower there since mid-late March; by the end of March, Hiroshima is shaded by blooming cherry blossoms. In early spring, thin sweater plus a jacket are proper in Hiroshima; as the temperature goes up gradually, long shirt and jeans are fine in late springtime.

Summer (June – August)
Torrid summer in Hiroshima is accompanied by a large quantity of rainfall, especially in the rainy season beginning in June and ending in mid-July. After the rainy season, it comes to hottest period of Hiroshima in a year, and the highest temperature rises to 33℃ (91.4℉) at average in August. Occasionally, the high temperature may exceed 35℃ (95℉) in August. The unbearable heat and high humidity require airy light clothes, like T-shirt, dresses and shorts. Typhoons become active by late August.

Autumn (September – November)
It's the active period of typhoons in Hiroshima from late August to early October. Summer heat has not faded completely in September, while typhoons bring abundant rainfall to Hiroshima. The temperature drops slowly in autumn. By late October, it becomes really cool. The fall foliage season in Hiroshima is from mid-October to mid-November, when is the best time to appreciate red leaves as well as multiple autumn flowers. A blouse with a jacket is good for travelling to Hiroshima in autumn.

Winter (December – February)
Winter is cold in Hiroshima, as the temperature goes down below 10℃ (50℉) averagely. It scarcely rains or snows in winter in Hiroshima, except the mountainous area in the north which may be covered by snow. The coast by Seto Inland Sea is relatively warmer. Winter activities like skiing and onsen bathing are popular during winter in Hiroshima. Sweater, down coat, wool overcoat, thermal shirt and trousers, and boots are needed.
- Last updated on Apr. 06, 2023 by Nancy He -