Kyoto Weather
Situated in a valley ringed on three sides by mountains, Kyoto has temperate climate influenced by alternate monsoons. In summer from June to August, the weather is muggy, because warm air from the south is impeded by mountains and stays here; on some days, the temperature can rise up to 33℃ (91.4℉). The weather in winter from December to February is bitterly cold caused by monsoon from the north; and the low temperature stays around 1℃ (33.8℉) or so. Spring from March to May and autumn from September to November are mild and pleasant in general.
Kyoto weather is also characterized by high humidity all year around, and the average monthly humidity is above 60% at least. The yearly precipitation is about 1,500mm averagely and the rainy season from early June to mid-July has the most rainfall in Kyoto.
Best Time to Visit Kyoto
For the best time to visit Kyoto, it should be March to April in spring and October to November in autumn, which is also the peak season for travelling. Kyoto weather is mild with moderate temperature and low rainfall in these months. In addition, blooming oriental cherry blossoms in March and April add more fun for a trip, so as the stunning fall foliage in October and November.
Kyoto Weather by Month
Averages for Kyoto Weather
High/Low Temperatures of Kyoto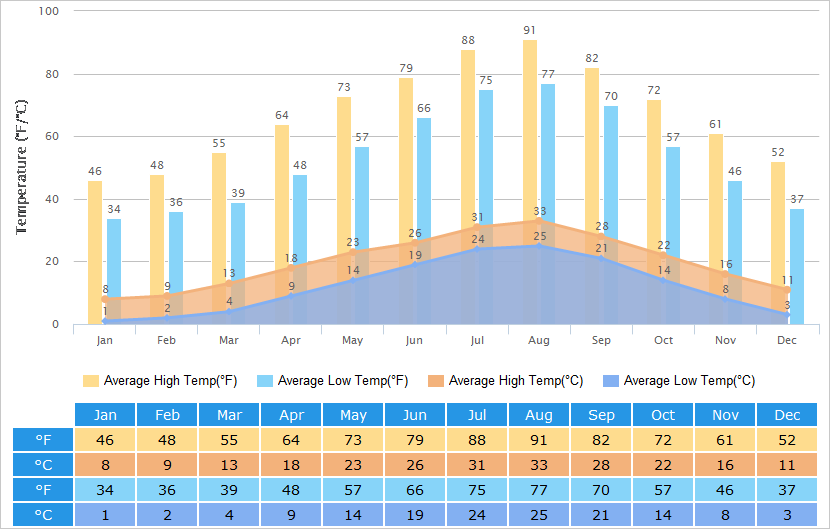 Average Temperatures of Kyoto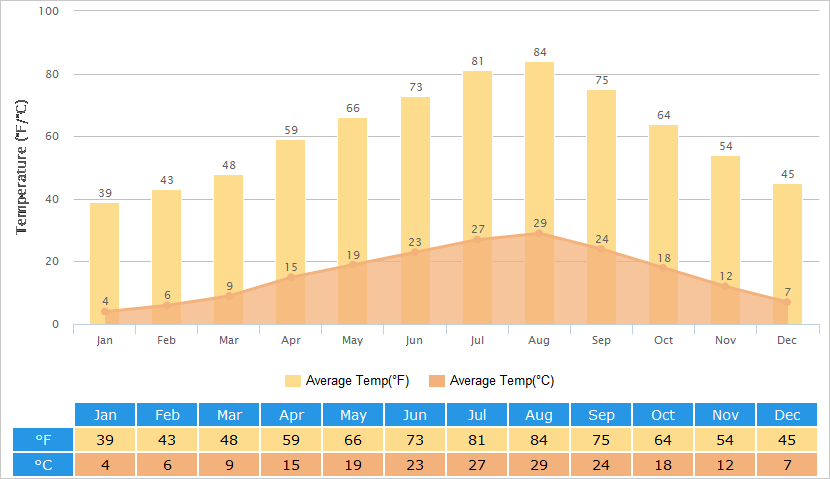 Humidity Graph of Kyoto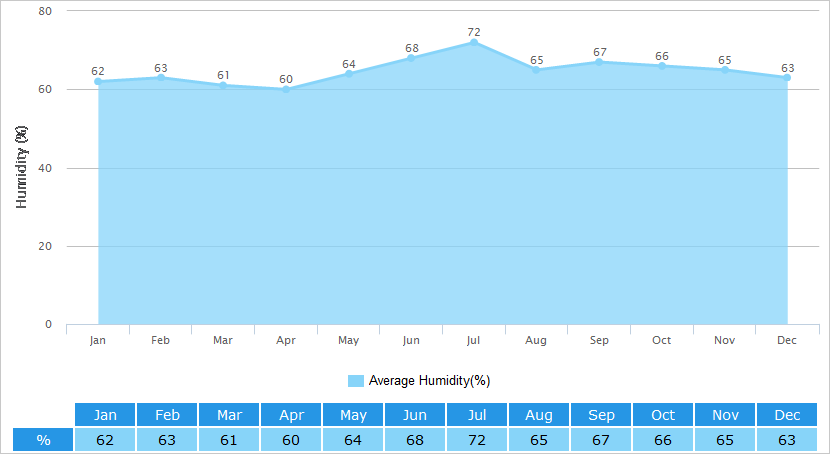 Average Rainfall of Kyoto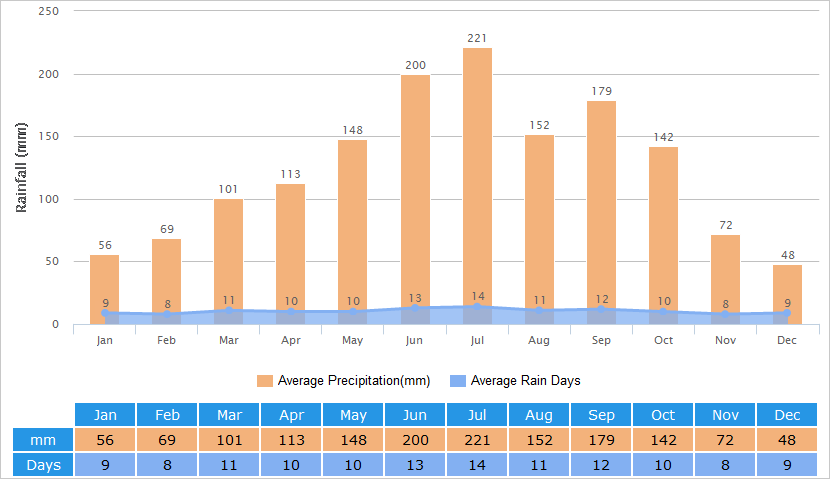 Kyoto Climate - Seasons & Travel Advice
In view of Kyoto's climate, it is cold but mostly cloudy in winter; the summer is hot and embraces continuous sunny days except the rainy season. The sunshine is considerably strong from May to August, warm in spring and autumn, and quite weak in winter months. The precipitation mostly falls from June to September; in spring and autumn it's moderate, while in winter it rains a little.

Spring (March – May)
As monsoon from the north fades away, Kyoto's spring is warm with mildly increasing temperature; however, the nights are still quite chilly. Having an average high temperature of 19℃ (66.2℉), it's nice for spring outing in the day. In addition to cherry blossoms, azalea, wisteria, iris flowers, etc. are also alluring in succession. A thin sweater or knitwear plus a jacket is good for Kyoto weather in spring, or you can wear a few layers, which could be taken off or put on conveniently, to cope with sharp temp changes.

Summer (June – August)
In summer, the temperature may rise to 33℃ (91.4℉) and the rainy season comes from early June to mid-late July, so you'd better wear light to get used to the incessant humid heat. Airy short clothing, dresses and skirts are recommended, and handheld fan is pretty popular in this season. Rain gear should be taken during the rainy season.

Autumn (September – November)
Autumn is mild and pleasant in Kyoto, which is one of the most popular seasons for travelling. In September, Kyoto would perhaps be hit by typhoons, when there is much rain. It's pleasant and comfortable in October, while the temperature drops sharply in November, to 12℃ (53.6℉) at average. Japanese maples change and deepen their color gradually, forming picturesque scenery in Kyoto.

Winter (December – February)
With the minimum temperature of 1℃ (33.8℉), Kyoto's winter is severely cold. Besides, there is not so much rainfall as in other seasons; that's to say, it does not frequently snow. However, when it's snowy, the snow-covered landscape is surprisingly magical. It will be pretty cozy to stay in a traditional ryokan for hot seasonal food or an onsen bath.
- Last updated on Mar. 07, 2023 by Nancy He -