Kumul (Hami) Travel Guide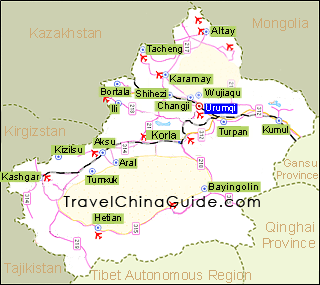 Kumul Facts
Chinese Name: 哈密 (hā mì)
Location: Kumul is located in the northern end of Xinjiang Uygur Autonomous Region, neighboring Gansu Province in the east, and the Inner Mongolia Autonomous Region in the south. It shares a 587 kilometers (365 miles) boundary with Mongolia.

Population: 541,800
Area: 153,000 square kilometers (57,915 square miles)
Nationalities: Han, Uygur, Kazak, Hui
Administrative Division: 1 autonomous county (Barkol Kazak Autonomous County); 1 county (Araturuk); 1 city (Kumul)
Useful Telephone Numbers:
Tourist Complaints: 0902-2251985
Weather Forecast: 121
Zip Code Inquiry: 184
Bank of China: 0902-2234543, 2234205 (Credit Card Departmet)
Attractions:

Barkol Lake: Around 18 km (7 mi) from the northwest of Barkol Kazak Autonomous County, the Barkol Lake is an alpine lake with an altitude of 1,585 m (5,200 feet). It is surrounded by rolling hills and exuberant grassland. Covering an area of 112.15 sq km (about 43.3 sq mi), the oval lake is about 20 km (12.4 mi) long from north to south and about 9 km (5.6 mi) wide from east to west. It is divided into east and west parts by a sand bank. The east part is a far-reaching azure lake which slightly ripples in the winds and the west part is a vast expanse of salt fields, which is the famous salt lake in Xinjiang Uygur Autonomous Region.
In summer, many white tents, herders, melodious songs, flocks and herds gather around the beautiful lake, presenting a tranquil picturesque view. The clear blue lake mirrors the snow-capped Tianshan Mountains and white clouds, adding beauty and charming to each other.
There is a beautiful story about the Barkol Lake. A Han girl and a Kazak young man named Pu Lei Hai fought together against a mountain devil who wanted to destroy the azure lake. Finally the girl became a stone under the Jianshan Mountain and the young man sank in the lake with the devil.They sacrificed themselves to bring peace to the people. In memory of them, people call the springs of Jianshan Mountain Springs of Han Girl and the lake is called Pu Lei Hai, namely the Barkol Lake.



Devil City: The name 'Devil City' is given by Mongolian and Kazak sheepherders in this area, because horrific and roaring gale often happens in the grotesque hills. In fact, it is a Yardang landform formed through millions of years of wind erosion. After the ancient lake dried, the ground erodes forming a series of parallel ridges and grooves. The mounds seem like ancient castles, palaces, pagodas, towers, animals and birds. The stunning spectacle attracts many tourists at home and abroad.
The ecological attraction, taking Aisi Kaixiar Anicent Post Stall as the center, includes four major scenic areas: East City, South City, West City and North City. The ancient castle, Goddess Peak, Thousand Buddha Mountain, and Colorful Stone Beach are the major scenic spots in East City. For the ancient castle, the adobe color is very similar to that of the natural environment, so it is difficult to find it. The ruined castle walls still contain peep holes for defense and observation. Many mauve tiles in different sizes can be found in the ruins. The Colorful Stone Beach is like a kaleidoscope of gorgeous colors. Some stones are blood-red and some look like white jade.
Sphinx-like site, Golden Mausoleum Stone Tiger, and ancient Populus Euphratica forest are the major ones in South City. West City mainly includes Heavenly Gate Cave, Twin-Tower Peak, and Stone Mushroom Beach and the North City present Double-Head Horse, Divine Tortoise in "Vast Sea", Aisi Kaixiar Ancient Town and Rose Willow Beach.


Further reading: There is another Devil City in Xinjiang due to the similar Yardang landform. It is the Ghost Town of World, around 100km (62mi) from Karamay city.



Other Scenic Spots: Hill with Strange Rocks, Singing Sand Mountain (Mingshashan)
How to Get to Kumul
Buses to Urumqi, Jiuquan and Dunhuang usually depart Kumul beginning at 7:00am in the summer and 8:00am in the winter. Visitors can also easily find buses to Turpan. Occasionally, busses also run to Mongolia.
Weather
-
The area enjoys a typical temperate continental climate. The weather is dry and seldom rainy. Northern parts are cool in summers, filled with vast grasslands. The southern Kumul Basin is dry, with a temperature that varies greatly between day and night. August and September are the best times to visit Kumul, when it experiences cool weather and local fruits are in season.
Kumul Travel Tips

History: Kumul Prefecture was called Yiwu throughout the Han Dynasty (206BC-220AD), and Yizhou during the Tang Dynasty (618-907). It is believed that the county was initially established in the year 327, during the Eastern Jin Dynasty. After the Ming Dynasty (1368-1644), it gained its present name - Hami, also Kumul.

Physical Features: This area has elevated terrain in its center and lower terrain to the north and south. The Eastern Tianshan Mountains are located in its northern portion, while deserts comprise its eastern and western regions. The central land is made up of a flourishing oasis. The Tianshan Mountains traverse the region and divide Kumul into its southern oasis and northern river valley and prairie.

Local Highlights: Traditional Moslem festivals: Noruz Festival (the ninth month of Hui calendar), Corban Festival (70 days after the Noruz)

Special Local Products: Hami Melon, Cotton, Grapes