Aksu (Akesu) Travel Guide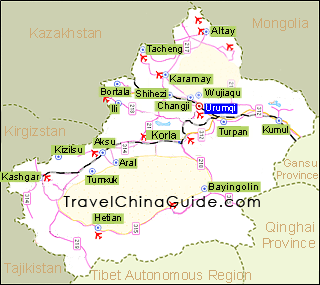 Aksu Facts
Chinese Name: 阿克苏 (ā kè sū)
Population: 2,389,700
Area: 131,300 square kilometers (50,695 square miles)
Location: in the southwest of Xinjiang, northwest China
Administrative Division: 7 counties (Wensu, Xayar, Toksu, Bay, Uxturpan, Awat, Kalpin); 2 county-level cities (Aksu, Kuqa)
Area Code: 0997
Zip Code: 843000
GDP (2018): CNY 102.743billion (USD 15.53 billion)
Nationalities: Uygur, Han
Boasting the Ruins of Lost Qiuci Ancient Kingdom
Aksu is located in the southwest portion of Xinjiang. It shares a 235 kilometers (146 miles)-long boundary on the northwest with Kazakhstan and Kyrgyzstan. In the south, it is separated from Hotan by the Taklamakan Desert. It is about 450 kilometers (280 feet) northeast of Kashgar.

Aksu is a bright pearl shining on the ancient Silk Road. It features diverse and amazing landscapes like vast deserts, desolate Gobi, snow-capped mountains, sparkling glaciers and broad grasslands. The Mystic Grand Canyon of the Tianshan Mountains with reddish-brown cliffs and the glaciers covering the Tumur Peak are highlights.

Besides that, Aksu possesses a lot of cultural sites about the lost Qiuci Ancient Kingdom, which was an important kingdom on the ancient Silk Road and the junction of Chinese and Western cultures. Qiuci people mostly were faithful Buddhists and good at music and dancing. Today, visitors can find a lot of fine Buddha statues and murals in the Thousand Buddha Caves of Kizil and Thousand Buddha Caves of Kumtula.



Pictures
Attractions

Kuqa Mosque is a grand Islam temple second only in size to the Id Kah Mosque in Kashgar. It is about four kilometers from the newly formed district of Kuqa County. This is an area that dates back to the fifteenth century.

The Mystic Grand Canyon of the Tianshan Mountains is located on the Dushanzi-Kuqa Highway about seventy kilometers from the Kuqa county seat. This canyon is famous for its russet rocks formed by wind and rain over millions of years. The mysterious Aay Grotto which is about two kilometers from the canyon entrance was built during the Tang Dynasty (618-907).

Tumur Peak marks the apex of Tianshan Mountain. Around Tumur there are many peaks over 6,000 meters above sea level. Five of these peaks actually exceed 6,800 meters in height. There are enormous glaciers here and the snow and ice caps provide an important water source for the vast lands in the area.

Other Scenic Spots:
Thousand Buddhas Cave of Kizil
,
Subashi Ruins
, Tarim River, Aiximan Lake
| | |
| --- | --- |
| Ghost City, Kuqa | Kuqa Mosque |
How to Get to Aksu
Aksu Wensu Airport is 12.5 kilometers (8 miles) north of the city center. It operates flights to/from Beijing, Chongqing, Chengdu, Hangzhou, Xi'an, Shenzhen, Urumqi and more cities. passengers can take airport shuttle bus, city bus and taxi to travel between the airport and downtown Aksu.
| | |
| --- | --- |
| Mystic Grand Canyon | Kuqa Mosque |
Kuqa Qiuci Airport in Kuqa County is located 10 kilometers (6 miles) to downtown Kuqa and about 250 kilometers (155 miles) to Aksu. 7 direct flights has opened to Chengdu, Karamay, Korla, Urumqi, Xinyuan, Xi'an and Yining.

The south Xinjiang Railway has been extended southwestward to Kashgar. There are conveniently scheduled trains from Urumqi, Kashgar and Lanzhou to Aksu. The Aksu Railway Station is located six kilometers southeast of the city center. High-speed trains take about sixteen hours from Urumqi to this railway station.

Being the traffic hub of southern Xinjiang, Aksu's network of roads is well developed. Visitors can find the city's main bus station on Wuka Zhong Lu.

Send your friends an Aksu Postcard!
Weather
-
The region's climate is dry and chilly in the winter and arid and torrid in the summer. Temperatures vary greatly between day and night. While there is abundant sunshine, the area gets inadequate rainfall. The average annual temperature is around 10

C– 11

C. September and October are the best times to visit the region.
Aksu Travel Tips

History: Before the Han Dynasty (206BC – 220AD) brought the region under the central government in 60 BC, several kingdoms existed here. The Protectorate of the West Region (Xiyu Douhufu) was established by the court with Aksu as its political, economic, military and cultural center. On the ancient Silk Road, the city became important as a connecting point for Central China with Central Asia and West Asia.



Physical Features: The Prefecture lies at the south foot of Tianshan Mountain on the north edge of the Tarim Basin. The Tianshan Mountains are in its north while the Taklamakan Desert lies to its south.



Local Highlights: Islam is the chief religion in the region. The Corban Festival on the tenth day of the twelfth month and the Ramadan Festival in the ninth month of the Islam calendar are the most important festivals during the year. Corban is also called the 'butchering' festival since it features the sacrifice of livestock. During Ramadan, Muslims avoid eating in the daytime. They usually take two meals a day—one before dawn and one after dusk. In addition, the Qiuci Culture and Tourism Festival is celebrated from June to August. Tourists and business travelers from far and near attend to witness unique folk performances.



Special Local Products: Agricultural output includes melons; walnuts; apples; pears and apricots. Uygur apparel featuring folk costumes; riding boots and embroidered caps and waist bands.
- Last updated on Jul. 18, 2022 -
Questions & Answers on Aksu Travel
Asked by TEEVARA SAELEE from THAILAND | Sep. 27, 2019 11:45

Reply
i wil go to Kuqa city this Oct. i want to know Can i go to Gran canyon by public bus ?
and Where is the bus station , time and fare
Answers (1)
Answered by Ariana from SINGAPORE | Sep. 29, 2019 19:23

0

0

Reply
You can take bus from Tarim Coach station. This bus go to Dongfeng Coal Factory and passes by grand canyon with interval of 1 hour. These are all I can find.
Asked by ho ying sam from MALAYSIA | Mar. 26, 2019 00:46

Reply
I am 79 years Old . no health problem. any high altitude problem in Aksu?
what is best time to visit?
Answers (1)
Answered by Nina from AUSTRALIA | Mar. 26, 2019 01:30

0

0

Reply
Hi, the altitude of the city is around 1,100m and generally people don't have the altitude problem. However, you can also prepare some related medicine just in case. September and October are the best months to travel in Aksu.
Asked by Tania from NEW ZEALAND | Aug. 04, 2018 11:01

Reply
What is the best way to arrange a tour/hire a taxi to visit Kuqa Grand Canyon from Kuqe hotel?
I am a solo traveller who is planning on visiting Kuqa in either August or October, would like to visit Kuqa Grand Canyon, and a few of Kuqa's main attractions. Can you please advise on any 1 day tours or the contact details for hiring a taxi to visit the sights, and how much does it cost?

Thanks in advance
Answers (1)
Answered by Bob from AUSTRALIA | Aug. 07, 2018 02:38

0

0

Reply
If you only go to the Canyon, the fare is around CNY 320 in general.
Asked by Lim siok chin from MALAYSIA | May. 17, 2016 16:59

Reply
What will the weather be like between May and June this year of Urumqi and Aksu?
I will be going there on 29 may. Thank you.
Answers (1)
Answered by Cheryl from UNITED KINGDOM | May. 18, 2016 02:47

0

0

Reply
In Urumqi, it will be cloudy, and rain sometimes. The temperature will range from 65F to 85F of both two places.
You are advised to pack light jackets, shirts, T-shirts, pants, and an umbrella. May you have a nice trip! :)