Kashgar Travel Guide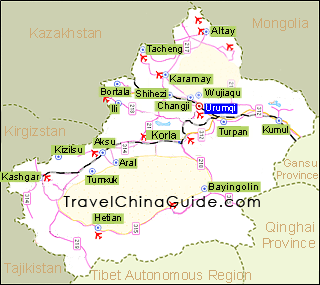 Kashgar Facts:
Chinese Name: 喀什 (kā shí)
Population: 200, 000
Total Area: 162,000 square kilometers
Nationalities: Han, Hui, Uygur, Kyrgyz, Tajik and Uzbek
Zip Code: 844000
Area Code: 0998
Administrative Division: one city (Kashgar City) and eleven counties



Location: Lying between 73 20' - 70 57' east longitude and 35 20' - 40 18' north latitude, bordering the Taklamakan desert in the east, the Kunlun Range and Ali prefecture of in the south

Neighboring areas: Gansu province and Qinghai province, Tibet Autonomous Region, Taklimakan Desert, Russia, Afghanistan, Kazakhstan, Tajikistan, Kirghizia, Pakistan

Physical Features: two river systems of the Yarkant River and the Kashgar River with a total annual runoff of 10.9 to 11.9 billion cubic meters; located at the west of the Taklamakan Desert at the feet of the Tian Shan mountain range

History: a history of more than 2000 years; belonged to the Zhuangpu prefectural General's Office of the HunIn in Han dynasty; thereafter, submitted to the authorities of the Western Han dynasty after the trading links with Han formed by Zhang Qian - the special envoy to the Western Region sent by Emperor Wudi; one of the four important towns in Anxi during Tang dyansty; later becoming the seat of government of the Kashgar Councillor in Qing dynasty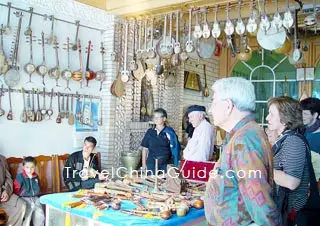 Distinctive Local Musical Instrument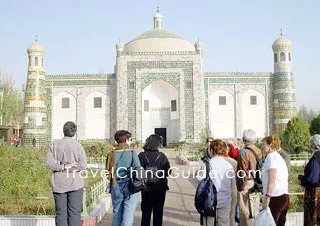 Abakh Khoja Tomb

Climatic Features: mainly a continental climate; long periods of sunshine and little rainfall; vary greatly with topography as plain climate, desert climate and mountain climate; frost-free period of 215 days; short warm winter and long cool summer; vary considerably between day and night; clear four seasons.
Average Temperature: 11.7 C annually with the lowest of -24.4 C and the highest of 40.1 C
Rainfall: 27 mm annually

When to Go: The best time to pay a visit is between August and September, when the sky is blue and there is blossom and fruit on the trees. It is recommended that you wear a light top with long sleeves and a hat for protection from strong UV radiation.

Local Products: wheat, maize cotton, barley, highland barley, rape, sesame, peanuts, flax, crafts, roast lamb, shishi-kebab, and baled fish

Local Highlights: There are a lot of festivals full of joyful with deep traditional culture and custom here, such as Corban Festival, Roza Festival and Nuo Ruzi Festival. During the festival, people can enjoy the wonderful local songs and dances.


Scenic Spots: As an important trading center of ancient Silk Road, Kashgar is a place with strong tinge of ethnic custom, and rich in historical and natural resources. It is well know as a top tourist destination in west China. There are so many charming places to visit, such as Abakh Khoja Tomb, Id Kah Mosque, Karakul Lake, kashgar Bazaar, Kashgar Old Town, Stone City and Three Immortals Buddhist Caves.
Mountains: Mt. Kongur
Rivers: Yarhant River, Kashgar River

Kashgar Travel Tips:
Kashgar Airport, located about 10 kilometers (about 6 miles) north of city center, is capable of accommodating incoming and outgoing flights to destinations both domestic and international, including Urumqi, Hotan, Kuqa, Aksu, Kirghizia, Islamabad, Osh, Andijan and Uzbekistan. Kashgar Railway Station, only about 5 kilometers (3.1 miles) away from the city center, has daily trains running to and from Urumqi. It is also easily accessible by long-distance bus to go to other cities in and around Xinjiang from Kashgar. Traveling around the city, the city-bus and taxi are good options.



Recommended Tour Itinerary:
Classical Silk Road: 14 days, Urumqi, Kashgar, Turpan, Dunhuang, Xian, Shanghai
Trip to Urumqi, Kashgar: 6 days along Silk Road
Hiking Adventure
-