Kashgar Travel Guide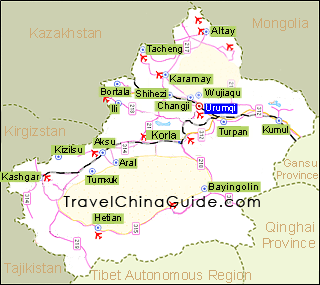 Kashgar Facts
Chinese Name: 喀什 (kā shí)
Population: 4,633,800
Area: 162,000 square kilometers (6,255 square miles)
Location: in the southwest of Xinjiang, northwest China
Administrative Division: 1 county-level city (Kashgar); 11 counties (Shufu, Shule, Yengisar, Yopurga, Payzawat, Yarkant, Poskam, Yecheng, Makit, Marabishi, Tajik Taxkorgan Autonomous County)
Area Code: 0998
Zip Code: 844000
GDP (2018): CNY 89.012 billion (USD 13.452 billion)
Nationalities: Han, Hui, Uygur, Kirgiz, Tajik, Uzbek
An Ancient City Keeping the Strongest Uyghur Customs
Kashgar in the southwest of Xinjiang is one of China's westernmost cities, adjacent to Kizilsu to the northwest, Aksu to the northeast, Hotan to the east, Tajikistan to the west, Afghanistan and Pakistan to the southwest. Neighboring countries include Kyrgyzstan, Uzbekistan, and India.

2,100 years ago, whether the merchants passed the Pamirs from west to east or crossed the edge of the Taklimakan Desert on the east of Kashgar, this city is an ideal resting place and an ideal trade center for goods exchange. This has also made Kashgar the millennium ancient city. The essence of Uyghur folk customs, culture, art, architectural style, and traditional economy are all condensed in this city. The old city of Kashgar is the soul of the city, covering the Id Kah Mosque, the largest mosque in Xinjiang, thirteen of the main streets and the hundreds of alleys. Many historic sites are kept well in urban Kashgar. Lying in the northeastern corner is the Kashgar Bazaar, the biggest international market in northwestern Xinjiang, where you can buy some souvenirs, local specialties and goods from near countries and enjoy local delicacies.




Pictures, Kashgar maps
As an important trading center of ancient Silk Road, Kashgar is a place with strong tinge of ethnic custom, and rich in historical and natural resources. It is well know as a top tourist destination in west China. There are so many charming places to visit, such as Abakh Khoja Tomb, Id Kah Mosque, Karakul Lake, kashgar Bazaar, Kashgar Old Town, Stone City and Three Immortals Buddhist Caves.



Other Scenic Spots: Kunlun Mountains, K2 Mountain, Mt. Kongur, Yarhant River, Kashgar River
| | |
| --- | --- |
| Distinctive Local Musical Instrument | Abakh Khoja Tomb |
Recommended Tour Itinerary
Classical Silk Road: 14 days, Urumqi, Kashgar, Turpan, Dunhuang, Xi'an, Shanghai
Trip to Urumqi, Kashgar: 6 days along Silk Road
Hiking Adventure
Kashgar Airport, located about 10 kilometers (about 6 miles) north of city center, is capable of accommodating incoming and outgoing flights to destinations both domestic and international, including Urumqi, Hotan, Kuqa, Aksu, Kirghizia, Islamabad, Osh, Andijan and Uzbekistan. Kashgar Railway Station, only about 5 kilometers (3.1 miles) away from the city center, has daily trains running to and from Urumqi. It is also easily accessible by long-distance bus to go to other cities in and around Xinjiang from this city. Traveling around the city, the city-bus and taxi are good options.

Shache Airport ia located in Xianglan'gan Village of Shache County in Kashgar City, 21 kilometers (13 miles) away from the center of county. From Shache Airport, passengers can fly from/to Urumqi, Hotan, Korla and Kashgar.
-
Mainly a continental climate; long periods of sunshine and little rainfall; vary greatly with topography as plain climate, desert climate and mountain climate; frost-free period of 215 days; short warm winter and long cool summer; vary considerably between day and night; clear four seasons; average temperature: 11.8 C annually with the lowest of -24.4 C and the highest of 40.1 C; rainfall: 61.5 mm annually.

The best time to pay a visit is between August and October when the sky is blue and there is blossom and fruit on the trees. It is recommended that you wear a light top with long sleeves and a hat for protection from strong UV radiation.
Kashgar Travel Tips

Physical Features: two river systems of the Yarkant River and the Kashgar River with a total annual runoff of 10.9 to 11.9 billion cubic meters; located at the west of the Taklamakan Desert at the feet of the Tian Shan mountain range.

History: a history of more than 2000 years; belonged to the Zhuangpu prefectural General's Office of the HunIn in Han dynasty; thereafter, submitted to the authorities of the Western Han dynasty after the trading links with Han formed by Zhang Qian - the special envoy to the Western Region sent by Emperor Wudi; one of the four important towns in Anxi during Tang dyansty; later becoming the seat of government of the Kashgar Councillor in Qing dynasty.

Local Products: wheat, maize cotton, barley, highland barley, rape, sesame, peanuts, flax, crafts, roast lamb, shishi-kebab, and baled fish

Local Highlights: There are a lot of festivals full of joyful with deep traditional culture and custom here, such as Corban Festival, Roza Festival and Nuo Ruzi Festival. During the festival, people can enjoy the wonderful local songs and dances.
- Last updated on Jul. 18, 2022 -
Questions & Answers on Kashgar Travel
Asked by Mike G from CHINA | Apr. 23, 2020 03:01

Reply
Travel to Kashgar and Tashkorgan for May 1-5 holidays
Are foreigners who are living/working in China allowed to travel to Kashgar and Tashkorgan for May 1-5, 2020 holidays without 14-day quarantine?
Answers (1)
Answered by Cole from FINLAND | Apr. 26, 2020 22:34

0

0

Reply
Yes, as I know, it will be ok now.
Asked by weerawat from THAILAND | Sep. 30, 2019 23:40

Reply
I want to go to Tashkurgan from Kashgar,
If i get the permit from Kashgar Tourist Center already, Do i still need travel agency to bring me there? or i can go by myself
Answers (1)
Answered by Olivia from UNITED KINGDOM | Oct. 09, 2019 01:36

0

0

Reply
You can travel by yourself.
Asked by Teevara from THAILAND | Sep. 13, 2019 21:19

Reply
I want to go to Tashkurgan from Kashgar
My plan going to Tashkurgan by pubic bus and return by Taxi so i have China Visa so
1. Have i need special permit ? If i need where i can apply ?
2.How much the cost for Taxi return from Tashkurgan to Kashgar ?
3. If you have any contact of travel agency at Kashgar Please tell me

Thanks
Answers (1)
Answered by Kathay from USA | Sep. 16, 2019 23:46

0

0

Reply
1. Yes, you need to go to West Tianshan Raod, Kashgar Tourist Center, to apply for a border permit.
2. I'm afraid there is no taxi driver to take between them. You need to take bus from Tashkurgan Coach station. It departs from 9:00 to 15:00 with interval of 1 hour.
Asked by Andrej Baco from SLOVAKIA | Jun. 08, 2019 07:04

Reply
Do I need a special permit for Karakorum Highway?
Hi,

I am a Slovak and I am planning to cross karakorum Highway from kasgar to Islamabad. I will start in kirgistan a than i will cross the border with China and a will go to Kasgar and from there how I wrote. I would like to ask you if I really need some permit for this area ? and if i need some guide ?

Thank you so much.
Andrej Baco
Answers (1)
Answered by Jeremy from AUSTRALIA | Jun. 11, 2019 00:52

0

0

Reply
As I know, no other permit is needed as long as you have a Chinese visa. If you travel by car and have GPS, then you may not need a guide.