Ancient Silk Road Route
602: 13 Days Private Tour of Beijing - Kashgar - Urumqi - Turpan - Dunhuang - Xi'an - Shanghai
Tour Type:
Private tour, any part of the itinerary customizable
Guide & Driver:
Senior guide, experienced driver with an air-conditioned vehicle
Highlights:
Must-see sights in China - Mutianyu Great Wall, Forbidden City, Terracotta Army.
Cruise on the Huangpu River to take in the impressive skylines of Shanghai.
Explore Kashgar's famed Sunday Market for exotic culture and lifestyle.
Appreciate murals in Mogao Caves & enjoy an camel ride in desert of a lifetime.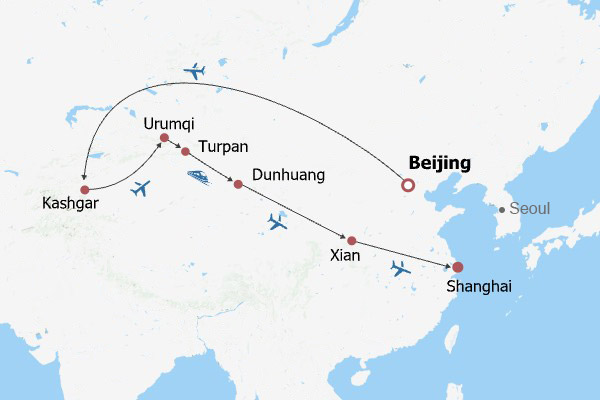 Sincere greetings & airport-hotel transfer.
Upon landing at the airport in Beijing, meet your private guide and driver waiting for you outside the Arrival Hall, who will transfer you to the hotel for check-in. The rest of the day is free for you. You can seek advice about things to do from your guide or simply relax at the hotel.
Visit Tian'anmen Square and Forbidden City; enjoy a la carte lunch; further explore royal culture at Temple of Heaven. (B+L)
After a buffet breakfast in the hotel, we will leave for
Tian'anmen Square
, the largest city square in the world. Here you can see many historic sites, such as the Monument to the People's Heroes, the Great Hall of the People, and the Memorial Hall of Chairman Mao. On the square, stroll towards the entrance to the
Forbidden City
, where we will enter and tour around. Once the residence of 24 emperors during the Ming and Qing dynasties (1368-1911 AD), it will undoubtedly strike awe into you with its imperially grand classical Chinese architecture. You might also be interested in those pairs of bronze lions crouching at some gates, which were actually guardians of the royal family. What's more interesting are their detailed curly hairs. You can easily distinguish male from female lions from hairstyle alone, as males have shorter hair! Also, more rolls of hair means higher social class, which is why there are 45 rolls on the lions here and only 13 rolls on those before the mansions of highest-ranked ministers. For lowest-ranked officials and civilians, they even daren't own a lion statue!
Around noon, an
a la carte lunch
will be arranged for you at a selected local restaurant. After lunch, proceed to the
Temple of Heaven
, the world's largest sacrificial building complex the emperors used to pray for divine blessings for people. Finally, we will transfer you back to your hotel.
Meals: Western buffet breakfast, A la carte lunch
Forbidden City, Beijing
Temple of Heaven, Beijing
Today's highlight is the visit to Mutianyu Great Wall by round-trip cable car; drive by Bird's Nest; then take a rickshaw ride through Hutong alleys and visit a local family in a traditional courtyard house. (B)
Today's private sightseeing tour starts from a wonder of the world - the Great Wall of China.
Mutianyu Great Wall
, one of the best-preserved sections of the wall, is noted for its majesty and stunning sceneries around with a low-key vibe. Enough time will be left for you to admire it. As is included, you will take a round-trip cable car going up and down the wall. But if you'd like a fast and exciting return, choose to slide from No.6 Watchtower all the way down through a 1,580-meter-long (1-mile-long) toboggan run. Brake as much as you want to control the speed! During peak season, as tourists in the run increases and thus are much closer to each other, the sliding experience may not be as heart-pumping. You can decide whether to try the toboggan with your guide's advice.
On the way back to downtown, we will stop before the
National Stadium (Bird's Nest)
for you to take pictures of it as memories. Then the guide will take you to tour
Hutongs
by rickshaw. Hutongs, historical alleys lined with Chinese courtyard houses, are just the right place to experience authentic traditional life of Beijing's locals. By the end of your Hutong tour, follow your guide to visit a local family in one of those courtyard houses.
Meals: Western buffet breakfast
Mutianyu Great Wall, Beijing
National Stadium (Bird's Nest), Beijing
Day 4
Fly from Beijing to Kashgar
Visit Summer Palace; fly to Kashgar and transfer to your hotel. (B)
After breakfast, we will head to the
Summer Palace
, a well-preserved imperial garden dating from over 250 years ago, used to be the summer resort for royal families. It is where to find classical Chinese buildings harmonized into natural landscape, and the intoxicating landscape around the Kunming Lake and the Wanshou Mountain. The corridors, bridges, pavilions, palaces… Each view is worth your while. Enjoy a leisurely time here before saying goodbye to Beijing.
After lunch, take a 5.5-hour flight to Kashgar, a city located in the west of Xinjiang and strategic point along the ancient Silk Road. You might prepare some books to read while in the air. On arrival at the airport, your local guide will pick you up and escort you to the hotel.
Meals: Western buffet breakfast
Day 5
Kashgar to Urumqi by Flight
Visit Id Kah Mosque and the nearby old street quarter; then visit Abakh Khoja Tomb and Sunday Market; fly to Urumqi and transfer to your hotel. (B+L)
In the morning, pay a visit to the grandest mosque of Xinjiang, the
Id Kah Mosque
. Located at the city center, it has a history tracing back over five centuries. Out of the mosque, after a few minutes' walk, dive into the old street quarter and feel thick exotic ambience in alleys lined with local-style dwellings, restaurants, craft shops, etc. Next, visit the
Abakh Khoja Tomb
, a typical Islamic tomb complex of the Khoja family, the ruling power of Kashgar in the 17th century. Our next destination is the
Sunday Market
, where international trades take place and which cannot be missed while touring along the Silk Road. People come to buy and sell every day, but Sunday is the busiest. With spices, local crafts, dried fruits, silk…, it offers the best chance to get some souvenirs.
In the afternoon, board a flight to Urumqi. Your local guide and driver will welcome you at the airport and transfer you to the hotel.
Meals: Western buffet breakfast, Lunch
A Local Bazaar in Kashgar
Traditional Dance of Uygur Ethnic Group
Day 6
Drive from Urumqi to Turpan
Visit Flaming Mountains in the morning; after lunch explore the Ancient City of Jiaohe, Emin Minaret, and Bezeklik Thousand Buddha Caves. (B+L)
Start this morning with a 3-hour drive to Turpan and pass by
Flaming Mountains
. Viewed from a distance, the mountain seems on fire, hence the name. It's true that the temperature here can reach as high as 47.8 ℃ (118°F) in summer!
After lunch, our tour in Turpan begins. We will first visit the
Ancient City of Jiaohe
, one of the world's largest and oldest city ruins to witness earth architecture. Situated along the ancient Silk Road, the city will take you back in time when it was still at the height of its prosperity. Then we will visit the
Emin Minaret
(Sugong Pagoda), an Islamic and another earth construction built in 1778 in memory of a national hero, and the
Bezeklik Thousand Buddha Caves
, the richest grotto complex in Turpan, consisting of 57 caves inside which you can view many Buddhist statues and murals.
Meals: Western buffet breakfast, Lunch
Ancient City of Jiaohe, Turpan
Bezeklik Thousand Buddha Caves, Turpan
Day 7
Turpan to Dunhuang by High Speed Train
Visit Karez Well; take a high-speed train to Dunhuang and transfer to your hotel. (B)
After breakfast, let's visit
Karez Well
, an underground irrigation system dating back 2,000 years. Taking advantage of the sloping landform, locals built it to collect rainwater and melt water, with which the local land has turned from a barren desert into an oasis. Length of the system's thousands of water channels can amount to 5,000 km (3,000 mi)! You will definitely be astonished by the ancient wisdom behind the engineering feat.
After lunch, take a high-speed train for about 3 hours to Dunhuang. Upon arrival, you will be transferred to the local hotel to check in. For a quality free evening, we suggest you walk for 10 minutes to Shazhou Night Market for a stroll, the city's liveliest part where you can find a variety of groceries, like carvings, trinkets, and some local specialties. Then you can wander along the Scenic Belt by Danghe River, a 15-minute walk from the market, to appreciate the nightscape of the city lit by colorful lights.
Meals: Western buffet breakfast
Visit Mogao Caves and Dunhuang Museum. (B+L)
Today, your whole morning will be spent at the
Mogao Caves
, known as one of the four most renowned Buddhist grotto complexes in China. Thousands of Buddhist murals and statues in the cave sanctuaries await your exploration. Please note that photography is not allowed, to prevent any damage that flashes may cause to those priceless murals.
Then we will pay a visit to the
Duhuang Museum
. Through abundant cultural relics, you'll learn about the intriguing history of Dunhuang and how it became a strategic point along the ancient Silk Road.
Meals: Western buffet breakfast, Lunch
Mogao Caves, Dunhuang
Echoing-sand Mountain, Dunhuang
Day 9
Fly from Dunhuang to Xi'an
Visit Echoing-Sand Mountain, where you will enjoy a camel ride; then visit Crescent Lake; fly to Xi'an and transfer to your hotel. (B+L)
In the morning, let's visit the well-known
Echoing-sand Mountain
, one of a few most wonderful deserts in China. Sand sings here: when wind blows over the sand dunes or you walk on them, it rustles, sometimes loudly. We will also take you to an unforgettable camel ride. Imagine yourself as a merchant on the Silk Road, straddling these pack animals… From the top of the tallest sand dune, you can also have a great view of the
Crescent Lake
beneath, a natural wonder that never dries despite lying amid seas of desert. Then we will go down to the lakeside to see it up close. Get your camera ready.
After the trip is completed in Dunhuang, your guide will help you to board a flight to Xi'an, the eastern starting point of the Silk Road. Your guide in Xi'an will meet you at the airport and escort you to your hotel.
Meals: Western buffet breakfast, Lunch
Visit Terracotta Army, Giant Wild Goose Pagoda, and take a walk at Great Tang All Day Mall. (B)
Today you will visit the biggest highlight of Xi'an, the
Terracotta Army Museum
. Built on the burial pits of the mausoleum of Emperor Qin Shi Huang (259 – 210 BC), founder of the first empire – the Qin Empire - in China's history, it is the largest underground military museum in the world, displaying thousands of life-size pottery soldiers, the funeral objects of the emperor. You can even observe carefully to find individual features of each solider!
In the afternoon, continue your travel to the
Giant Wild Goose Pagoda
, a landmark of Xi'an. With a history of over 1,300 years, the pagoda was where the great monk Xuanzang translated the sutras he brought back from ancient India. To the south of it lies the
Great Tang All Day Mall
, aka Grand Tang Dynasty Ever Bright City, a lively mile-long promenade constructed to represent the prosperity of the Tang Dynasty, with statues, stages for live performances, souvenir stands, fountains... Stroll here for a while, before we take you back to the hotel.
Meals: Western buffet breakfast
Terracotta Army Museum, Xi'an
Giant Wild Goose Pagoda, Xi'an
Day 11
Fly from Xi'an to Shanghai
Connect with local people at City Wall Park and visit City Wall; visit Great Mosque and taste Xi'an snacks in Muslim Quarter; fly to Shanghai and transfer to your hotel. (B)
Our first stop today is the
City Wall Park
, where locals do morning exercises, jog, dance, play table tennis or practice Tai Chi. Take a leisurely walk to enjoy its energy and refreshing air. From the park, we will ascend the 650-year-old
Xi'an City Wall
, the largest, oldest, and the best-preserved of its genre. It'd be a fantastic experience to cycle on the Wall (it charges a small fee to rent a bike). Then, visit the
Great Mosque
to see how Islamic cultures are integrated into classical Chinese architecture, and explore the nearby
Muslim Quarter
for lunch. A district consisting of crisscrossed food streets, it's the perfect place for you to try local specialties. You might be interested in a famous traditional dessert called Shui Jing Bing (Crystal Cake). Its crystal-like sweet stuffing, eaten with layered crispy skin, will make your day.
After the lunch break, you will board a flight to Shanghai. Your local guide and driver will pick you up and drive you from the airport to the hotel for a rest.
Meals: Western buffet breakfast
City Wall Park, Xi'an
Taste Local Food at Muslim Quarter
Visit Shanghai Museum, Yu Garden and adjacent Yuyuan Bazaar; enjoy a la carte farewell lunch; cruise on Huangpu River and have a leisurely stroll on the Bund; then explore old cultural block of Tianzifang. (B+L)
After breakfast, let's dive into the
Shanghai Museum
. It displays a large number of ancient artworks, like bronzeware, jade carvings, sculptures, currency, furniture, as well as ceramics, the flagship exhibits here. Next, go on a tour at the
Yu Garden
, a typical classical Chinese garden once owned by a nobleman in the Ming Dynasty. The whole design, with rockery, winding paths, wooden pavilions, bridges, etc., is characterized by delicacy and elegance, which can be traced through every tile, brick and carving. As the Yu Bazaar is located nearby, we will also head there for a walk after we exit the garden.
At noon, we will invite you to an
a la carte farewell lunch
(valued at CNY150.00 per person and included in our price) at a fancy and famous local restaurant, which offers authentic Shanghai and Cantonese cuisines.
Afterwards, continue your tour with a one-hour
cruise on the Huangpu River
, to view the modern and futuristic-style buildings on both banks from a sweeping perspective. We will disembark at
the Bund area
, where you can feel Shanghai's past through Gothic, Baroque, and other styles of buildings, legacies telling the city's colonial history. A visit will be followed to an old street named
Tianzifang
before driving back to the hotel.
Meals: Western buffet breakfast, A la carte lunch
Our Guests at the Bund Area
Tianzifang, Shanghai
Day 13
See-off in Shanghai
Transfer to airport and see you off there; a pleasant trip home! (B)
Your private Silk Road tour comes to an end today. Your guide and driver will see you off at the airport according to your homebound flight schedule. If you prefer to experience the maglev train ride to the Shanghai Pudong Airport, we can help you book the ticket. If you'd like to extend your tour, we can arrange for you additional excursions in neighboring water towns, famous for their picturesque landscapes. If interested, please feel free to contact your travel consultant for support.

Meals: Western buffet breakfast
This trip can be customized to meet your individual needs!
Destinations
Comfort Hotels
Luxury Hotels
Beijing
Beijing New World Centre Tongpai Hotel
Hotel New Otani Chang Fu Gong
Urumqi
Excemon Xinjiang Yilite Hotel
Conrad Urumqi Hotel
Kashgar
Radisson Blu Hotel Kashgar
Radisson Blu Hotel Kashgar
Turpan
Mercure Hotel Turpan Downtown
Mercure Hotel Turpan Downtown
Dunhuang
Dunhuang Hotel

Building No. 8

Dunhuang Hotel

Building No. 8

Xian
Holiday Inn Xian Big Goose Pagoda
Wyndham Grand Xian South
Shanghai
Ocean Hotel Shanghai
Renaissance Shanghai Yu Garden Hotel
Tour Prices
Christmas & 2024 Special:
12% off
- Book before Dec 31, 2023
Prices with Comfort Hotels
2-3 travelers
4-5 travelers

USD4819

USD4239

USD4319

USD3799
Prices with Luxury Hotels
2-3 travelers
4-5 travelers

USD5189

USD4569

USD4689

USD4129
Prices are per person on twin sharing basis.
The prices in red reflect 12% discount.
Price Includes
Domestic airfares & train fares
Hotel accommodation with breakfasts
Lunches as itinerary specifies
Private English-speaking guides
Private drivers & air-conditioned vehicles
Entrance fees to tourist sites
Price Excludes
International airfares
Entry visa fees
Personal expenses
Tips or gratuities for guides and drivers
Other level available for this itinerary: