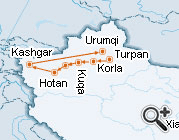 South Xinjiang in Focus
UQ04: 15 Days Private Tour of Turpan - Korla - Kuqa - Aral - Hotan - Kashgar

Urumqi
From
$3409
per person
Free Inquiry


Once your high speed train arrives in Turpan, you will find our guide and driver waiting for you at the railway station. They will pick you up and transfer you to a comfortable hotel for check-in.
Meals: No meals, advice freely available
Accommodation: Huozhou Hotel





Friendly Tips
High speed train is the usual choice for travelers to reach Turpan. However, if you prefer an overnight train ride to Turpan or landing in Urumqi by air, we can also make adjustments to your Xinjiang tour itinerary based on your specified request.
A few days' itinerary below includes 6-10 hours' private ride across the vast gobi desert. Please understand that lunch on those days will be served at towns along the way in the only available venues and their services and conditions may not meet our usual standards. You may prepare some snacks and fruit in case the food is not acceptable to you.
Flaming Mountain
Your Uighur tour starts with the visit of
Jiaohe Ancient City
, also known as Jiaohe Ruins, the largest and best-preserved earthen complex of China. Through 2,300 years of rise and fall, some walls, temples, pagodas and streets still remain in the ruined city, where you can recollect its past prosperous scenes. Then we move to the brilliant
Karez System
to delve into ancient Xinjiang farmers' intelligence through a glimpse of the unique and enormous irrigation system developed to provide underground water in a desert area.
Afterwards, we will drop by the
Emin Minaret
with distinctive Islamic characteristics and wonder at its delicate patterns on the surface of the brick tower. At last, a visit to the
Turpan Museum
would enlighten you on the far-reaching historical and cultural evolution of the city.
Meals: Western buffet breakfast, Lunch
Accommodation: Huozhou Hotel




After breakfast, our guide will take you to the
Gaochang Ancient City
to have a glimpse of the time-honored ruins constructed in 450 AD, and the flourishing past of Gaochang Kingdom could be perceived from the large-scale ruins in the vast desolate desert. After that, on the way to
Bezeklik Thousand Buddha Caves
, you can have a glance of the spectacular
Flaming Mountain
.
Upon arrival, follow our guide to tour the Bezeklik Thousand Buddha Caves to marvel at the stunning grotto art including exquisite Buddhist statues, murals and inscriptions completed in 700 years. At last, explore an old Uyghur village, Tuyugou, where you could peek into the well-preserved original farming lifestyle.
Meals: Western buffet breakfast, Lunch
Accommodation: Huozhou Hotel




Traditional Uygur dancing show
In the morning, you will be driven to Korla in our air-conditioned vehicle; it is a journey of around seven hours. The bus journey might be a bit long, but you are given a rare chance to travel through the vast Gobi desert and sparsely populated area of China and to gain an appreciation of the hardship the ancient merchants and travelers faced on their journey along this segment of the historic Silk Road. Upon arrival, you will pay a visit to the
Iron Gate Pass
, which used to be a dangerous military fortress linking the northern and southern regions of Xinjiang. At the end of the day, you will be escorted to a local hotel for a good rest.
Meals: Western buffet breakfast, Lunch
Accommodation: Loulan Hotel




Today we will continue the long-distance drive to Kuqa County across the boundless Gobi desert, and it may take about 4-5 hours. On the way you will revel in the rugged beauty of this unique desert landscape. Upon arrival, a hearty lunch will be served for you to savor the authentic local food.
After a short break, start your adventure from the Kuqa Mosque, which is the second largest one in Xinjiang only after Id Kah in Kashgar. You can not only get an insight into the profound religious culture of Xinjiang, but also catch the scene of Islam believers praying in the mosque. Afterwards, move on to the next attraction,
Subash Ancient City
to trace its former splendor by a leisurely stroll around the ruins. Stay overnight at a hotel in Kuqa.
Meals: Western buffet breakfast, Lunch
Accommodation: Ku Che Grand Hotel




Kuqa Mosque
Kizil Thousand-Buddha Cave
is your first stop of today's Uighur trip, which shows you century-old grotto sights characterized by exquisite murals. Then follow our guide to admire
Tianshan Mysterious Grand Canyon
formed by erosion of flood and rainfall for thousands of years. Over here, you can take great photos of a great number of peculiar mountains, springs and stone pillars.
When the trip is over, you will be escorted back to the hotel in Kuqa.
Meals: Chinese breakfast, Lunch
Accommodation: Ku Che Grand Hotel




We will set out today's Xinjiang tour itinerary to Kuqa Royal Palace which was built in 1759 to reward the Uygur ruler's political accomplishment by the order of Emperor Qianlong. Then we continue to traverse across the limitless desert to reach Aral City after a 6-7 hours' ride. Upon arrival, you will check into a local hotel. Please understand that there is only one 3-star foreign-related hotel in Aral with limited accommodation and service quality.
Meals: Chinese breakfast, Lunch
Accommodation: Aral Yin Du Hotel



Carpet making in Hotan
Today we will drive all the way to Hotan in the south by crossing the
Taklamakan Desert
. During the journey you can have a glance at the Tarim River landscape. Speed on the rugged desert highway with the wind blowing all your troubles away, and touch the heart of the mysterious of Gobi land. The spectacular sunset view in the desert will definitely astonish you. After about 7 hours' drive, you will reach Hotan and get lodged in a hotel to stretch yourself.
Meals: Chinese breakfast, Lunch
Accommodation: West Lake International Hotel




Since the open-up of the ancient Silk Road, Hotan has abounded in high-end silk products, and this morning we will seize the chance to visit a silk factory, where you could get a better understanding about the making process of Hotan silk. Besides, Hotan jade ware enjoys a high reputation in China, and our guide will lead you to a prosperous jade bazaar, where you can see some inexpensive jade gadgets, such as bracelets, pendants and rings. At last, make a visit to the ruins of the Rawak Stupa in the desert to admire the remaining murals and reliefs.
Meals: Chinese breakfast, Lunch
Accommodation: West Lake International Hotel




Kashgar Bazaar
After breakfast, we will leave for Kashgar by a road trip of 11-12 hours, so we should set out as early as possible. The long-distance bus journey might be a bit harsh, but meantime it is a precious opportunity to go deeper into the vast and untouched Gobi desert. On the half way, we will make a stop to visit the Yarkand King's Tomb, a family graveyard of 12 generations of Yarkand royal members. After a short break, hop into the bus to continue the wonderful odyssey trip to Xinjiang and finally get to Kashgar by 21:00. Check into a hotel for a sound sleep.
Meals: Chinese breakfast, Lunch
Accommodation: Radisson Blu Hotel Kashgar





Kashgar, standing out for its colorful Uygur residences of Islamic style, is an essential stop of your Xinjiang tour package. The best way to feel the ancient city is to wander around the crisscrossing lanes and alleys of
Kashgar Old Town
to experience its exotic lifestyle. Then we will move on to
Id Kah
, one of the biggest mosques in China, to witness locals' daily prayer ritual. At noon, we will pay a visit to a local Uygur family to get real insights into their life and savor authentic home-made Xinjiang food.
After that, proceed to
Abakh Khoja Tomb
served for the Khoja Family, the powerful ruler of Kashgar in the 17th century. It is also the resting place for Emperor Qianlong's favored concubine - the Fragrant Concubine. At last, you can dive into the bustling
Kashgar bazaar
(Sunday Market) to have a bargaining shopping experience and try some yummy local snacks.
Meals: Western buffet breakfast, Lunch
Accommodation: Radisson Blu Hotel Kashgar





Day 12
Kashgar - Karakuri Lake - Kashgar
Karakuri Lake
You will take a leisure adventure to
Karakuri Lake
located about 200 kilometers (125 miles) from downtown Kashgar in our air-conditioned vehicle. You can embrace the Pamir Plateau landscape during the 5-hour ride. Karakuri Lake is a mirror-like lake with an altitude of 3,600 meters (11,800 feet), dotted as a pearl at the foot of the soaring Mount Muztagata. Free leisure time is given to you to absorb the breathtaking beauty of the lake and to collect its enticing charms with your cameras. After the sightseeing, we will drive back to Kashgar.
Meals: Western buffet breakfast, Lunch
Accommodation: Radisson Blu Hotel Kashgar





A morning flight will take you back to Urumqi, the capital city of Xinjiang. Upon landing, our guide will escort you to
Xinjiang Regional Museum
to get a general understanding on the splendid history and culture of Xinjiang through rare exhibits, such as mummies, brocades and murals. Afterwards, you will enrich your shopping experience by visiting the
International Grand Bazaar
, where you can see a lot of locals bargaining and selecting their wanted items. Besides, it is also a food paradise for you to taste ethnical delicacies. Finally, you will be escorted to a local hotel to get a sound sleep.
Meals: Western buffet breakfast, Lunch
Accommodation: Excemon Xinjiang Yilite Hotel




Local snack sold in the market
A full day is scheduled to explore the natural stunner,
Tianshan Mountains
and
Heavenly Lake
. The crescent-shaped alpine lake boasts enchanting lake view surrounded by verdant valleys with lush spruce and pine forests as well as ever snow-capped peaks of Tianshan Mountains. You will be accompanied to hike along the plank trail to explore the plateau scenery and lake view.
When today's tour is finished, you will be brought back to the hotel.
Meals: Western buffet breakfast, Lunch
Accommodation: Excemon Xinjiang Yilite Hotel




Day 15
Departure from Urumqi
Your wonderful trip to Xinjiang concludes today, and our guide and driver will transfer you to the railway station or airport and see you off. Wish you a nice journey home.

Meal: Western buffet breakfast
Price Includes
Domestic airfare of Kashgar/Urumqi
Hotel accommodation with breakfasts
Private English-speaking guide
Private driver & air-conditioned vehicle
Lunches as itinerary specifies
Entrance fees to tourist sites
Price Excludes
Air or train fares of arrival and departure
Entry visa fees
Tips or gratuities for guide and driver
Itineraries you may also like: