Kashgar Old Town
Kashgar Old Town, or Kashgar Old City, is located downtown Kashgar, size 1.6 square miles (4.25 square kilometers). It reflects Islamic culture in architecture and Uygur customs.
A Huge Maze in Islamic and Uygur Style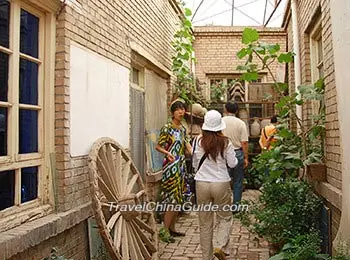 Kashgar Old Town
Kashgar Old Town is the unique maze city in China. Over two hundred narrow alleys crisscross each other. If you get lost, you can use the hexagonal tiles as a guide to help you out. The tiles with four corners will lead you to blind alley. Most of the buildings here are in a combined Islamic and Uygur style. It gives a feeling of being in the Middle East. The houses in the core area make it one of the world's large adobe complexes. No end to mud walls and colorful doors here. The doors of residences of the town are open to visiting. When both panels of the doors are open, the host is home. When one door panel is open, the hostess is home alone. When a curtain is placed over the door, then someone is visiting and the owner is preoccupied. Although the houses of the local are modest, every one of them sports a courtyard.
Colorful Uygur Customs and Culture
Kashgar Old Town is home to the
Uygur
and you can see and feel Uygur culture here: their festivals, clothing, songs and dances. You can also sample much Xinjiang food here, including shashlicks, roast steamed buns and a kind of crisp pancake named "nang". Strolling in the old town, you will find the life of the people enjoyable. Manual workshops are open, old looms are creaking, potteries are being sold and folk artists are singing on narrow roads. What's more, the influence of India, Arab, ancient Greek and China is felt in the style of housing. Many residences in the old town incorporate Roman columns, Persian woodcuts, Buddhist lotus piles, Indian plaster sculptures and Russian windows.
| | |
| --- | --- |
| Local Folk Residence | Interior of the Folk Residence |
A Grand International Bazaar
Bazaar is "market" in Uygur language. A hub along
Silk Road
, Kashgar long had been an international business center. Tourists can find many bazaars in the old city. There is a business street named Erya Road, which has flowerpot bazaar, woodworking, medicine and hat bazaars. Besides, Kashgar Old City has a craft workshops street named Kumu Dahl Vazha Road, where one finds the Uygur folk musical instrument store and the biggest copperware store of Kashgar. Copperwares are a treasure in Uygur and people treat them as art work. Kashgar Old Town also has crafts and supplies from many ethnic minorities such as Kazak and Mongolian, together with products from Turkey, Arab, Kazakhstan and India.
How to get to Kashgar Old Town:
You can take the bus line 2, 7, 8, 22 or 28 to the old town. You should get off at Id Kah Mosque Stop. Bus no.7 runs through the old town and you can get off at any stop inside the town.
Admission Fee
CNY 30
Note: The old town has many entrances and some of them do not require a ticket. If you are lucky enough to find such an entrance, then you can enter the old town free of charge.
Opening Hours
All day

Nearby Attractions:

Hathpace Residences

Id Kah Mosque

Top 10 Things to Do in Xinjiang
- Last updated on Nov. 19, 2021 -