K2 Mountain (Mount Chogori)
K2 Mountain, also called Mount Chogori, is located on the border between China and Pakistan. It is the world's second highest mountain after Mount Everest. But it is harder to climb K2 Mountain than to climb
Mount Everest
, making K2 the hardest mountain as well as the most dangerous mountain on earth to climb.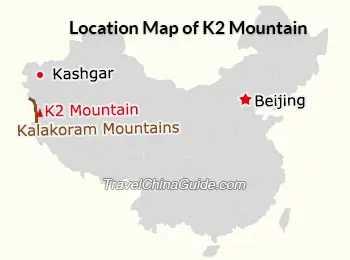 Location Map of K2 Mountain
K2 Mountain Facts

Location: between Tashkurgan, Xinjiang, China and Baltistan, Gilgit-Baltistan, Pakistan

First Ascent: July 30, 1954

Easiest Climbing Route: Abruzzi Spur

Height: 8,611 meters (28,251 ft) above sea level
What does the K2 stand for?
"K" is the representation of Karakoram Mountains, on which K2 Mountain is located. "2" indicates that the peak is the second investigated peak among the five peaks of Karakoram Mountains.


Why is the K2 the Most Dangerous Mountain on Earth?
According to the climbing history, the climbing K2 death rate keeps around 27% and there is no successful winter ascent yet. There are many reasons why the K2 is the most dangerous mountain on earth:
1.
The mountain is steep and the terrain is complex.
2.
Many climbers have difficulty in passing a barrier: the lack of oxygen caused by high altitude. The higher they climb, the thinner and less oxygen will be.
3.
Climbers may encounter extreme snow storms, which not only interrupts climbers' climbing process, but also threatens the climbers' lives.
4.
Many climbing groups have to stay for about two months in K2 base camp before starting the climb. On account of the long-term waiting and frigid coldness, food and fuel supplies appear tight. These disadvantages make retreat difficult as well.
July to September is the best time to climb K2 because good weather lasts for a longer time in general and the temperature is higher than previous months. To accomplish this, climbers usually proceed to the base camp in May or early June, when the river water level has not risen too much.


K2 Mountain Climbing Routes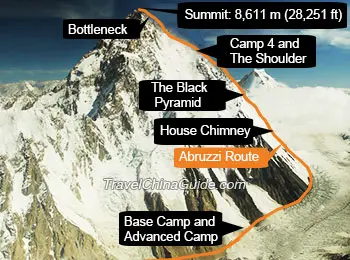 Map of K2 Mountain Climbing Route
Abruzzi Spur
Abruzzi Spur is the regular route, which was used more often than other routes. This route was named after Duke of the Abruzzi in memory of this great climber, who firstly reached the 7,500 meters (24,606 ft) of K2 Mountain. Along this route, climbers will meet several famous spots, like House's Chimney, Black Pyramid, Shoulder and Bottleneck. When passing House's Chimney and Black Pyramid, climbers must use ropes to move slowly on the smooth rock walls. Shoulder is much smoother than the two mentioned above but the wind here is very strong. Bottleneck is 400 meters (1,312 ft) below the peak. It is quite dangerous, surrounded by icy walls, which may fall at any time. According to previous statistics, 13 of the 14 K2 deaths took place at Bottleneck and its surrounding area.

In August, 1981, a group of Japanese passed across Ueli Steck, which is around 3,200 meters (3,500 yd) long. Then, they used ropes for climbing for about 5,500 meters (18,044 ft). At last, they reached the summit of K2 Mountain. It took two days for them to finish the last section and successfully reach the summit of the mountain. After that, West Ridge appears.


How to Get to K2 Mountain
The base camp in China side is in Yinhongtan, belonging to Yecheng County, Kashgar City, and this camp base is 3,924 meters (12,874 ft) above sea level.
1.
Take a helicopter to reach the base camp.
2.
Hiking for around 6 days to reach the base camp.
- Last updated on Jan. 23, 2019 -