Kashgar Attractions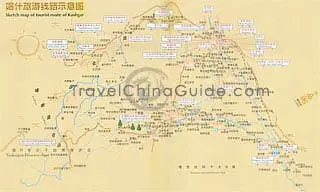 Kashgar Tourist Map

Abakh Khoja Tomb


Id Kah Mosque


Karakul Lake


kashgar Bazaar


Kashgar Old Town


Stone City


Three Immortals Buddhist Caves


Kunlun Mountains


K2 Mountain

People say that you haven't been to Xinjiang unless you have been to Kashgar. Kashgar means a "gathering place of boulders" in the Uygur language. It is one of the oldest but richest oasis at the west end of China. For thousands of years, it has been regarded as the economic, political, cultural and communication center south of the Tianshan Mountains. Benefiting from its geographical position, the climate is temperate and pleasant with four distinct seasons. The place is also well known as a tourist destination. In addition to the beautiful natural scenery, there are many tumuli (burial mounds) and ancient buildings of Islam and Buddhism in and around the city.

If you are interested in the folk culture of the locals, the following itinerary will serve you well: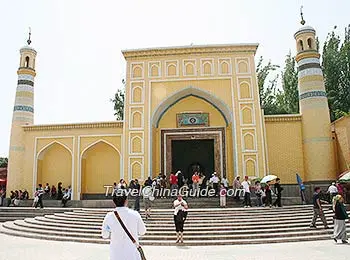 Id Kah Mosque
Starting from the city center, you can see the Id Kah Mosque on Jiefang Lu. It is the largest mosque as well as the center of Islam in Xinjiang. On Sundays and holidays, thousands of Moslems will gather here to pray. Some of the young Uygur men wear their national costumes and dance happily to show their thanks to god. The mosque itself is also an excellent architectural work worth visiting. Women are not allowed to enter mosques according to Islamic regulation. However, as a tourism attraction, Id Kah Mosque accepts women visitors with special permission. The locals go to church on Friday of each week. On Fridays no women are allowed to enter the mosque for any reason.

The Old Town District of Kashgar, which is located opposite the Id Kah Square outside the mosque is also attractive. It is the best place to experience the everyday life of the locals as well as the traces of history. This Old Town District has a history as long as 2,000 years. Traditional workshops are scattered every corner here, making pottery products, colorful caps and other folk handicrafts. The locals are warmhearted. You may even get a chance to have dinner with one of the families.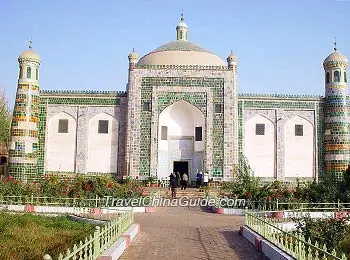 Abakh Khoja Tomb
Getting out of the Old Town District, you can take Bus No.20 at Renmin Square to the nearby Abakh Khoja Tomb. The tomb is located in Haohan Township, five kilometers (3.1 miles) northeast of the city proper. It is a typical Islamic mausoleum where the large family of an Islamic leader buried. Abakh Khoja Tomb is commonly known as Fragrant Lady's Tomb. Fragrant Lady was one of the favorite concubines of Emperor Qian Long of the Qing Dynasty (1644-1911). The tomb is like a magnificent palace and there are several ingenious mosques around it.

Taking Bus No.20 to Dongmen Stop, you will come to the biggest bazaar in northwest China --- Grand Bazaar (also known as Central Asia International Grand Bazaar). It has a history of more than 2,000 years and was known as 'the largest bazaar in Asia' in ancient times. There are over 5,000 booths in the bazaar selling thousands of goods, including some folk handicrafts like knives and carpets. It is a shopping heaven for visitors.

If you are looking for natural beauty, the following sites will satisfy you: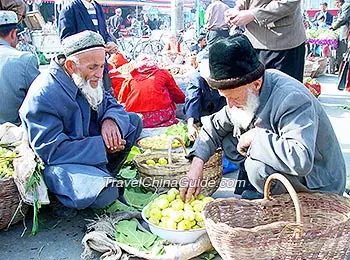 Kashgar Bazaar
Mt. Muztahgata means the 'father of iceberg' in the Tajik language. It is an important destination for mountaineers and also the only way to Khunjerab Pass from Kashgar. This lofty white mountain towers elegantly, regarded as a symbol of pure love by the Tajik.

Lying at the foot of Mt. Muztahgata, Karakul Lake is 191 kilometers (118 miles) from city center. It is a moraine lake surrounded by a series of high mountains. The white-capped Mt. Muztahgata inverts its reflection in the blue lake, where the mountain and the lake echo each other's beauty. It is truly a god-given scene worth experiencing.

The Khunjerab Pass is situated in the Taxkorgan Tajik Autonomous County of Xinjiang, about 290 kilometers (180 miles) from Kashgar, a significant crossroad on the world-famous Silk Road. The pass is close to the Pamirs in the west and near Karakoram Range in the south. Because of the foul weather, the pass is only open to the public from April 15th to October 15th.

Stone City
With an elevation of about 4,727 meters (15,509 feet), the pass is a border between China and Pakistan and was named 'No.7 Mere Stone'. In Xinjiang, it is also the only highway trades pass open to Pakistan and other countries. It had become an important door to the Middle East, India and Europe.

This high mountain pass was once the key route of the time-honored Silk Road. Xuanzang passed through this place in Tang Dynasty (618-907) and recorded the old civilization of Taxkorgan County titled with "Qiepantuo State" in Pilgrim to the West in Tang Dynasty. Nowadays, with the prosperous border trade between China, Pakistan and other countries, this pass has built a bridge for exchanging culture and economy between China and Central Asia. This provides a vital nexus for linking friendly neighboring countries. In addition, the nongovernmental frontier trade develops rapidly. Kashgar becomes the flourishing market site for Uygurs (Uigurs), Tagiks (Tajiks), Khalkhas and Pakistanis.

The opening up of the Khunjerab Pass brings not only new prosperity of the ancient commercial city – Kashgar, but also the new look of Taxkorgan.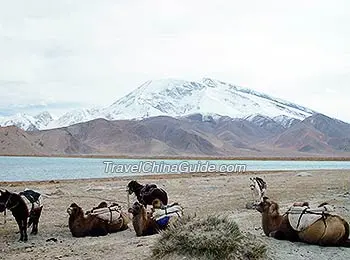 Karakul Lake
Tips:
1. Owing to the high altitude and low temperature of the Khunjerab Pass, please carry an oxygen tank and quick-acting for heart resurrection, wear down coats and muffler.
2. You must have a valid Identity Card or Passport to get a Border Permit (CNY 10 per person) at the Border Checkpoint of Tajik Autonomous County.
3. There is no bus to the Khunjerab Pass, so it is necessary to charter a vehicle (bus, car, taxi) in Kashgar.
4. Spring (March - May) and autumn (September – November) are the best seasons to visit the Khunjerab Pass.

Three Immortals Buddhist Caves, are one of the earliest Buddhist caves in western China, and are possibly 300 or 400 years older than Mogao Caves. Located in the north of the city, the Caves are on a cliff on the side of the mountain near to a river.

Another famous attraction around the city is the Stone City. Lies in Tashkurgan County, it's a renowned historical site on the ancient Silk Road.
- Last updated on Apr. 01, 2021 -
Questions & Answers on Kashgar Attractions
Asked by michael Whelan from IRELAND | Jul. 30, 2015 08:54

Reply
Do you have an approx price for flight from Beijing to Kashgar via Urumgi ? Thank you
Answers (1)
Answered by Alice from SWEDEN | Jul. 30, 2015 20:59

0

0

Reply
Flight ticket fare cannot be estimated exactly because it changes frequently with seasons. Generally speaking, the fare is CNY 3,300 to 3,500 for the single trip.
Asked by saisai from BKK | Jul. 07, 2015 23:58

Reply
now foreigners need a permit to visit the Khunjerab Pass(Tashkurgan) ?
Answers (1)
Answered by Lara from FINLAND | Jul. 08, 2015 02:02

0

0

Reply
Well, it's a high possibility that foreigners are not allowed to enter this area. Even if you can apply for the permit, you can only tour around the center area. Not all the areas open to foreigners nowadays. So before you go there, you can consult Kashgar or Tashkurgan Public Security Bureau to confirm.
Asked by Phillip Hammitt from USA | Jul. 02, 2013 09:06

Reply
Are there any book stores in Kashgar? What are their names and location? Street?
Answers (1)
Answered by Janet | Jul. 02, 2013 21:35

0

0

Reply
The local Book City is located at No. 8, East Renmin Road.
Asked by gloria from USA | Oct. 24, 2012 10:18

Reply
things to do near kashgar and urumqui below 1500 meters
We would like to visit this area for about a week, but my husband has breathing problems over 1500 meters. Will it be possible for us to travel in the Silk Road area?.
Answers (1)
Answered by Celia | Oct. 24, 2012 21:59

0

0

Reply
Hi, generally speaking, the altitude of 1,500 m is not that high, so you can travel the Silk Road. But you'd better take the mini oxygen tank and some regular medicine.