Hotan (Hetian) Travel Guide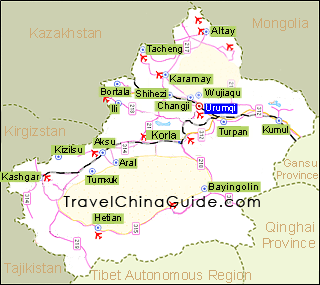 Hotan Facts
Chinese Name: 和田 (hé tián)
Location: Located at the northern foot of the Karakorgan Range and on the southern fringe of the Taxkorgan Desert, Hotan is an oasis lying in the Tarim Basin, just north of the Kunlun Mountains, which are crossed by the Sanju Pass, and the Hindu-tagh, and Ilchi passes.

Population: 1,950,000
Total Area: 247,800 square kilometers
Nationalities: Uygur, Hui, Han
Zip Code: 848000
Area Code: 0903
Administrative Division: The region governs one city (Hetian City) and seven counties (Hetian, Pishan, Moyu, Luopu, Cele, Yutian, Minfeng).
Neighboring Areas: Kashgar, Asku, Bayin'guoleng, Gansu, Qinghai and Tibet, India, Pakistan



Pictures
As a bustling center on the southern stretch of the ancient Silk Road, Hotan was one of the three thriving commercial centers in the history of Xinjiang. The ruins of many historical cultural sites still stand in desert in today's 'silk capital' Hotan, as a reminder of their brilliant past. In the main these are: Ancient City of Niya, Ancient City of Mallikurwatur, Ancient City of Yoktan. The Hetian Museum has a fine collection of cultural relics.



Other Scenic Spots: Kunlun Mountains, Muz Mountain of Cele (Qira) County, Hotan Oasis
| | |
| --- | --- |
| Typical Statue | Local Bazaar |
How to Get to Hotan
1. Hotan Airport is located about 12km south of the city downtown area. It has 6 daily flights to Urumqi provided by Shanghai Airways, Air China, China Southern Airlines, Tianjin Airlines, Hainan Airlines, etc. The flight journey to Urumqi is about 1 hour and 50 minutes. Passengers can fly to Beijing via Urumqi.
2. There is a daily train service from the Railway Station to Urumqi.
3. This area is served by China National Highway 315, which runs along the southern Tarim Basin from Ruoqiang to Kashgar, and the Trans-Taklamakan Desert Highway, which run north to Aksu. There are regular buses running daily to Yining, Kashgar, Aksu, Kolar, Turpan, Wushentala, etc.
4. There are ten public bus lines traveling around the city. Passengers can take them easily to the passenger distributed centers.
5. The taxi fares in the city are CNY5 (Daytime)/CNY7 (Nighttime) for the first three kilometers and then CNY1.3 per additional kilometer.
6. Since most attractions in the city lie in the desert, car rental is the best option for travel to them. A cross country Jeep is recommended in view of the nature of the terrain.
Weather
-
Located in the warm temperature zone, the area is dominated by a dry continental desert climate. It is hot in summer and not too cold in winter. The temperature has a great disparity between day and night. There are about 182~226 frost-free days a year. It has little rainfall and a high evaporation rate with an annual rainfall of 28.9 to 47.1 mm. The average annual temperature is from 11-12.1

C (51.8-53.8

F) with an average sunshine time of 2470.4 to 2875.9 hours annually. August to September is the best period for visiting the area due to the beautiful scenery and nice weather.
Hotan Travel Tips

Physical Features: The hypsography slopes down from south to north in this area with Karakorgan Mountains to the south and Taxkorgan Desert to the north. It has an elevation of 1,372 meters.



History: Hotan was where the states of Pishan, Yutian, Yumi, Qule, Jingjue and Shulu were established. Since 60BC during the West Han Dynasty, it has been recognized as Chinese territory. In 1883, this place was established as a prefecture to be supervised directly by the court, while in 1920, it became a prefecture. In history, this place was a town of military importance along the ancient Silk Road. It was also the crux of the four most important civilizations in the ancient world.



Local Highlights: Corban, Roza, Jade Cultural Festival, Yutian Music Dancing



Local Products: jade, sheep, silk, carpet, Uighur medicine medicine, gelatin, pomegranates, yams, apricots
- Last modified on Apr. 11, 2019 -
Questions & Answers on Hotan Travel
Asked by Christina Higgs from AUSTRALIA | Apr. 04, 2019 18:19

Reply
How long the journey is by bus from Kashgar to Hetian and the estimate cost?
I will be traveling with older children and possibly another two or three families. Is it suitable??
Answers (1)
Answered by Mandy from NEW ZEALAND | Apr. 11, 2019 20:12

0

0

Reply
I found no information about bus but you can take a train. The duration is about 5-7 hours and it costs CNY70 for a hard seat and CNY123 for a hard sleeper.
Asked by Sissy from UNITED KINGDOM | Jul. 14, 2018 06:00

Reply
Which is the best option (Kuqa or Aksu) to Hotan via Taklamakan Desert (Hihgway 315)
4 of us plan to travel to Hotan across the Taklamakan Desert by road. Is it true that there are more frequent express buses to Hotan from Aksu rather than from Kuqa? What is the bus timetable from Aksu and from Kuqa and the fares? Thank you

Answers (1)
Answered by Oscar from POLAND | Jul. 15, 2018 23:40

0

0

Reply
There are 2 buses departing from Aksu at 11:00, 12:30 and another 2 departing at 20:00. The ticket fare is about CNY 200. There is only one bus in Kuqa and depart from 12: 00 to 16:00.
Asked by Alison Sae Sue from UNITED KINGDOM | Jun. 19, 2018 22:47

Reply
Hi... could you give me the address in English and Chinese for the bus station in Hotan
The bus station where the long distance buses from Hotan to Kuche leave from? Also the address of the Hotan market (like the one in Kashgar)
Many thanks:)
Alison
Answers (1)
Answered by Peter from NETHERLANDS | Jun. 20, 2018 21:25

0

0

Reply
Hotan Bus Station is in 015 Country Rd, about 800m east of Hotan Railway Station. (和田市015乡道,大概在和田火车站西800米).
The market is in Taibei road (台北路).
Asked by Eleonora from ITALY | Aug. 11, 2016 05:24

Reply
Hello everybody! I will visit Xinijang region in few days.
And I need more information about bus connections at the end of August: is it possible that due to sandstorms buses from Hotan to Kuqa will be suspended? Is there any other way to choose in such a case? The same question for connections from Kuqe to Turfan!

Thank you very much
Answers (6)
Answered by Susan from USA | Aug. 12, 2016 02:51

0

0

Reply
As I know, buses might be suspended due to heavy sandstorms. You can take a train to Kuqa (about 15 hours). Also, you can travel by train from Kuqa to Turfan (6 to 10 hours). :)
Answered by Eleonora from ITALY | Aug. 12, 2016 05:02

0

0

Reply
Thank you very much! Are there also train?
Answered by Susan | Aug. 16, 2016 01:03

0

1

Reply
Yes! You can take a train. A single trip takes about 15 hours.
Answered by Eleonora from ITALY | Aug. 16, 2016 05:05

0

0

Reply
Great, thank you. Do you know the timetable or if there's a nigh train?
Answered by Susan | Aug. 17, 2016 00:52

1

0

Reply
Yes! The train to Kuqa departs at 16:13 daily from Hetian Railway Station, and it reaches Kuqa at 07:22 on the next morning.

The train to Hetian departs at 22:32 daily from Kuqa Railway Station, and it arrives at Hotan at 13:26 the next day.

By the way, a hard seat costs CNY 112.5; a hard sleeper costs CNY 218.5; a soft sleeper costs CNY 362.5. :)
Answered by Eleonora from ITALY | Aug. 17, 2016 05:42

0

1

Reply
Thank you so much, Susan!! I really appreciate... If I need some more information I will write again!
Thank you :-)
Asked by wendy from MALAYSIA | Mar. 27, 2016 02:11

Reply
Bus from Kuche to Hotan
Can anybody tell me how regular is the bus? What is the time of departure from Kuche? How long is the travelling time & how much is the bus fare?
Thanks

Answers (4)
Answered by Juno | Mar. 27, 2016 22:16

0

0

Reply
As I know, only one direct bus goes for the trip daily. I have no idea of the timing and fare. It leaves from Kuche Long-distance Bus Station. The sleeper bus takes around 12h to arrive.
Answered by Wendy from MALAYSIA | Mar. 29, 2016 09:04

0

0

Reply
Thank you Juno.

Anybody knows the travelling time?
Answered by Duke from GERMANY | Mar. 29, 2016 22:24

0

0

Reply
Generally speaking, the duration is 11 to 12 hours.
Besides, I remember that the only long-distance bus departs between 14:00 and 16:00. Thus you are suggested to ask help for the staff in the bus station and get the exact depart time.
Answered by wendy from MALAYSIA | Apr. 02, 2016 02:20

0

0

Reply
Ok, thank you very much Duke